Easily DIY A Trendy Coffee Table With A Home Depot Wood Round And Planter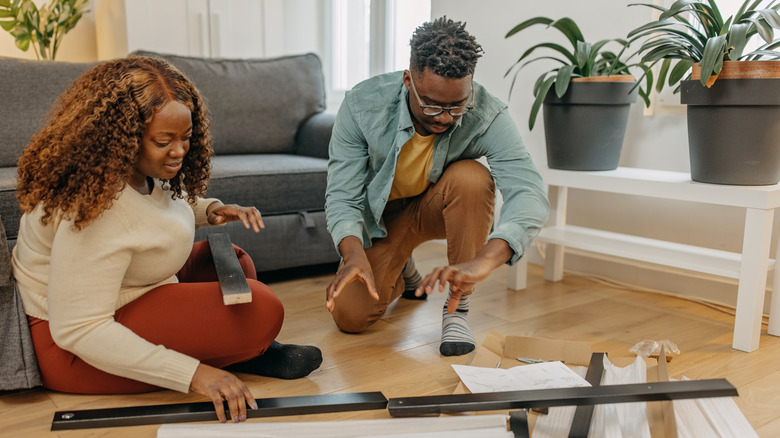 Supersizer/Getty Images
When searching for the perfect coffee table to place in your living room, you can easily run into a few problems. For instance, you may not be able to find one within your budget or one that's in the size you need. Even if you find the coffee table of your dreams that's too expensive, it could take a long time to wait until it goes on sale. Instead of waiting for a deal that might never come, indulge in a fun DIY project and make your own coffee table. YouTuber Jessica Lynn at Home made a video showing how she made a large coffee table to put in the middle of her living room using a wood round and a planter. 
She was looking for an oversized coffee table within her budget but found none. Instead of settling for a coffee table that she wasn't in love with, Lynn decided to make her own. She used a wood round from Menard and a resin planter from Walmart. However, you can purchase similar items at Home Depot instead of going to two different stores. Home Depot sells a Pine Edge Glued wood round for around $60 and a Round White Plastic Planter for about $55. The wood round has a primed surface, making it easy to stain a different color to complement your living room's interior.
Step-by-step tutorial on assembling the coffee table
YouTuber Jessica Lynn also mentioned a few other materials that you'll need, such as beige spray paint, a wood stain, construction adhesive, a paintbrush, a measuring tape, and a paper towel. Lynn used two types of spray paint: Stone Spray Paint for a textured finish and Smokey Beige Spray Paint for a pigmented tone, both by Rust-Oleum and sold at Home Depot. The wood stain she used on her round wood was Varathane in Early American, also sold at Home Depot.
Start by spray painting your planter with the stone textured spray paint and let it dry. It won't give the planter an intense color; instead, you'll notice the bumpy texture. After the planter dries, spray it with the smokey beige paint to add color, let it dry, and top it off with another coat of the stone spray. While the planter is drying, stain your wood round. Apply a few strokes of wood stain, then wipe it down with a towel. Stain both sides of the wood round. Allow the planter and round to completely dry overnight.
The next day, attach the planter to the wood round by adding construction adhesive around its opening and placing it upside down on the wood surface. Ensure the planter is centered with a measuring tape and move it accordingly before the glue dries. Then, wipe away the extra bond around the edge with a damp towel. Finally, set up and decorate your new coffee table.
Tips to keep in mind during your project
DIY projects are an excellent way to recreate something affordable and complement your home, and there are always ways to make it unique to you. For example, YouTuber Jessica Lynn used two types of spray paint to give the base a stone-like detail, but if you prefer a sleek, smooth look, opt to use solely the smokey beige instead of both paints. Simply add two coats of the beige hue to cover every part of the planter. On the other hand, change the spray paint color entirely if the beige doesn't match your living room. Try black or gray to keep it neutral and complement the wood stain. If you want to skip painting altogether, you could purchase a planter in the color you desire.
As for the wood stain, Lynn wanted her wood round to be a lighter shade, so she immediately wiped down the color. If you want a darker wood finish, let the stain set for a few seconds before wiping. It'll be more pigmented and rich in color, which works perfectly for moodier interiors. There are also many wood stain finishes to choose from, so you'll be able to decide which shade will work best in your living room. Finally, while you're completing this DIY, keep a dry or damp towel around if you need to quickly clean any messes, especially when you're gluing the planter to the wood round.