IKEA's Viral BILLY Bookcase Is Perfect For Food Storage In Your Kitchen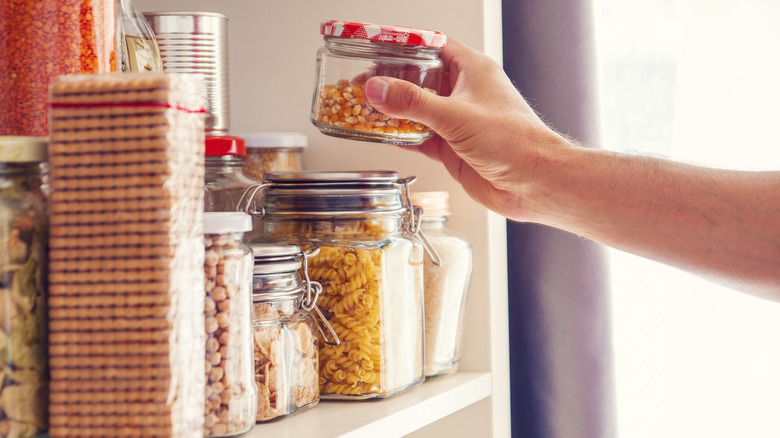 Cemagraphics/Getty Images
A great pantry space is essential for any well-organized home. While many newer homes come with a dedicated cabinet style or walk-in pantry, many older homes and smaller spaces like apartments lack this all-important element. With kitchen cabinets often at a premium, this can call for an easy pantry storage solution that won't break the bank. Many homeowners have been praising IKEA's BILLY bookcase system for its adaptability and budget-friendly pricing as a pantry solution. This is particularly true about the tall slender model, which can be used in tight areas where you may only have a couple feet of open space.
The tall and skinny BILLY bookshelf can be purchased with a glass door or without, ranging in price from between about $50 and $110, making it a perfect inexpensive solution for your food storage needs. The Oxberg doored model, which features a glass pane for the top shelves and hidden storage below, makes a perfectly pretty pantry, allowing you to both highlight and hide items in equal measure.
Using the BILLY bookcase as a pantry
This BILLY bookshelf hack joins a wealth of other kitchen storage options using the retailers versatile shelves and storage systems. For such a slender storage solution, the shelves are quite generous, measuring 15 ¾ inches across and 11 ¾ inches deep. Boxes, cans, containers, and any other pantry organization products will fit soundly within their confines. The units are also made of sturdy, stable particleboard and are meant to withstand the weight of books, which means they will hold even your heaviest kitchen essentials quite nicely. Place your favorite containers and dishes behind the glass doors above and hide other, less attractive pantry goods behind the doors at the bottom.
Use a single BILLY unit in a tight spot or place them in a row for a more spacious pantry. The slender unit is also great to fit into an unused corner. You can sand and paint the BILLY to match your kitchen's color scheme or add decorative wallpaper to the back of the visible shelves for a splash of pattern and color.