The Paint Mistake You're Making On Your Ceiling, According To A Real Estate Pro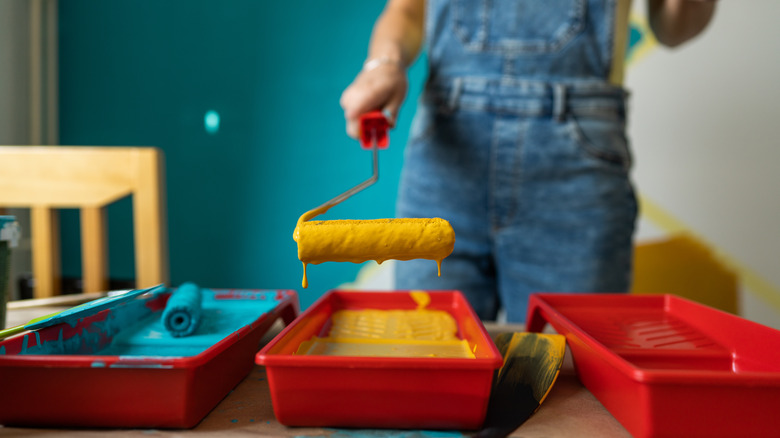 Jecapix/Getty Images
Selecting paint colors for walls is challenging enough, but what about ceilings? Matching the top of your room to the color of your wall paint might seem like a good idea, but that's not always the case. This is especially true when it comes to colors ranging from pastels to bright hues.
"People should never paint their ceilings a pastel color," California-based real estate agent Mia Cottet told Apartment Therapy. "It comes across as indecisive at best, preschool at worst." Other agents agree, including Cassandra Svolis, who said, "Primary, neon, even some pastel colors tend to cheapen the appearance of a home, even if it's on the walls. So imagine that on the ceiling!" So, if you were planning on doing something adventurous with your ceiling the next time you paint, it might be a good idea to think again. This is especially true if you're planning on putting your home on the market and don't want to repaint it beforehand.
Why to avoid too much color on your ceilings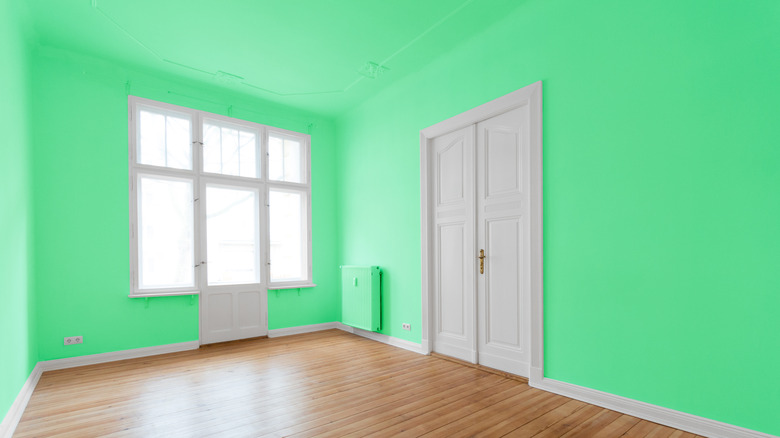 Hanohiki/Getty Images
While you might love the look of a soft pastel or bold color on your ceiling in the short term, what about the next time you want to redecorate? Do you really want to have to either spend the time painting the ceilings again or pay someone else to do it? After all, that's the most difficult area to reach, especially in homes with high ceilings. Then there's the decorating conundrum. "It's much more difficult to style a room with bold colors on the ceiling," Cassandra Svolis says (via Apartment Therapy). "Once you put a primary color on the ceiling, the next question becomes: What wall color is going to best pair with this ceiling? Ultimately, it's bound to feel more like a circus than a well-designed home."
Red ceilings can be even more problematic. "In the world of design, there are never any hard and fast rules," says Hawaii-based designer and realtor Stephanie Malcolm. "That said, if you are thinking of a contrasting color, then I would stay away from red. Red can feel aggressive as opposed to something more subtle and calm." In many instances, it makes better sense to go bolder on the walls and make a safe choice on the ceiling. 
Picking the best color for ceiling paint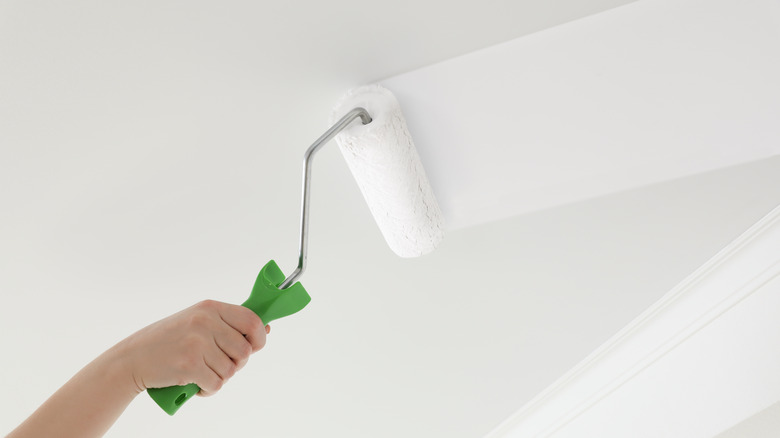 New Africa/Shutterstock
It makes sense that neutral colors on ceilings are going to be more appealing to potential homebuyers. But when you paint the walls any color other than white, like beige or light gray, should you paint the ceiling the same color? While some interior designers have a specific vision for a room that requires more color on the ceiling, and it's cheaper to paint ceilings the same color as the walls, for most homeowners the general answer is still no.
White ceilings tend to brighten the room since they reflect light better. Carefully selected furnishings and artwork are also highlighted with that reflected lightm and the ceiling seems higher, adding depth to a room. These are the main reasons homeowners opt for white ceilings. It's a classic paint-it-and-forget-it choice that blends well with most wall colors if you decide to change your decor later. There's also usually no wrong shade of white, but selecting a matte finish is usually the way to go. If you have trouble narrowing it down, you can always ask someone working in your favorite paint store about the most frequently selected white paint for ceilings and go from there.