Jonathan Scott's Tips For Pantry Organization Are Game Changers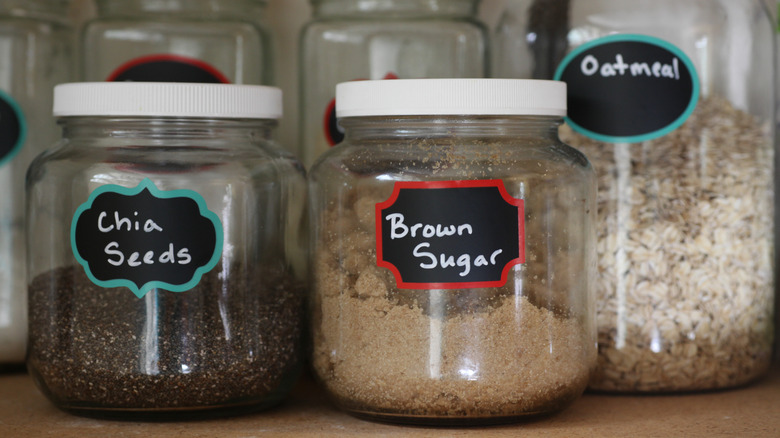 Cameronaynsmith/Getty Images
We may receive a commission on purchases made from links.
Are you tired of trying to keep your pantry looking perfect like the ones you see on Instagram? You may be suffering from what "Property Brothers" star Jonathan Scott refers to as "Perfect Pantry Fatigue." Scott is over pretending that picture-perfect pantries exist in real life. "Nobody has a perfect pantry where everything is matchy-matchy and boring. That's not realistic," Scott said in an Instagram post. That's why his tips for organizing real-life everyday pantries are game-changing.
The HGTV contractor laid out three main guidelines you can use to organize and maintain a tidy pantry. According to Scott, the average person's pantry should have a variety of storage options, including closed storage such as cabinets and drawers, and open storage like shelves. This will allow you to accommodate the different sizes of boxes and types of packaging that you store in your pantry.
You should also clearly label different sections and items in your pantry. This will make refilling your pantry a breeze and help keep it organized in the long term since everything will have its own place and can be easily put away. Scott's final tip was to include as many outlets as possible in your pantry when designing it. This will accommodate items like blenders or juicers that you use and store in your pantry.
How to use Jonathan Scott's tips in your own pantry
These tips can help you create an aesthetically pleasing pantry. According to Jonathan Scott, a pretty pantry does more than just create a sense of calm and orderliness. "Food tastes better if it also lives in a beautiful place. So, have a pantry that looks nice," Scott advises. 
There are many items available to help you organize your pantry in a Scott-approved way. If you have a pantry with only shelves and want to create diverse storage options, consider adding these tiered stackable trays for just $24 to take advantage of vertical space. If you have cabinets, these slide-out drawers for $30 can be installed for easy access and better organization. You can also save space and make your canned goods easily accessible with this can rack for $24.
To keep everything labeled, this set of 24 air-tight plastic canisters of different sizes priced at $34 can hold dry goods and other items and comes with blackboard labels that you can write on and later erase. For labeling everything else, this embossing label maker costs just $10. If you're short on outlets, this splitter can turn a two-plug outlet into a five-plug outlet with an additional three USB ports for only $15. These items can help keep your pantry looking pleasant and organized, even if it's not completely "boring" and uniform.