The Design Hack That'll Make The Most Of Every Square Inch Of Your Laundry Room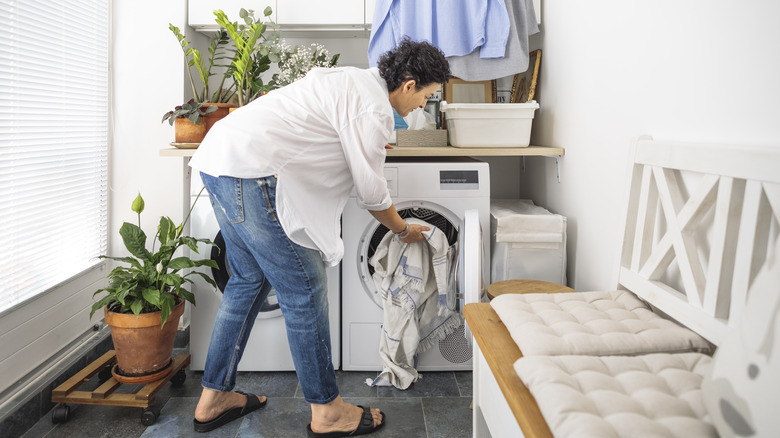 Eva-katalin/Getty Images
Apart from half bathrooms, laundry rooms are one of the smallest rooms in a house. This means finding ways to maximize this space is crucial to creating an organized laundry room. Luckily, rolling carts are slim, small, and can act as a great storage solution. With the narrow design these carts have, you can easily slip one between or next to your washer and dryer to utilize this typically empty area. They're also easy to stash in the gaps of your laundry room or place along a wall without taking up lots of floor space. And, thanks to the bottom wheels, rolling carts are easy to move around.
Using a slim rolling cart in your laundry room provides a variety of uses. Since these carts come with tiered shelves, they have plenty of places to store laundry necessities like detergents and dryer sheets. Having a rolling cart beside your appliances frees up shelf or floor space and allows you to easily keep a tidy environment, as you can store all of your bulky laundry products out of sight. 
Using a rolling cart in your laundry room
One of the best benefits of adding a rolling cart to your laundry room is its effortless design. This hack for extra laundry room organization doesn't require reconfiguring the room itself or hammering something into the wall. Instead, it utilizes the space you already have free to keep your belongings hidden while adding in extra storage. Plus, depending on how many tiers your cart has, you can style the top tier with faux plants to add decor. 
Rolling carts are primarily made with plastic and metal materials, though there are some available with engineered wood if you want an elevated design. To utilize these carts for even more organization, place hooks over the edges of the tiers to stow away brushes, hangers, or other hangable items. Finding a rolling cart for your laundry room is easy, as most retailers sell portable carts with multiple tiers and styles that can fit any budget. For instance, you could purchase the Spacekeeper Slim Rolling Storage Cart on Amazon for about $20. Or, you could choose the Hommtina Three Tier Rolling Cart that comes with attached hooks from Walmart for around $25. Target also sells one called the mDesign Portable Rolling Laundry Utility Cart Organizer, which has four shelves, is extra slim, and costs just over $35.
Can't find a cart you like? Try making your own
Not into the styles or materials offered? Consider making your own DIY rolling cart. DIY carts are mostly built with wood, but before you buy your boards, consider if you want three or four tiers. If you have a lot of laundry essentials to store, four tiers may be best, but make sure the shelves are tall enough to fit any large laundry detergent bottles. You will also need to measure the gap where you'll be placing your DIY cart to ensure that you build the right size. Use a measuring tape to measure the length and width of the space and buy the right sized wooden boards.
After you take your measurements, it's time to build your rolling cart. You'll start by cutting the boards for the shelves and the front and back of your piece. Then, drill pocket holes in the shelves where they'll be attached to the front and back with screws. Next, sand and stain your pieces, then allow them to thoroughly dry. On top of both of the long sides of the shelves, use wood glue to attach skinny pieces of trim, which will keep all your items from falling off. Then, screw everything together, add wheels and a handle, and organize all your items on the shelves.