Turn Your IKEA Lampshades Into A Stunning Decorative Side Table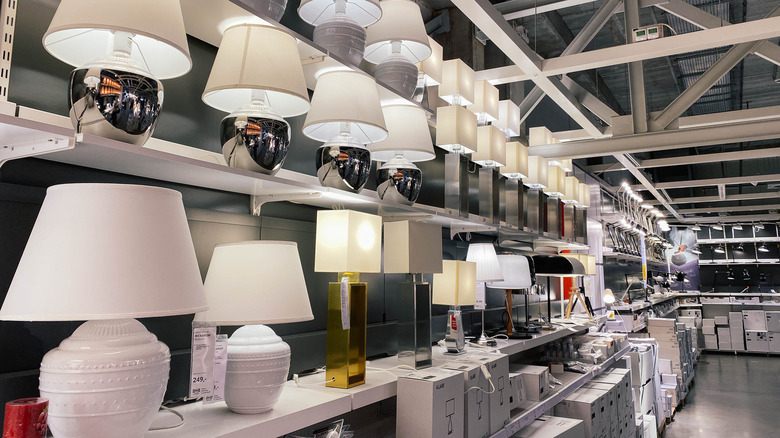 polya_olya/Shutterstock
Decorating a new space or updating your existing décor offers a great opportunity to showcase your personal style. The problem, however, occurs when your taste doesn't align with your budget. Nothing is more frustrating than when you have a specific piece in mind and it ends up costing about five times more than you're willing to spend. Luckily, however, the world of TikTok often has an answer in the form of an IKEA hack, and this DIY side table from creator @no7.design is no exception.
To build this modern, geometric side table yourself, all you'll need is a few things from IKEA and a bit of glue: two MYRHULT lamp shades and one SNUDDA lazy Susan. All the materials together should only cost you around $60, and the DIY itself requires barely any effort or experience, and no tools to pull off. Once you gather your materials, it should only take a minute or two of work and a couple of hours of dry time until you're able to use your new side table.
How to do this hack yourself
This IKEA hack is one of the simpler ideas out there, meaning it's perfect to try out, even if you are new to the world of DIY projects. In her TikTok video, @no7.design begins by gathering her supplies. She heads to IKEA to find what she needs, but you could also easily substitute the lampshades for a set of two that you find secondhand, just as long as you make sure they're the same size and shape so everything lines up properly.
From there, she places the first lampshade on the ground, applies a layer of glue, and sticks the other lampshade upside down on top. In her video, she mimes this action with regular school glue, but something like E6000 or a hot glue gun is likely better suited for this project. From there, she places the lazy Susan on top of the second lampshade to act as a tabletop. If you do this DIY yourself, you can glue this piece down for more security, or leave it open to create a bit of hidden storage. Give it some time to fully dry, and you're done. There you have it: a modern side table for less effort than assembling your furniture.