The Clever Paint Trick That'll Make Your Narrow Hallway Feel Brighter And Wider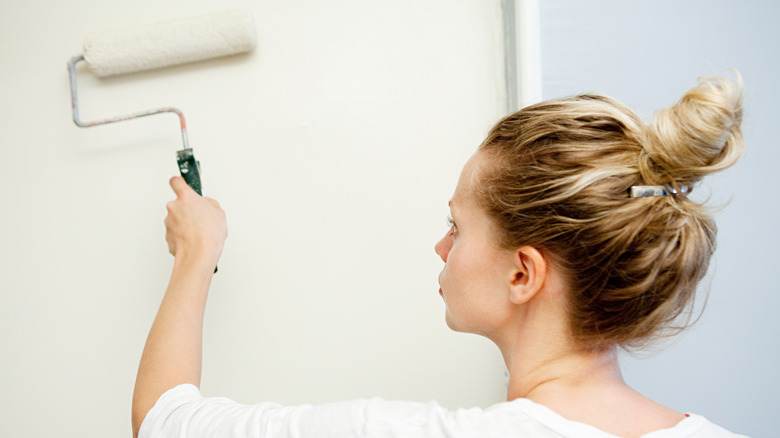 Image Source/Getty Images
Having a small, narrow hallway can feel more difficult to style. This can be because of the lack of natural light often found in these types of spaces, or perhaps because you're worried about making the space you do have appear even narrower. Either way, in most homes the hallway is the first part of your home that you and your guests will see, so you want the space to make a positive impression. However, there is an easy way to make your narrow hallway feel wider, and that's by mostly sticking to the same color throughout and then adding cautious splashes of another color to enhance the space.
Speaking to House & Garden, Betsy Smith, colour consultant at Graphenston, shared that her go-to trick is to "unify the space, keeping walls and doors to the same pale neutral or white, then carefully position pop of colour that you see when you open the door. Cool colours recede, adding depth to small hallways, while warm hues will jump forward and instantly catch the eye."
A narrow hallway doesn't have to be a nuisance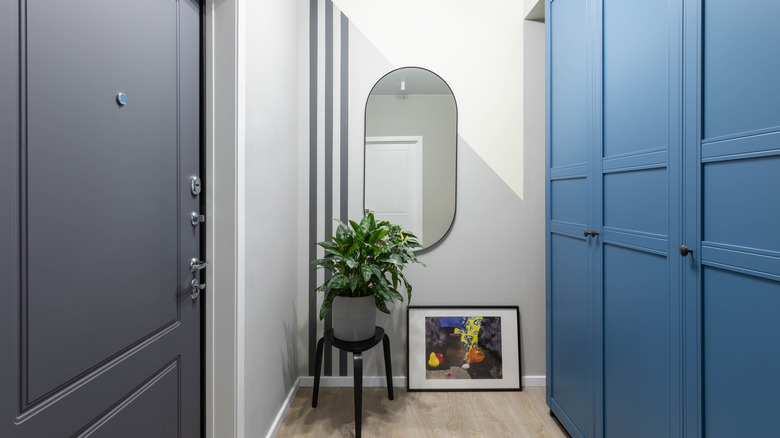 tartanparty/Shutterstock
Some good pale neutrals to use include beige, cream, white, or even a delicate pale pink if you're not a fan of true neutrals. As pointed out by Betsy Smith, cool-toned colors like crisp white will bring depth to a space, but if your goal is to create a welcoming ambiance, warm-toned shades like cream are a better option to paint your hallway with. Then, leave a brighter pop of color (think colors like blue or green that are bold but versatile) for one section of your hallway. This should be in an area that is instantly visible, like the end of your hallway.
It's also a good idea to think about where light hits in your hallway. If you have glass panels in your door or are lucky enough to have a large window, using a darker color where the light shines will work in harmony with a narrow hallway rather than against it. As well as your walls, it's a good idea to paint your baseboards and any molding or trim in a light color, too. Additionally, ensure your ceiling is painted in a light color. Even if you don't have a high ceiling, painting it white or a light neutral can make all the difference and will open up the space you do have.