TikTok's Simple Hack Will Fix Your Slow Laundry Detergent Dispenser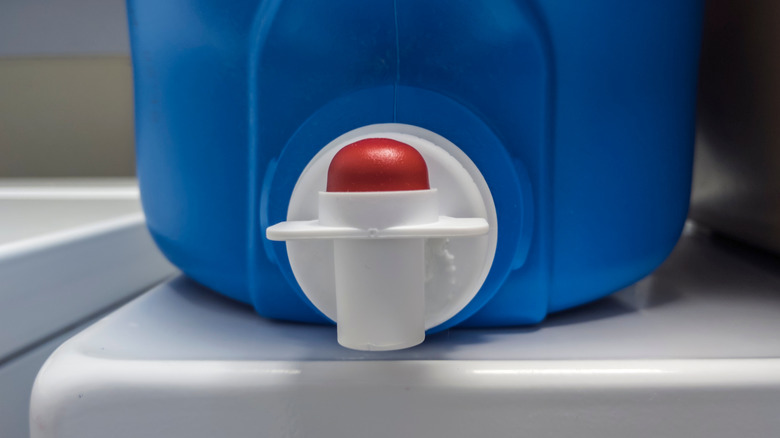 Colleen Michaels/Shutterstock
Laundry is an everyday part of our lives, but when you're busy you just want to throw in the load and go. However, sometimes, your detergent dispenser doesn't feel the same sense of urgency as you do.  There is a handy solution to this frustrating feeling. The following TikTok hack will make your dispenser pump detergent a lot faster, giving you the required amount of detergent in no time.
A detergent dispenser is useful for helping to organize your laundry room, as it lets you split your detergents into convenient separate containers, not to mention it can look a lot more aesthetic than a bunch of bottles with different designs. However, if you have ever stood in your laundry room, patiently (or not so patiently) trying to pump out your laundry detergent but it's moving at a snail's pace, you'll know the struggle. Requiring nothing more than the laundry essentials you already have, this ingenious hack may seem simple but could make laundry day move a lot faster — here's everything you need to know.
Stop wasting time on dispensing detergent with this handy hack
As discovered by clean_perfectionist, who posted the above TikTok sharing their discovery, the trick to detergent flowing smoothly out of the dispenser is simple. Instead of pressing the pump a ton of times with the lid screwed firmly on, unscrew the cap to let trapped air out. Once you have done this, the detergent should flow out a lot faster, saving you time when you want to get your laundry done efficiently. This hack may not work for every type of dispenser, depending on the design of the dispenser and its pumping mechanism, but it's worth a try!
It's also worth noting that if your dispenser is slow, there could be an issue with the actual product. For example, the dispenser pipe could be too short to reach the detergent properly, or there could be a blockage somewhere in the pump. Either way, there's no harm in trying this TikTok trick to speed up the process.