Transform Home Depot Cabinets Into A Gorgeous DIY Kitchen Island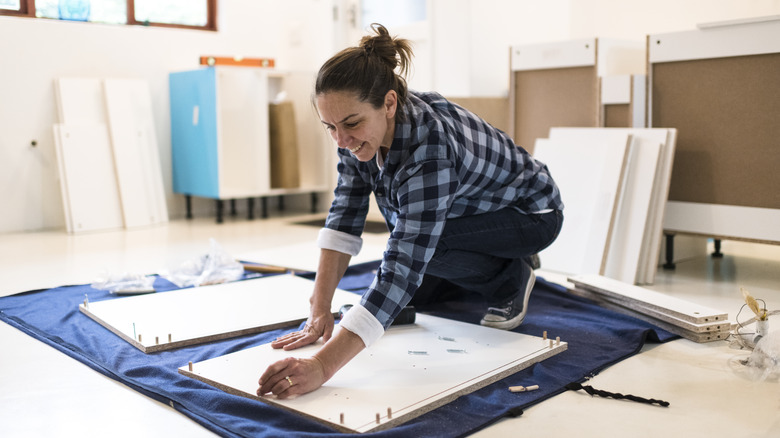 Pixelcatchers/Getty Images
Are you seeking additional counter space and storage in your kitchen? Transforming unfinished Home Depot cabinets into a kitchen island might be an option to consider. This approach offers several advantages. Opting for unfinished cabinets is often more cost-effective than custom-built alternatives. This makes it a budget-conscious choice for those wanting a stylish yet affordable kitchen island. This DIY project also lets you handpick cabinet configurations and countertops, ensuring the final product aligns with custom size requirements. 
The transformation of unfinished cabinets into a kitchen island is a manageable DIY project. Even with basic tools and skills, you can achieve a professional-looking result. Starting with unfinished cabinets means you have the freedom to paint them any color and add personalized finishing touches. Then, you can top your new base with whatever countertop is best for your space. This ensures your island isn't just functional but that it's also a distinctive centerpiece that enhances your kitchen's charm.
How to build your own kitchen island
First, plan the island's layout. This involves considering the kitchen's available space, desired countertop height, appliance placement, and the island's storage needs. Then, explore Home Depot's extensive selection of unfinished cabinets as shown by the_singing_designer on TikTok. With various sizes and styles available, you're bound to find the perfect fit for your vision. 
After assembling the cabinets, ensure they're firmly secured together using wood screws. Next, select a countertop that complements the cabinets and suits your functional needs. Home Depot offers many choices, from butcher block and granite to quartz. Reclaimed wood or a vintage door can serve as a unique countertop if you're aiming for a distinctive touch. When installing the countertop, follow the manufacturer's instructions, making necessary adjustments for a perfect fit. Remember to seal any vulnerable materials to safeguard against moisture and potential stains.
Finally, elevate your island's aesthetics with finishing touches. This could be decorative molding, chic hardware, or a fresh coat of paint or stain. By adhering to these steps and infusing a touch of creativity, you can craft a kitchen island that's both stylish and functional, enhancing your kitchen's overall appeal.