We Tried An Affordable Steam Cleaner From Amazon With Lukewarm Results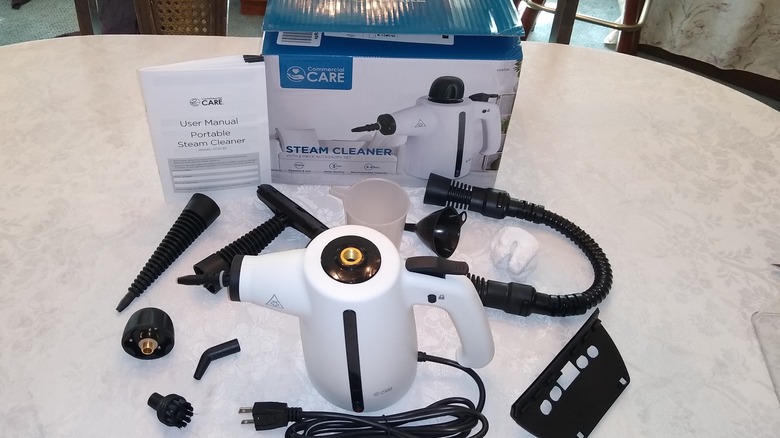 Valerie Golik/Static Media
We may receive a commission on purchases made from links.
We recently purchased the nine-piece Commercial Care Steam Cleaner set but were hesitant to try a handheld steamer. Billed as a "powerful" little workhorse that provides 1200 watts of pressurized steam, we feared that once we started cleaning things with it, we'd be hooked. We might start with the upholstered kitchen chairs and the living room recliner where the cat likes to nap, but nothing in the house would be safe (except maybe the cat) before long. But first, the thrifty steam cleaner needed to live up to its claims.
The manufacturer boasts of four advantages. First, Commercial Care contends that the steamer heats quickly (in just three minutes, they say; we'll be using a stopwatch to see if we can tick off that claim). Secondly, they tout their "smart design," highlighting a lengthy cord over 6 feet long and a maneuverable weight of just 3.5 pounds. Adding to their design features is a "comfortable" grip; we'll check this against some small hands. Their third advantage is the 9-piece accessory set, and we counted all nine as we unpacked them: a funnel for filling the steamer, an extension hose, three different spray nozzles, a small ironing brush, a measuring cup, a window squeegee, and a cloth sleeve for the ironing brush. Lastly, the company brags about the product's multiuse capabilities and how the steamer can be used on carpets, upholstery, tile, and in the car. Hot, smart, accessorized, and versatile — but does it work?
Sizing up this underdog super-steamer contender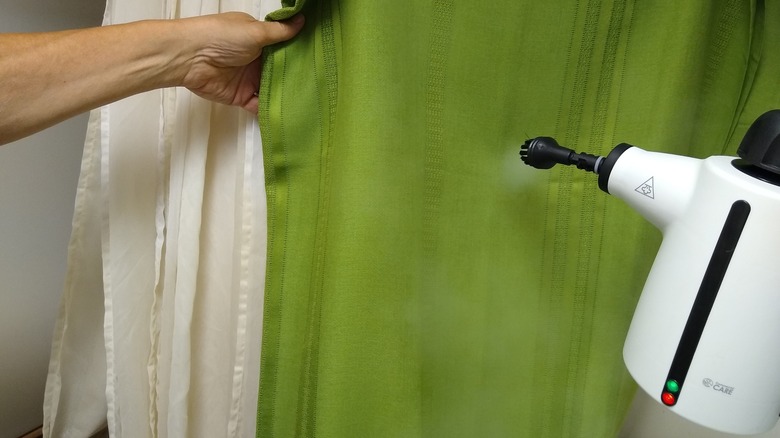 Valerie Golik/Static Media
Who isn't a sucker for an underdog story and a bargain? So, knowing that the Commercial Care Steam Cleaner isn't a name-brand product didn't bother us. It sells on Amazon for $37-45, depending on when you look for it. Ours rang in at $37.97 before tax, and shipping was free with Amazon Prime.
The brand offers several versions of the steamer with varying numbers of accessories. The nine attachments and doohickeys that came with it were more than enough for our initial uses — even if our minds were running amok with ideas. Everything they advertised was included in the box, including a mostly comprehensible user manual. However, they lost use when they got to the part about installing the "spray cups" since the only attachment identifiable as a cup had a round brush on one end. Nevertheless, through trial and error, we figured out how to attach the various tools and attachments.
We wanted to set everything up properly before getting our "experiments" underway. A quick note: Despite solid reviews on Amazon, numerous reviewers remarked that it ran out of steam rather quickly — after only 20 minutes or so of use. Thankfully, we had more than enough surfaces to clean to put this to the test. Everything needed to be steamed, cleaned, and disinfected. Where to start?
Three strikes and your grout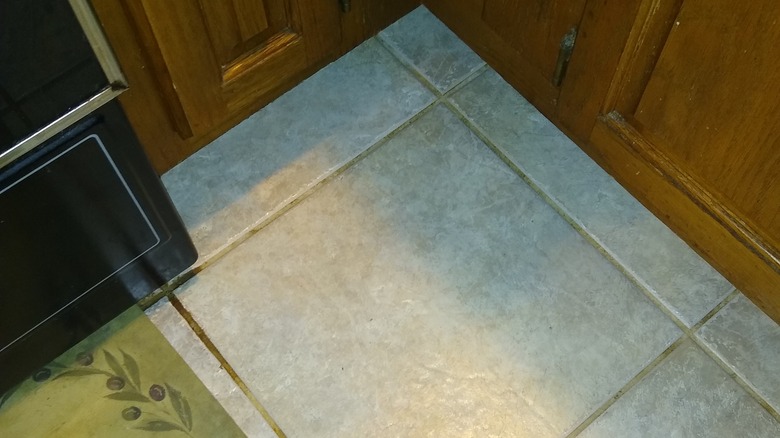 Valerie Golik/Static Media
Since the manufacturer boasted that the Commercial Care Steam Cleaner works on various surfaces, we wanted to try several with different nozzles. We had a table runner that had been folded in the China cabinet for years, so we brought it out to be steamed. The tile in the corner between the range and the kitchen sink attracts every crumb and piece of crud, so it made the list. Is there any household in America without dirty white sneakers? We had just the pair. And for good measure, our old but beloved entryway rug is too fragile to run through the washing machine, so it, too, would be steamed.
As promised, it did heat up in 3 to 4 minutes. We tackled the green table runner first, thinking steaming a cloth would be easy — but apparently not. On our first try, the steamer dripped water onto the cloth (which took 30 minutes to dry), yet the wrinkles remained. However, a second attempt with the cloth hanging up yielded better results.
Cleaning the grout was much more promising. In fact, this was the most successful use of the handheld steamer, and yet not the most practical application. To do an entire floor would be labor-intensive and back-breaking. However, it would be effective. Alas, the steamer had zero effect on the dingy sneakers, but it did seem to help a little with brightening the rug.
Not the worst purchase ever, but give it some thought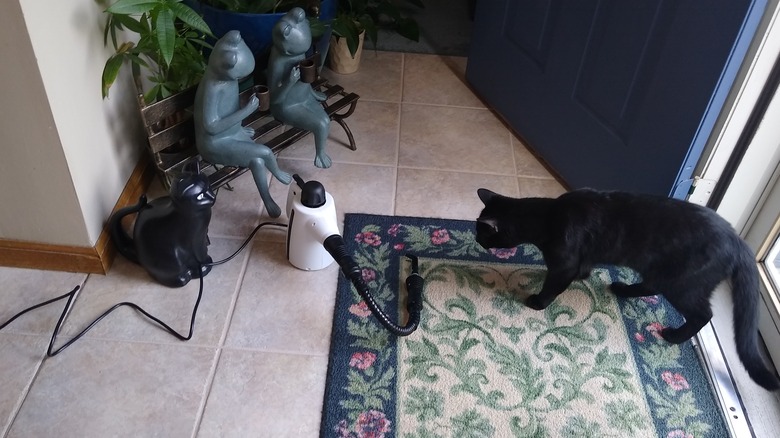 Valerie Golik/Static Media
No one likes to clean, so anything that makes it easier is worth trying as far as we're concerned. We had all our fingers crossed that the Commercial Care Steam Cleaner would make life much easier and our house far cleaner. We may have gotten our hopes up a bit too high.
Yes, the steamer lived up to some of our expectations. As promised, it heated quickly, did have a reasonably long cord, and sported a comfortable grip. While the cord was long enough for indoor use, we don't know how it would work in a car without an extension cord. And what no one seemed to mention — neither the company nor online reviews — was that the steamer tended to tip forward if the hose attachment was on, particularly when the water reservoir was running low. The user manual was fine until we needed to know how to attach nozzles correctly. At that point, their descriptions were lacking, so we just figured it out on our own.
So, did it work? Unfortunately, there isn't an easy answer to that question. The Commercial Care Steam Cleaner worked great on hard surfaces, less so on soft ones. Did it disinfect? We suspect it might have, given that it spewed out steam. Is it worth the money? That question might depend on how dingy your grout is and how much time you have on your hands.