What Happens When You Add Glitter To Your Paint?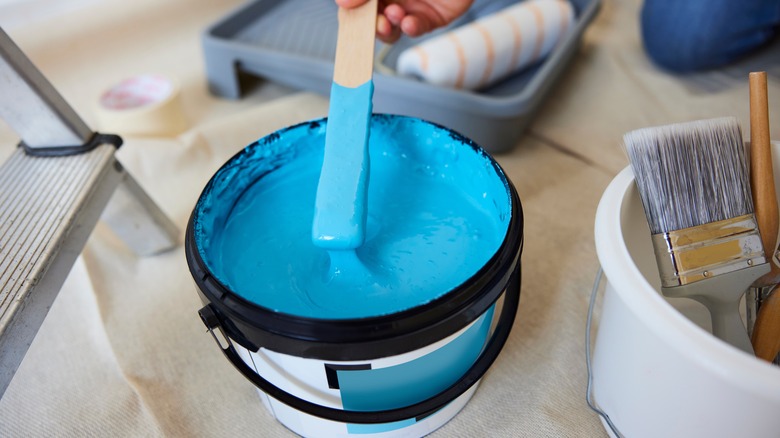 Daisy Daisy/Shutterstock
How do you feel about neutral walls? If you're one of the many who have embraced Barbiecore, shades like beige and eggshell likely don't resonate. When planning a room, you want the joie de vivre that can only come from a wonderland of color. Shades like millennial pink, lilac, and fuschia inspire delight which can be amplified with Barbie's good friend: glitter. Adding glitter to wall paint adds dimension, texture, and a whole lot of glitz. 
Glitter additives will elevate any paint shade, and blending a multicolor glitter with a lively paint color unlocks a new level of glamour. While it's easily incorporated into Barbiecore interior designs, glittery paint is suited for many projects. Space-enthusiasts can add a fine, iridescent pigment to dark paint for an homage to the night sky. On the flip side, a vibrant aqua wall with flecks of silver and green glitter is perfect for a magical mermaid grotto. Eye-catching and lively, glitter is surprisingly versatile and refreshingly easy to use in your next design project. 
Embrace glitz and glam by adding glitter to wall paint
The simplest way to achieve a dreamy shimmer is to buy paint with glitter in it. There's no need to measure, so you can apply it as directed without further fuss. However, you are not in control of the amount of glitter in the paint, which means you could end up with more or less sparkle than you want. 
If you are unable to find a paint to suit your vision, you can mix your own instead. You'll need the wall paint of your choice and a glitter paint additive — there are many colors and holographic blends that can be added to just about any store-bought paint. Instructions may vary depending on brand and additive texture, but typically, the mixing process is as simple as stirring for a few minutes. The only downside to mixing your own paint is the potential mess you could create. However, knowing the most effective ways to clean up glitter will save you hours of frustration.
There's also a top coat option for those who are wary of dumping glitter into fresh cans of wall paint, and applying a glittery finish after painting gives you more control over the amount of shimmer on the wall. You can build up layer upon layer of sparkles, or keep it light with a single coat. This option is perfect if you're worried about being too heavy-handed with the glitter additive.