The Popular Paint Shade That's Even Better Than Flat White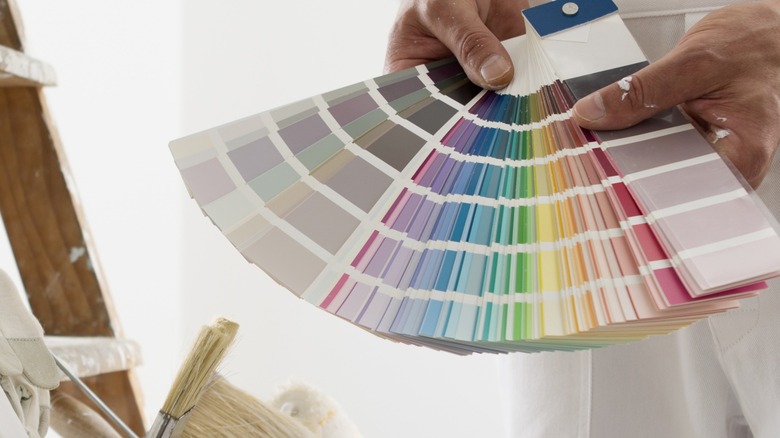 amedeoemaja/Shutterstock
Neutral color palette trends are ever-changing, but there's one popular neutral on the scene that could potentially stand the test of time: Aesthetic White by Sherwin-Williams. Aesthetic White has certainly become the white du jour: on TikTok, videos about the paint shade have reached over 900 million views. A home design novice might question the necessity of straying from a standard flat white paint, but finding a well-balanced light neutral can truly make the difference between a sterile environment and a cozy, peaceful home.
Aesthetic White is a cool and calming shade of pale beige; it's dark enough to be a firm departure from a more traditional white while still maintaining a light, airy feeling. This color gives you all the soothing qualities of a good neutral tone, and unlike a dated millennial gray, it pairs well with a wide range of color schemes. When it comes to incorporating Aesthetic White into your next home project, the options are virtually endless.
What is Aesthetic White?
Aesthetic White is a cool, soft off-white that Sherwin-Williams describes as having a "subtle violet undertone." If you're looking for the perfect off-white that leans a little on the cool side, Aesthetic White could be the shade for you.
At first glance, Aesthetic White can actually seem like a warm white, with the pale lavender hue appearing similar to a warm beige. However, when you compare Aesthetic White alongside a true warm white from Sherwin-Williams, such as Alabaster, you'll find that Aesthetic White has a distinctly cool-neutral undertone, thanks to the violet base. A cool white is a major design asset: it doesn't overwhelm like a pure, flat white would, but rather opens up and refreshes a space. Aesthetic White also has the perk of having a relatively lower light-reflecting value for a white shade, with an LRV of 73, so instead of getting a harsh brightness as you would with a flat white, you'll get a very natural-looking light effect.
For interior usage, Aesthetic White looks beautiful when paired with a brighter white trim or wainscoting. The contrast will make the room feel crisp and polished. Alternatively, you can use Aesthetic White as an accent wall color, with the other walls painted a lighter off-white shade. If you want to use Aesthetic White with a bolder color scheme, try experimenting with greens, blues, and other cool hues that would draw on the undertones in Aesthetic White.
Where to buy Aesthetic White
If you want to try out Aesthetic White, you won't have to look far to find it. You can buy Aesthetic White directly from Sherwin-Williams, where the color is available in multiple exterior and interior paint varieties. Alternatively, you can find Aesthetic White at Lowe's, where it's available as part of the HGTV Home by Sherwin-Williams collection.
Typically, the price of HGTV Home by Sherwin-Williams (sold exclusively at Lowe's) is cheaper than SuperPaint, an interior paint sold on the Sherwin-Williams website and at Sherwin-Williams stores. For example, at the time of writing, a gallon of HGTV Home in Aesthetic White with a flat finish costs $59.98 at Lowe's, whereas a gallon of SuperPaint in Aesthetic White with a flat finish has a regular price of $69.99. Depending on your project, you might be better off shopping on the Sherwin-Williams website, since this gives you the biggest range of product options in the color Aesthetic White. The Sherwin-Williams website also frequently holds 40% off sales, so if you shop at the right time, you can get that same gallon of paint for only $41.99.
The best neutrals for your home project all depend on personal taste, but in the case of Aesthetic White, the popular choice may also be the right one. So next time you find yourself reaching for a can of flat white paint, take a moment to consider upgrading to this beloved off-white hue.