What Is Millennial Gray? The TikTok Viral Decor Color Is Dividing The Internet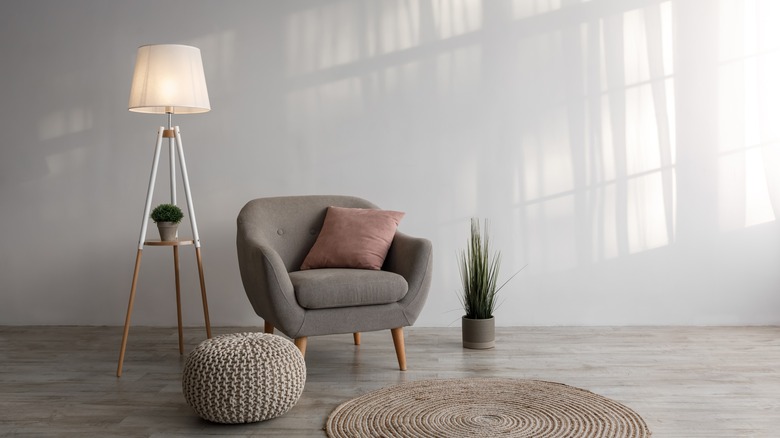 Prostock-studio/Shutterstock
The term "millennial gray" refers to the various shades of gray that have been popular in home décor and furnishings since the early 2010s. In what some observant circles called "the Graying of America," people began swapping out the dull beiges, Tuscan reds, and blinding neons of the 2000s for cool, clean, and crisp grays. Pantone named "Ultimate Gray" as one of their colors of the year for 2021, and "Agreeable Gray," a best-selling paint color by Sherwin-Williams is another perfect example of the millennial gray phenomenon. These days, you'll likely find this color in flipped homes, trendy offices, rental apartments, and waiting rooms everywhere, but we didn't just see millennial gray splashed on walls in the 2010s. This color pervaded home décor, furniture, bedding, curtains, kitchenware, flooring materials, and even our wardrobes. 
As is the destiny of all interior design trends, the appeal of millennial gray is starting to fade. Why are younger generations so averse to the adaptable and neutral color? And what are we going to do with all that gray vinyl flooring? Learn more about the color controversy sweeping the Internet and how you can upgrade your home's interior style, even if you aren't ready to give up the gray.  
The rise and fall of millennial gray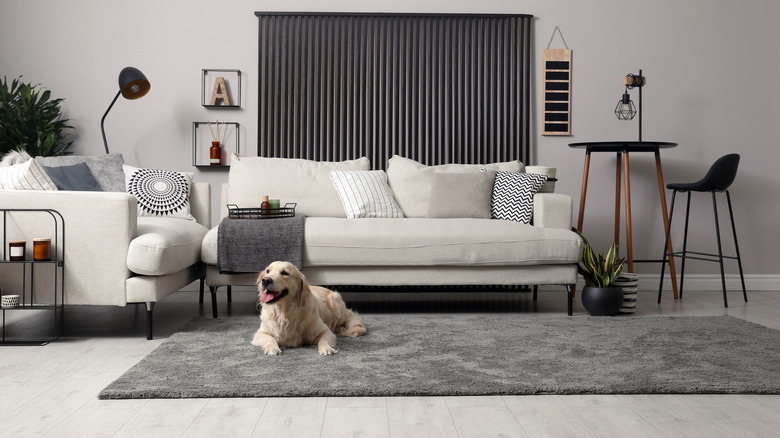 New Africa/Shutterstock
The trend for millennial gray likely started as an allergic reaction to the popular Tuscan-inspired interiors of the mid-to-late 2000s. As teens grew older and eventually moved out, they rejected the brown and tan walls, dusty plastic grapes, and rooster motifs that covered their parents' homes. Overwhelmed millennials craved simplicity, cleanliness, and cool tones. One millennial on TikTok, @corndogbicep, explained "This is not a farmhouse gray. This is asylum gray, okay? We're living in peace now." 
While some millennials already feel defensive about the term, it isn't meant to offend anyone. As teens today might say, millennial gray isn't just a color; it's a whole vibe. The neutral shade is often paired with "Live, Laugh, Love" signage, mass-produced watercolor prints, and cheap flat-pack furniture — all minor details that make the whole room feel more outdated and tragically "millennial."
Millennial gray has also become a telltale sign of cheaply flipped houses, and many young people on social media feel disappointed about historical home "transformations" where vintage charm is ripped out and replaced with "Agreeable Gray" paint. But the biggest problem with gray walls and floors is that they tend to sap the life out of any other color scheme. The only colors that complement gray are gray, white, black, and splashes of pink or teal. All in all, millennial gray feels cold and sterile in an era where we crave warmth and vibrancy. 
Where do we go from gray?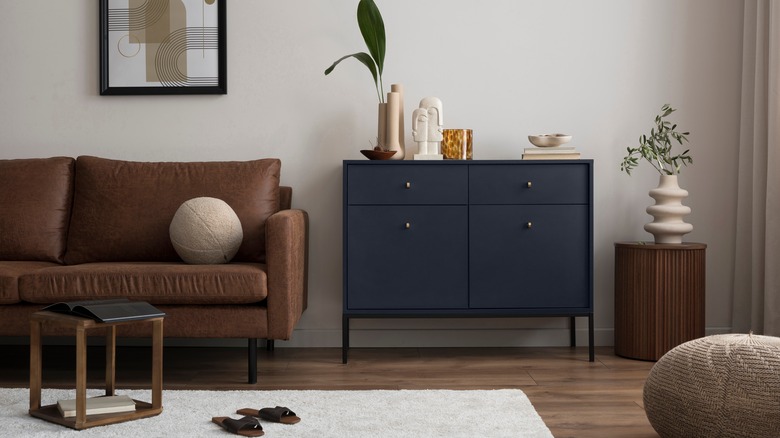 Followtheflow/Shutterstock
Every trend has its place, and after over a decade in the crisp white spotlight, it's time to cycle out the millennial gray for interiors with more personality. Colorful, sustainable, and eclectic spaces are in, and we're seeing a strong return to natural wood tones in both flooring and furniture. If you like gray because it's a neutral color, you aren't out of luck. Neutrals are still in style, but we're moving away from cold tones and toward a softer approach with warm whites, creams, beige, and brown. Colors like sage green, navy blue, and rust also play very well together and are slowly showing up as the "new neutrals" of the 2020s. As interior designer Noz Nozawa told HGTV, "Navy in a home is like jeans for your outfit: It goes with everything."
What if you aren't ready to give up the gray? It's clean, it's adaptable, and it'll never really go out of style, right? The key to styling your millennial grays in a modern way is to learn toward a warmer shade, if possible, like Villa Grey from Valspar. Opt for unique furniture textures and décor, and throw a fluffy rug over gray-toned vinyl floors. At the end of the day, remember that trends are temporary. Stick with a décor style you love, and it will last you a lifetime — even if it happens to be millennial gray.