The Kitchen Paint Trend That A Real Estate Agent Advises Against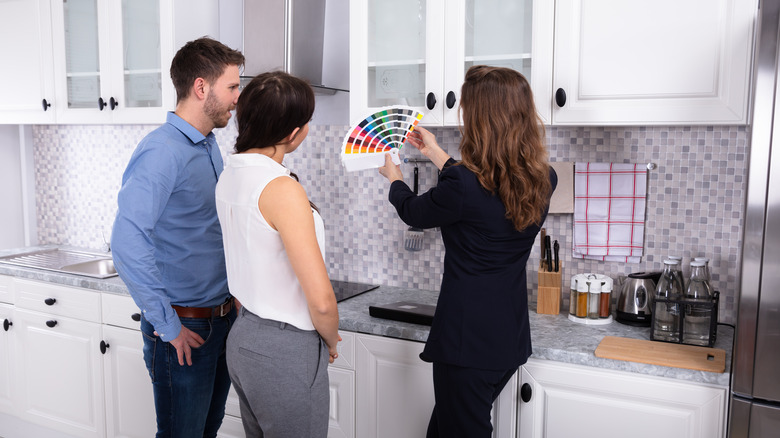 Andrey_Popov/Shutterstock
Certainly in interior design, but truly in every business category, it's the innovators that bring forth new ideas. And eventually, those new ideas can gain dominance. To stay relevant, interior designers must keep themselves aware of current design movements and become early adopters. Yet the best designers hold fast to their own vision and don't overly rely on trends because, by their very nature, trends eventually go out of fashion, making a space feel dated. A kitchen paint trend that's under review is the potential misuse of darker colors and black.
For 2023, no less than Martha Stewart, Homes and Gardens, and Better Homes & Gardens all forecast kitchen walls and cabinets in darker colors. And not just any darker colors, but there was an emphasis on dark gray, greige, and even black in the kitchen. From the point of view of Paul Chastain, a California-based real estate agent with Keller Williams, that's not necessarily great news. 
Are darker kitchens a good idea?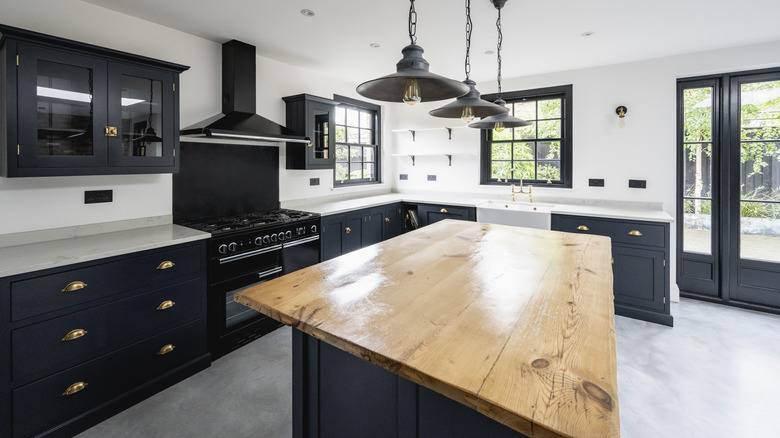 Johnnygreig/Getty Images
Realtors are plugged into what features inside and outside of a home lower and raise its value and alter the sale price. Chastain shared with Apartment Therapy that "There is a move to darker paint and wood colors. But you must be careful here because good color is a function of space size and light. You need a large kitchen or lots of light to get away with darker colors. Dark spaces are still a detractor of value."
Something to keep in mind from color theory is that white and light colors highlight and open up a space, bringing attention to it or enlarging it, while black and dark colors make a room recede, feel closed, or smaller. We've seen a kitchen trend called tuxedo cabinets — the bottom row is all painted black, and the top row is white or light wood. If you're considering this trend, ask yourself whether the arrangement of colors creates flow and a sense of ease or stops the energy. We'd add that a less intrusive way to adopt dark colors in your kitchen is to consider black kitchen countertops.