The Unexpected Benefit Of Cleaning Your Mirror With Club Soda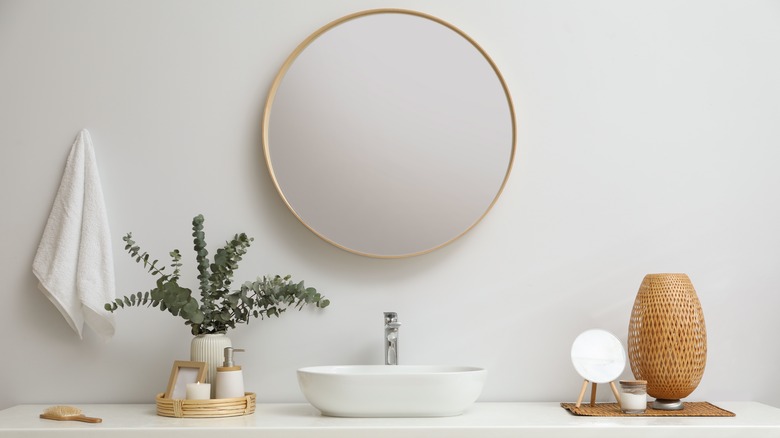 New Africa/Shutterstock
When you've had a moment to take a luxuriously long shower, you probably steamed up the joint, especially the mirror. But the mirror wasn't just white with steam; the sweeping streaks from the last time you cleaned it suddenly became visible too. The housekeeping police, which we can all be thankful don't exist, aren't knocking down your door because of a streaky mirror. But we do have a hack you can use in case company shows up.
There is an unexpected benefit of cleaning your bathroom mirror with club soda, which is that it becomes sparkly and streak-free. It's also odorless and won't add another chemical to whatever you're already using to clean various parts of your bathroom. In fact, club soda even comes under the category of a handy bleach alternative for a few other cleaning uses that are good to know about. Your mirror is not the germ-a-palooza your toilet and kitchen are, so you can take it easy with the blue stuff or other commercially prepared chemicals. 
How to use the club soda hack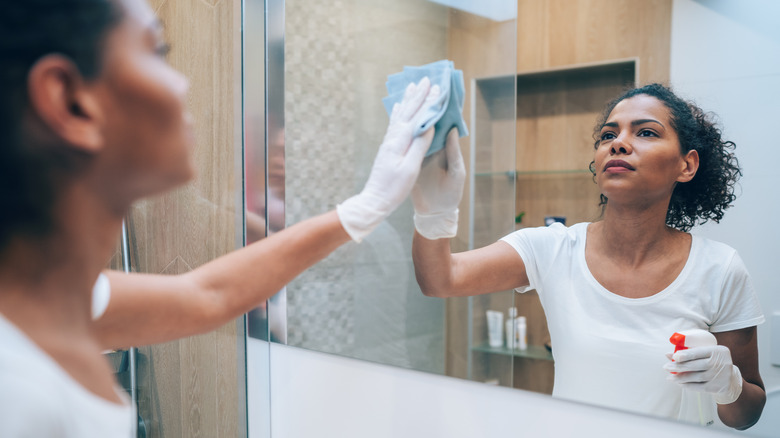 Filadendron/Getty Images
Make sure you're only using club soda and not actual soda pop when cleaning mirrors. We're certain we don't have to say this, but Sprite and 7 Up are absolutely not suitable substitutes unless you want to attract a mountain of ants and other insects. Regular soda leaves behind the stickiness of sugar water and is never a mirror-cleaning substitute. We've heard a rumor that it can clean grease off laundry during a wash cycle, but we're not trying that.
The best way to implement this hack is to pour club soda into a clean spray bottle and spray the entire mirror, top to bottom. Give it a few minutes to mostly dry, and you'll see a much clearer image. It will either eliminate or greatly reduce smudges. If you have a microfiber standing by, it's not the worst use of your time to carefully buff out a resistant smudge or two. Use a terrycloth towel or paper towel to get rid of the excess water that landed on the sink countertop.