Use Jenn Todryk's Perfect Coastal Color Palette For The Most Relaxing Bathroom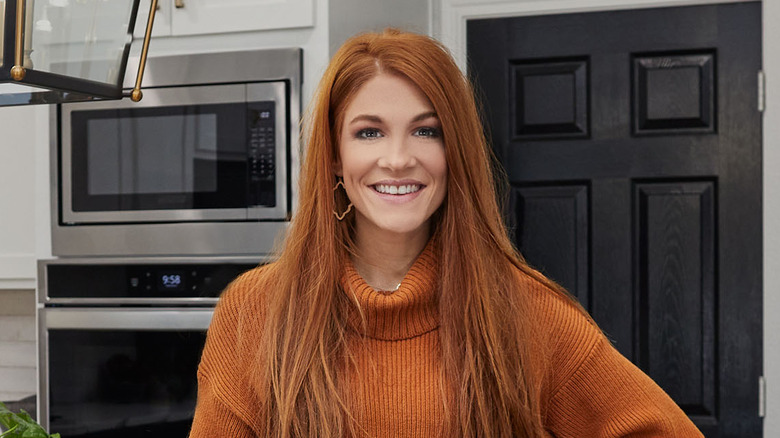 HGTV
Every home should have a serene space that promotes relaxation where you can unwind and decompress from your day. For many people, the bathroom can be that relaxing retreat. Color is one of the easiest ways to create a soothing environment. It's been proven that color has an impact on mood because of the associations made with certain shades. Cool colors tend to be ones that people associate with feeling calm and easing anxious feelings.
Think of the beach with the mix of blues and greens from the water, the sea grass, and palm trees. The beach, for some people, is one of the ultimate places of relaxation. Jenn Todryk from HGTV's "No Demo Reno" brings a coastal feeling into one of her clients' bathrooms to create a space that feels calming. The bathroom previously had a monochromatic palette of white and featured many outdated finishes.
Todryk updated the vanity with a new quartz countertop. Without changing the bathroom or vanity layout, Todryk changed the doors and added a fresh coat of blue-green paint reminiscent of ocean water. To further bring in the coastal feeling, there are accents of natural wood in the mirror frames, floating shelves, and countertop accessories.
A soothing ocean shade
Many people feel relaxed when sitting on the beach, and it's not only because of being on vacation. Clinical psychologist Richard Shuster, PsyD tells NBC News, "The color blue has been found by an overwhelming amount of people to be associated with feelings of calm and peace. Staring at the ocean actually changes our brain waves' frequency and puts us into a mild meditative state." Bringing elements reminiscent of sitting on the beach into the bathroom can help trigger a similar relaxed state in our bodies.
That's just what Jenn Todryk did on an episode of "No Demo Reno." The interior designer repainted the white cabinets to a stunning shade of blue-green that looks like ocean water. Shades like Backdrop's Saturday on Sunday, Retreat by Sherwin-Williams, Dix Blue from Farrow & Ball, and Summer Friday by Clare are all colors that can feel like having your own piece of the ocean.
Todryk painting the vanity is a great way to add a pop of color and create a feature in the room. However, it's not the only way to incorporate the colors of the sea. Painting the walls can be another easy way to use paint. Glass tiles in shades of blue and green can also bring both the color and texture of ocean water into the room.
Oceanside textures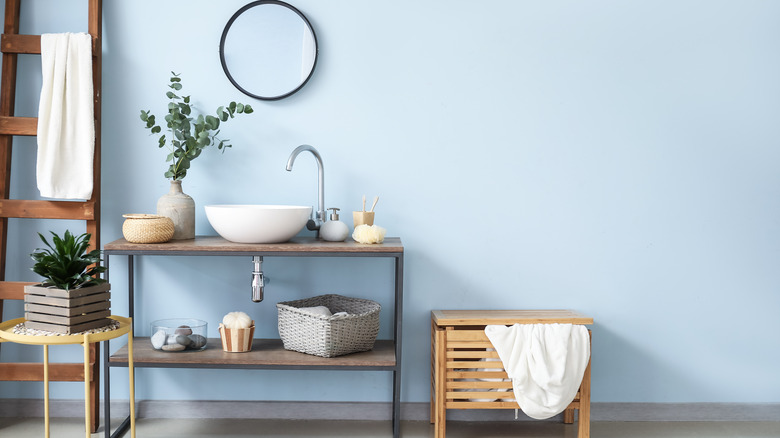 Pixel-Shot/Shutterstock
Beyond colors, having the right textures in the room can further the comforting color palette. Jenn Todryk added textures that evoke images of the oceanside, with gray-toned wood frames around the mirrors and woven baskets on the vanity counters. Other woven and natural materials, such as jute, rattan, cane, and wicker, bring a natural seaside feeling into the room. Consider woven baskets for a coastal feel that can also function as organization. Woven pendant light shades can also make a subtle statement in the bathroom.
When it comes to wood, lighter wood finishes feel more coastal than darker ones. Blonde and gray wood, particularly, feel like the beach. Look for slight distressing to emulate a weatherworn feel. Glass vases, especially colored pieces, can look like sea glass and add a sleek and modern accent to the room. Fill them with light and whispy grasses inspired by ones that grow on coastlines for a finishing touch.