Are Your Window Treatments Dating Your Home? It Might Be Time For An Update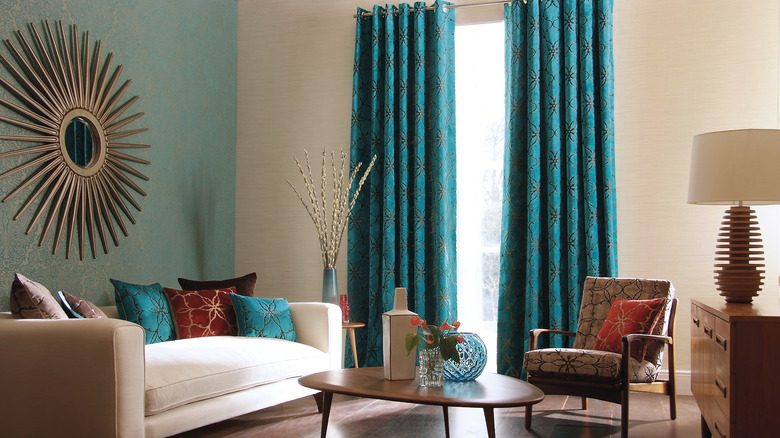 Onzeg/Getty Images
While we hear a lot about lighting and paint color and wood finishes, we hear much less about what to do with windows. Many of us have gotten used to moving into a renter or even a first house, accepting the builder-grade window treatments, and moving on. Or, we updated them years ago, and haven't seen reason enough to switch them out. However, window treatments can quickly age your home décor, so it's important to make sure they are updated and consistent with your aesthetic. 
It can be hard to know whether a window treatment needs an update — after all, if the blinds and curtains are giving you privacy and allowing light in when they need to, isn't that what counts? From a functional viewpoint; absolutely. In terms of creating a cohesive design, it's essential to give window treatments the same careful thought as any other element in your home. Vertical blinds, broken or dirty window coverings, heavy fabrics, retro styles, and overly formal curtains can all age your home, and not in a good way, but luckily, for every outdated window woe, there's a modern, chic solution. 
Giving old blinds some love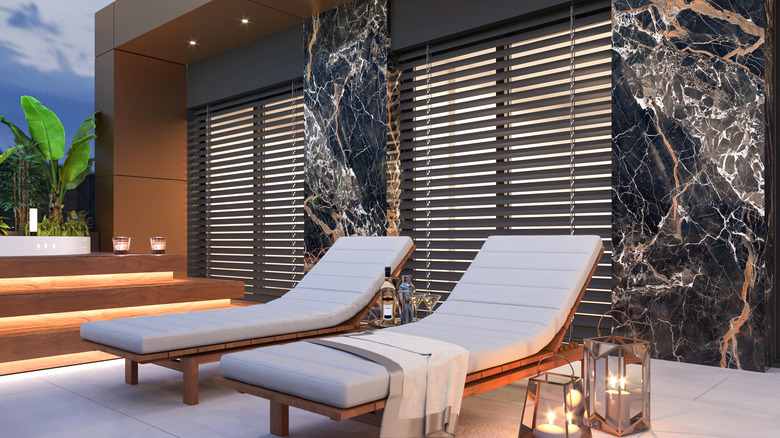 Experienceinteriors/Getty Images
Blinds have earned a bad reputation for looking cheap, yet in addition to being enormously functional and practical, they can also be truly stunning additions to a home. But this doesn't apply to mini blinds, damaged or yellowed sets, or those horrible vertical slats that are the default in so many apartments. 
Instead, look for wide-paneled blinds made from natural materials such as wood or bamboo. These lend an organic touch that breathes life into the room, rather than draining it. We've also become huge fans of dark-painted blinds as they can add contrast. If you prefer your view to be totally unobscured during the day to allow as much light in as possible, go for traditional cord blinds that can be pulled to the very top of the window — there are a number of blind options in this category, but Venetian is the most popular. 
If you like the aesthetic of your blinds and want them down at all times, use a permanent stationary set that just opens and closes the blind flaps, and doesn't adjust upward or downward. Finally, if you love the privacy that blinds offer but aren't ready to miss out on the warmth that fabric curtains provide, consider Roman shades. These are a hybrid between blinds and curtains. Instead of a hard material, Roman blinds use folding fabric panels that can be released to varying lengths and pulled back completely as needed. 
Curtains go out of fashion as quickly as hairstyles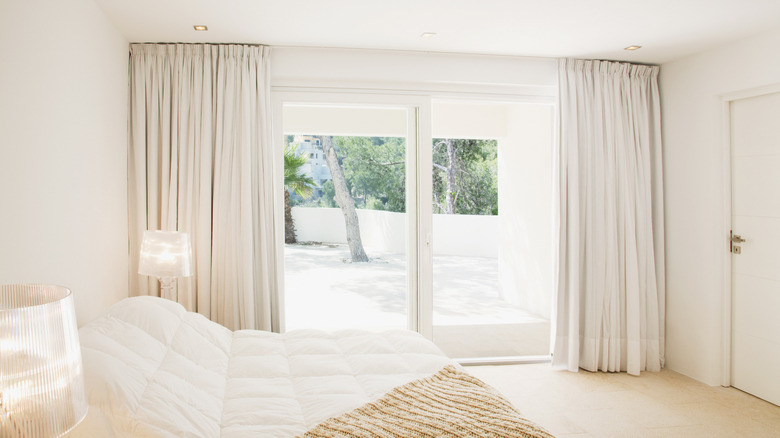 Martin Barraud/Getty Images
When you browse an old home magazine, one of the quickest ways to identify the age of a room is by looking at the curtains. While fringe, gingham, lacy, and neotraditional carpet drapes have been all the rage at various points, these curtains inevitably go out of style. That's a normal part of interior design, but curtains quickly show outdated fashion norms. Not sure if your drapes count as old-fashioned? If they are made from heavy, bulky fabrics, more formal than the rest of your home, or are only half or three-quarters-length, it's time to update them. 
The popular curtain style du jour prefers breezy, lightweight, neutral curtains that don't block out light. These look stunning, no question, but if you want to block out the morning sun or have privacy in the evenings, these just won't cut it. Consider getting black-out curtains that have a fun design. These won't let light pass through, so just keep them parted to the side when you want natural light. No matter what style or fabric choice you use, a good rule of thumb for contemporary curtain styling is to use full-length curtains.