Valspar's Color Of The Year 2024 Is Meant To Create A Regenerative Retreat - Exclusive Interview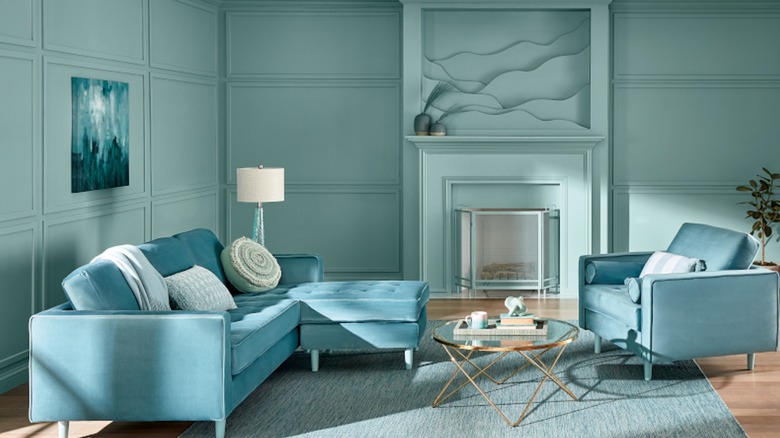 Valspar
Color is one of interior design's most important factors. Beyond creating an aesthetically pleasing room, color can help set the mood. Enveloping a room with the right color creates a setting that can relax or energize. However, choosing the right paint color can be an overwhelming choice for many homeowners. Luckily, many paint companies, including Valspar, choose a Color of the Year that's meant to forecast the interior design trends for the upcoming year.
The Valspar Color of the Year or 2024 is Renew Blue, "a balanced blue with a touch of grayed sea-green that focuses on wellness and comfort," according to the paint company. The shade is meant to create a restful feeling to transform a home into a place meant to prioritize self-care and well-being.
"Renew Blue is an incredibly versatile and all-season shade that anyone can envision in their space. Inspired by fleeting elements like fog, mist, clouds, and glacier lakes, Renew Blue elevates the everyday mood, encourages self-expression, and evokes a feeling of balance and calm, with a twist of unique spontaneity," explains Sue Kim, Valspar Director of Color Marketing. "Blue is a classic shade that has become the new neutral for today's home and can be mixed and matched to fit a variety of design styles and applications." In an exclusive interview with House Digest, Kim explains the Valspar Color of the Year and how to use it to create a peaceful home.
The selection process was data-driven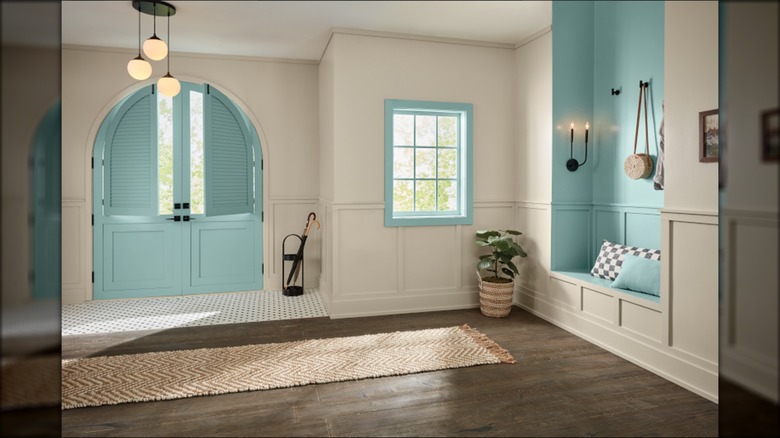 Valspar
Can you tell me about the process of selecting 2024's Color of the Year?
Our color forecasting process includes ongoing research and analysis of lifestyle influences from what's happening in our world. Valspar color experts have thoughtfully selected Renew Blue as the 2024 Color of the Year as consumers seek consistency in their [homes] and work to find balance where it matters most. Our focus is to align lifestyle trends at home to a color that resonates with DIYers for their next project.
Last year, Valspar released 12 Colors of the Year. What sparked the move to one color for 2024?
Valspar enjoyed seven years of color forecasting with 12 colors. The DIYers wanted more options throughout those years, and the pandemic made more time at home and more time to explore options. Now, we learn to live with life in flux. Complexity is the norm, but color inspiration doesn't need to be the next challenge to overcome. One assuring color of the year will cut through the noise and allow for a simplified approach to color inspiration.
Renew Blue is Valspar's Color of the Year. What makes this shade so special?
Renew Blue is an incredibly versatile and all-season shade that anyone can envision in their space. The inspiration is rooted in nature and wellness, which can be achieved to help alleviate the anxiety in life.
Renew Blue is a comforting color that pulls inspiration from fog, mist, clouds, and glacier lakes and offers a soothing environment with nature's touch inside or outside the home, elevating the everyday mood. Additionally, we see that the nourishing green has pulled inspiration from the blue family. Depending on lighting, application, and added design elements, Renew Blue can be thoughtfully curated to produce a unique look and feel in various rooms.
Blue is the new neutral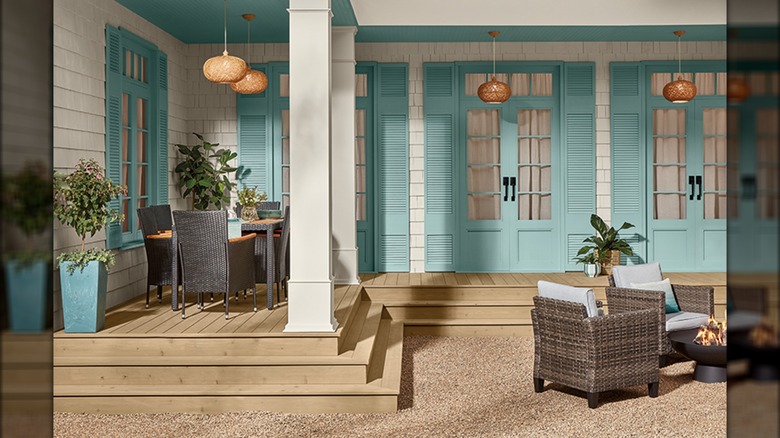 Valspar
You've mentioned that blue has become a new neutral in interiors. Do you have tips for using blue as a neutral shade in a design?
The blue color family is a timeless shade, but the new approach for today's home is the lighter and more relaxed shades like Renew Blue. The soft shades with well-balanced warm and cool can be mixed and matched to fit a variety of design styles and applications. It is the perfect extension of the classic neutral colors we know and love.
Not only does it pair well with neutral tones and natural elements like wood to create a calming, nature-inspired wabi-sabi feel, but Renew Blue can also be mixed and matched with warm and cool vintage metallic finishes, or brought to the forefront through color drenching to be the focal point of any room in the home. Renew Blue's versatility allows for neutrality, or whimsy, depending on preference and style.
What colors would pair the best with Renew Blue?
When choosing a color to pair with Renew Blue, the choice should be intentional, like an accent wall, wainscoting, or stylized ceiling colors. We recommend neutrals like Valspar Perfect Backdrop (8005-8B) to balance the cool tones of Renew Blue. Layering in pale tints like Dusk in the Valley (8004-3B) with Renew Blue helps to create a soothing and relaxing space. Additionally, a striking neutral shade like Forge (8004-48F) allows for an immersive contrast when paired with the airiness of Renew Blue.
Using Renew Blue in your home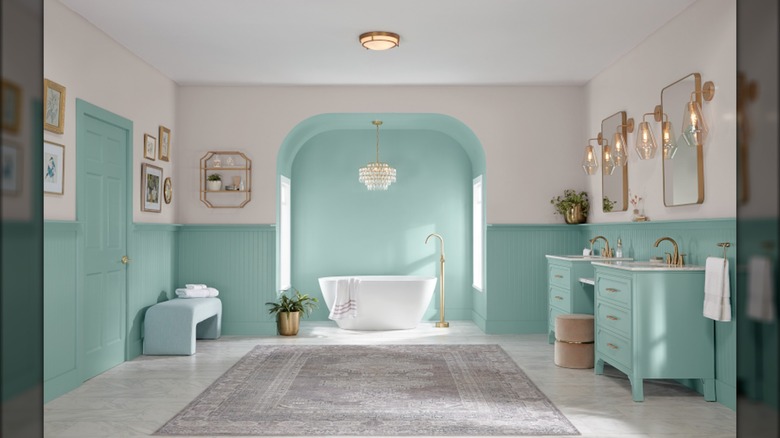 Valspar
Color drenching with a shade like Renew Blue can create a relaxing room. Can you share tips on pulling off this look?
Color drenching helps romanticize the experience of color. From baseboards to ceilings to décor, it's a full experience of color in a poetic way. The key to giving visual interest in a color drenched room is to explore different textures, such as unique ceramics, handwoven textiles, and vintage metallic finishes to tie the room together.
Where are the best places to use Renew Blue in the home?
Renew Blue's harmonious green and blue opens the possibility for versatile indoor and outdoor design applications. Using the color in the backyard or outdoor space helps blur the boundary between interior and exterior. Look to sand dunes for texture and color inspiration to create a nature-influenced, wabi-sabi look.
Additionally, using Renew blue paired with welcoming shapes and silhouettes allows quality natural materials to shine and can help reflect a naturally minimalist design aesthetic and showcase color coordination with mood-boosting hues and joyful colors. Because of Renew Blue's versatility, using the shade in open spaces such as the kitchen helps to create a more refined and modern twist on the traditional and farmhouse styles, creating a space that is welcoming, open, carefully curated, and warm.
Renew Blue is made to relax. Any tips for using this color or what to pair it with to create that relaxing oasis?
Mid-tone shades have become popular for relaxing or recharging environments, with nourishing greens influencing the pure blue color family. Renew Blue can be used in rooms such as bathrooms or spas to enhance a sense of personal well-being and tranquility. Pairing Renew Blue with handmade décor and vintage metallic finishes pushes the bathroom into a personal retreat by elevating the ordinary with luxury.
This interview has been edited for clarity and formatting.