Why You'll Want A Bottle Of Baby Powder Around When Gardening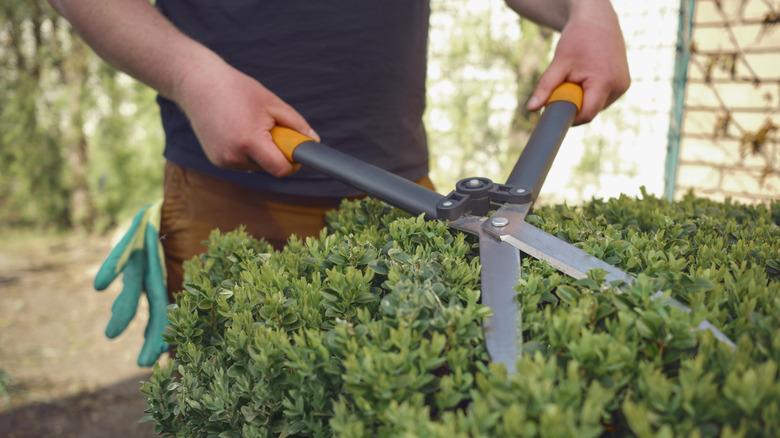 nazarovsergey/Shutterstock
We may receive a commission on purchases made from links.
The garden is full of hazards for our hands. Every time we reach for something, we're in danger — threatened by everything from rose thorns to biting insects to blisters. You should always wear rubber gloves in the garden, right? They're great for protecting these vital appendages. But for some people, donning a pair of garden gloves means dealing with a bout of contact dermatitis. For others, the latex these gloves are often made of causes allergies to flair. Why not take a leaf from the gymnastics and powerlifting communities and dust your hands with baby powder before digging into that dirt?
Baby powder is usually made of talc (a clay mineral) or cornstarch. Both ingredients are FDA-approved. In recent years, the safety of talc has been called into question, with research linking it to asbestos contamination and various cancers, particularly ovarian and lung cancer. Johnson & Johnson, one of the world's largest manufacturers of baby powder, switched to a cornstarch-based formula in 2023. Baby powder made with cornstarch is harmless to most people and the garden — after all, cornstarch is a common kitchen ingredient — and great for protecting your skin from friction injuries like blisters.
Buy the right baby powder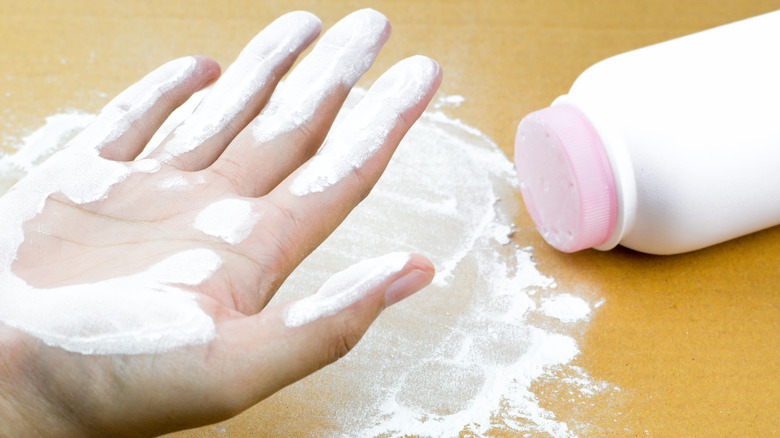 Ananchai Phuengchap/Shutterstock
If you don't have a baby in the family, you're probably unfamiliar with the best-buy baby powder options around today. If you're concerned about talc, look for a talc-free baby powder like Hello Bello Premium Organic Baby Powder, $7.99 for a 6.1-ounce container on Amazon. For those prone to rashes, consider a powder formulated for sensitive skin, like Caldensene Medicated Protecting Body Powder, $5.48 at Walmart. Or just go basic with a multipurpose option like Burt's Bees Baby Bees Dusting Powder, $8.99 for 7.5 ounces.
Dust your hands lightly with the powder before you get to work weeding, digging, and pruning. Keep the container within reach so you can reapply as needed. You can also use baby powder elsewhere in the garden. Dust tool handles with it to avoid blisters. It's one of the natural ways to get rid of ants without poison. Baby powder is also an excellent deodorizer: Puff some inside your garden shoes to keep them smelling fresh.