Here's Why You Should Always Wear Rubber Gloves When Cleaning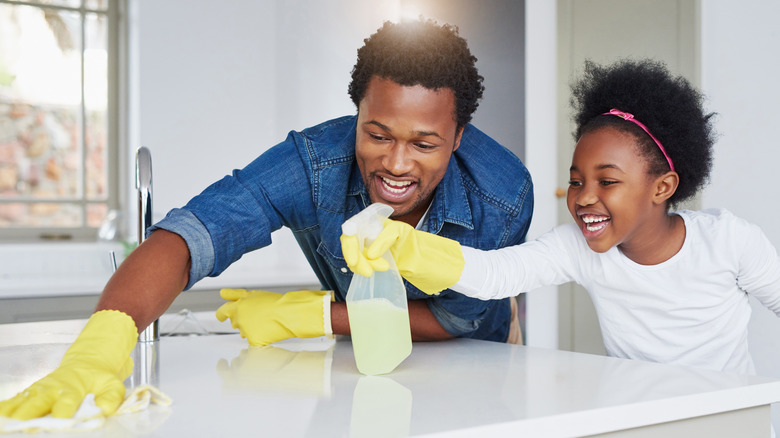 Dean Mitchell/Getty Images
Look, we've all experienced the struggle of rubber cleaning gloves. Putting a pair on is often like trying to slip on a wet suit that's already been doused with water. And though you may have done it a hundred times before, chances are high you're going to misalign your fingers. Removing the gloves, of course, is a whole different ordeal as you attempt to free your hand without touching whatever grime you've built up on the glove's exterior. All of that can be a hassle, of course, but it's worth it when you consider how much good rubber gloves will do once your hands are tucked safely inside.
Cleaning is a dirty job, plain and simple. Whether you're freeing dishes from stuck-on food, ridding bathrooms of grime, or getting the build-up off your floors, every task features its own special set of germs and general gross things. Rubber gloves protect your body from absorbing, spreading, and becoming sick from those germs, and they'll be your barrier against the chemicals you use to clean. Many cleaning chemicals can cause minor burns or break down fingernails. Brands that use milder ingredients may not be as harsh, but they'll still dry out your skin, as will dunking your hands repeatedly in hot water. Your skin is a sensitive organ, and while you may not see any negative results from subjecting it to such conditions right now, the side effects can catch up as you age.
The best rubber gloves for household use
Choosing the right pair of rubber gloves often comes down to two factors: their material and use. Most gloves, be they disposable or reusable, will be made of either latex, nitrile, vinyl, or neoprene. The three latter options are synthetic alternatives to latex, a natural rubber that is also a common allergen. You can find great options made from any of these materials. When picking a pair out, try them on to see how they fit, and consider how you'll be using them. If it's for washing dishes, you'll want a longer pair. You can get away with shorter options if a sponge and some spray cleaner are your tools of choice.
The most highly rated rubber cleaning glove as of late is actually one made of latex. Epicurious, Food Network, GearLab, and Insider all selected Casabella Premium WaterBlock Gloves as the glove of choice for your cleaning necessities. Each cites Casabella's contoured and comfortable design as the winning factor, and it's that design that really sets it apart as far as use. These gloves come up to about the middle of your forearm, meaning you can confidently dunk your hands into dishwater or a cleaning bucket. They also have a cuff to keep your arms free from drips of water and cleaner, and it's designed with a grip pattern for better slip resistance. You don't want your grandmother's fine dinnerware to come crashing down in a sud-filled sink!
Cleaning and caring for rubber gloves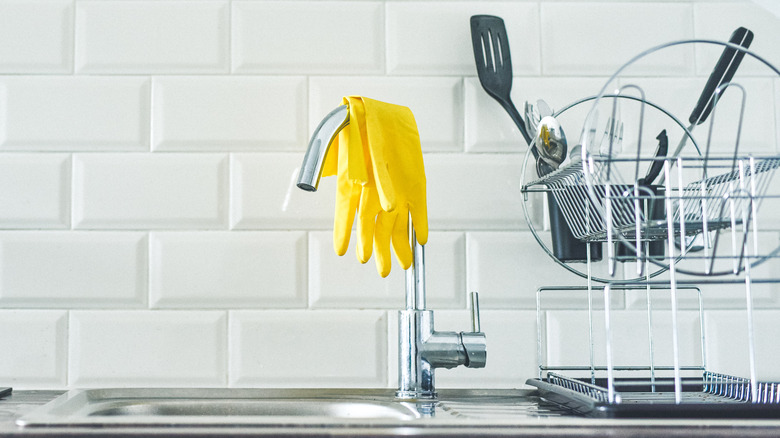 Moyo Studio/Getty Images
While disposable gloves make for the easiest care routine — simply pull them off and dump them in the trash — they're not very economical. The typically thinner material isn't great at standing up to tougher chores, either. Reusable gloves are really the way to go for most cleaning situations, and they will require a cleaning of their own, preferably after every use.
For the exterior of the gloves, just keep them on and then wash them as if you were cleaning your hands. Lather up with soap and hot water, scrub across the surface, and then rinse. As you're taking the gloves off, go ahead and pull them inside out. That'll allow you to clean the interior by soaking in soap and water. Once cleaned, the gloves need to be thoroughly dried before being stored. You may want to find a spot other than under the sink to avoid mildew buildup in the damp environment. Any gloves that are punctured or cracked should be replaced.