Create A Gorgeous Fall Centerpiece On A Budget With Dried Wheat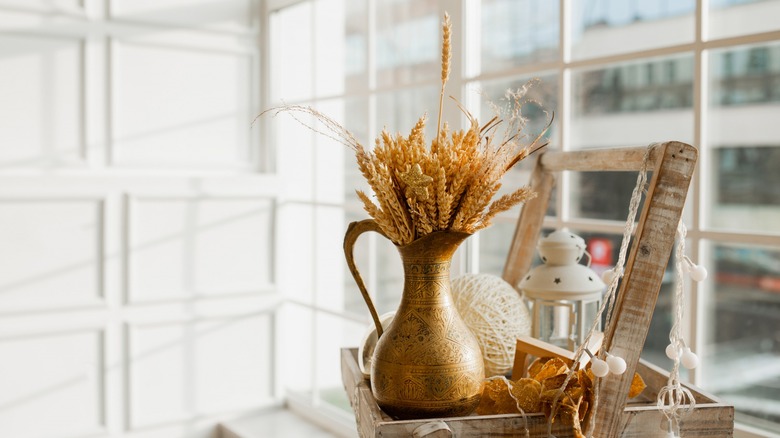 allme/Shutterstock
Fall is a special time of the year for home design enthusiasts — you get to pull out all your favorite autumnal wreaths, pumpkin spice-scented candles, and as many gourds as your heart desires. But changing your home over to fall doesn't mean you need to blow your household budget on pre-made decorations from an online retailer or big box store. You can get beautiful, unique fall decorations at a low cost by doing a few simple DIY projects. For a popular and super-easy DIY design, you can start by making a dried wheat centerpiece.
Arranging a nice centerpiece adds an elegant touch to your home, and considering all the potential dinner parties you might host during autumn (there are long weekend holidays, Halloween, and, of course, Thanksgiving), a good table centerpiece is an essential item for your fall decorations. To DIY a gorgeous fall centerpiece, all you need is a vase, embroidery thread, and a bundle of dried wheat.
DIY wheat centerpiece
Dried wheat is excellent for fall DIY projects: It's seasonally appropriate, has a charming rustic look, and doesn't cost much. For this centerpiece style, courtesy of TikTok user @itsmrod, grab a few spools of embroidery floss (like the thread you use for friendship bracelets) in a color palette of your choice. You can either match the room's color scheme or lean into hues of autumn and choose some soft, warm tones that evoke fall foliage. 
Bundle together three stalks, using thread to tie them near the top of the stems. Once the knot is tied, take the excess length of thread and wrap it around the bundle — keep wrapping the thread until a block of color forms, about 2 inches long. Then, tie off the wrap and trim off any dangling thread. Repeat this process until you have enough wheat bundles to form the bouquet size of your liking. Be mindful of the color scheme as you go, and alternate between thread colors to get an even amount of each. Complete the piece by arranging the dried wheat into a vase. For extra flair, you can also add some dried florals into the mix. This DIY project is extremely easy, and unless you're making a massive bouquet, you should be able to get this done in less than half an hour. For fall décor that's classy, effortless, and affordable, you really can't go wrong with a dried wheat centerpiece.