How To Harvest Tomato Seeds Like A Gardening Expert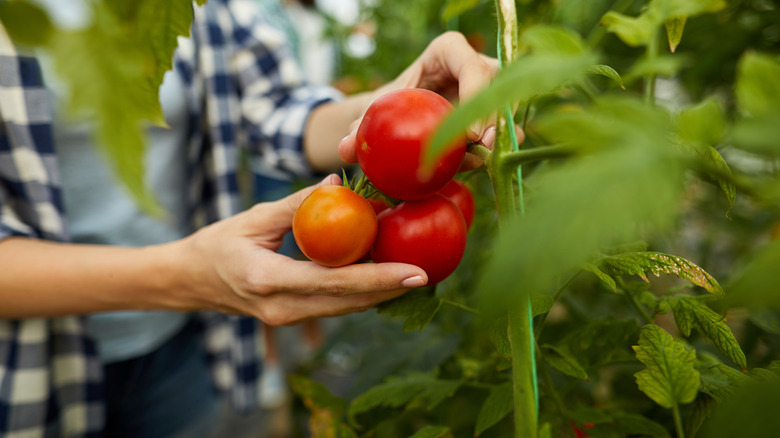 Emirmemedovski/Getty Images
Homegrown tomatoes can turn the most straightforward recipes into exquisite cuisine with their juicy, sweet, and acidic flavor. And let's face it, everything just tastes better when you've put in the work to grow it yourself. Sadly, tomatoes are not typically perennials and need to be replanted every spring. However, this doesn't mean you have to rebuy seeds each year. Instead, you can harvest seeds from your current crop and plant them the following season. The process of gathering tomato seeds is time-consuming, but not difficult. With the average tomato having over 100 seeds and each starter plant usually receiving two or three, the amount you can grow is endless. It's all about choosing the right tomatoes, fermenting them accurately, and storing them properly.
The best tomatoes to pick for seed harvesting are the largest and ripest ones — to the point of looking over-ripe. Choose a couple of plants intended for harvesting seeds this season and put extra effort into growing the plumpest produce. Ensure they get at least eight hours of sun daily, are in a well-draining and loamy soil mixture, and receive fertilizer when needed. Collecting seeds for the following seasons will begin with the health of your crop. Heirloom varieties are often preferred for gathering seeds as well. It means that the tomato plant will be true to seed, and you'll be producing the same variety year after year, rather than gambling with the outcome by using hybrid tomatoes.
Harvesting tomato seeds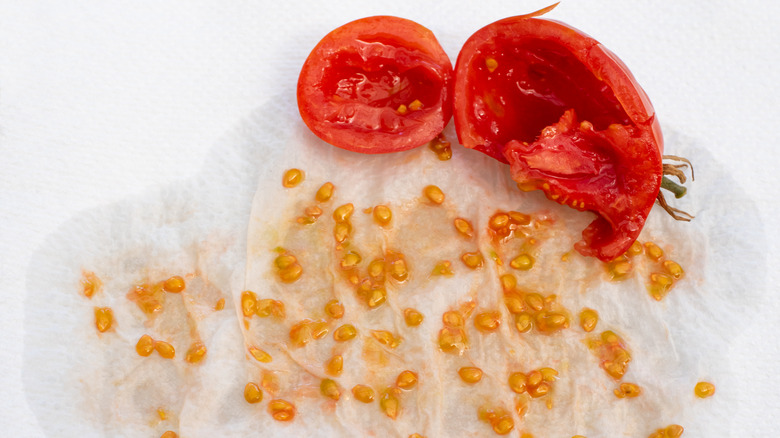 Steven Giles/Getty Images
The best time to harvest tomatoes for seed collection is when they are at their fullest and most mature state, right before they start to soften and bruise. Since tomatoes take approximately 70 to 85 days to develop completely, you're looking at harvesting in late August to early September, if they were started in early March. Once you've selected your tomatoes, start deseeding by cutting the fruit evenly in half and scooping them out. There is a gel-like membrane encasing the seeds, which prevents germination, and the tomato seeds will need to go through fermentation to remove these casings.
To ferment the seeds, allow them to soak in the juice from the harvested tomato for two to four days. Water can be added if the liquid volume is low, but adding water can slow down the process. Store the container in a cool and dry place, covering the top with a breathable material like a paper towel or cheesecloth. You can tell that fermentation is complete when a layer of mold has formed across the top, with tiny bubbles appearing, and the seeds have sunken to the bottom. Keep a close eye on this; seeds can be harmed if they sit in fermentation for too long. Once ready, seal the container and shake up the mixture. With everything loosened up, strain it and rinse the seeds thoroughly with water. The seeds will need to be left alone to dry, spread out in a cool place for two to three weeks.
Storing tomato seeds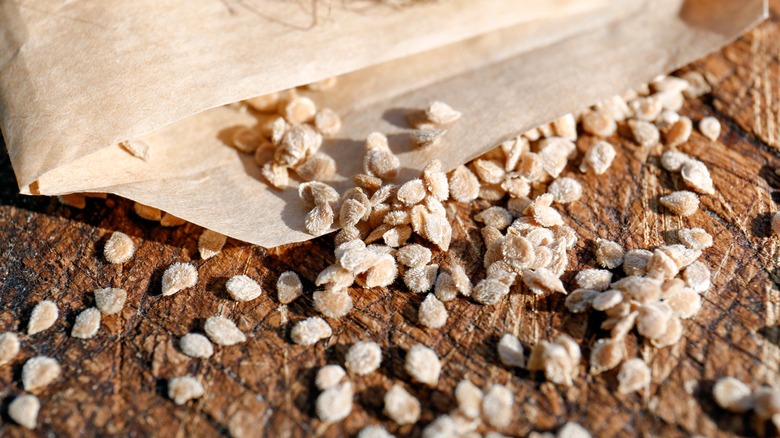 New Africa/Shutterstock
When your tomato seeds have completely dried, you'll be able to put them away for storage. While this process can be long, it's important not to attempt to speed it up by hand drying the seeds, or you risk harming them. Transfer the seeds into an airtight container after the drying period, placing them in a space that isn't humid or in direct sunlight. They can be stored in the fridge if desired, but should never be placed in the freezer. Just be sure that condensation build-up from the refrigerator doesn't dampen the seeds.
Once the seeds are harvested, fermented, and stored, they can last up to 10 years. You can perform seed harvesting on any type of tomato, and one summer of work can result in numerous seasons of tomato plants. These also make the perfect gift for loved ones come the approaching holiday season. That's a pretty decent payoff for a process that is mostly just patiently waiting.