HGTV's Jasmine Roth Has One Invaluable Tip When Choosing A Front Door Paint Color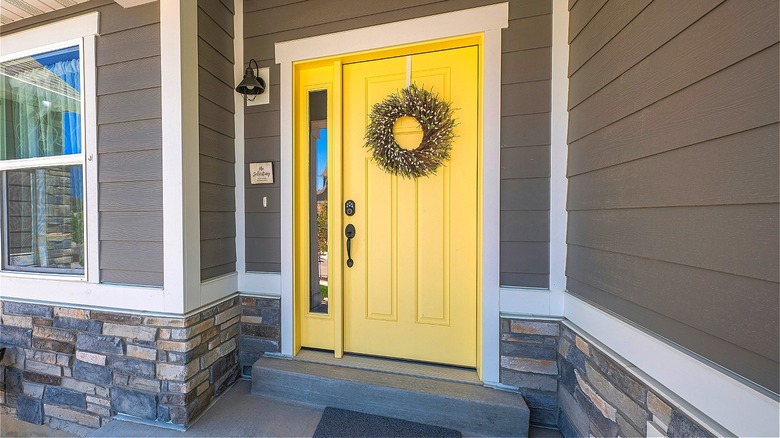 Jason Finn/Shutterstock
Many of the home trends that come and go from season to season are for the interior. That often means that the exterior of a home is a second thought, but that doesn't mean you should abandon creating a comfortable living space that reflects your personality. It just means you should also put as much thought into your home's exterior, particularly the front door. "A front door is a really great way to add personality and really say something about who lives in this home," said Jasmine Roth, from HGTV's "Help! I Wrecked My House," in a YouTube short.
A front door welcomes you and guests into your home, so it's the perfect place on the exterior to add a unique detail. Painting your front door will infuse color, but choosing the right shade can be an overwhelming decision. However, Roth has a place anyone can look to help narrow down their choice. Per Roth, "Picking a front door color can be hard. If you're really struggling, look at your closet, figure out what you wear."
Hint when choosing a front door color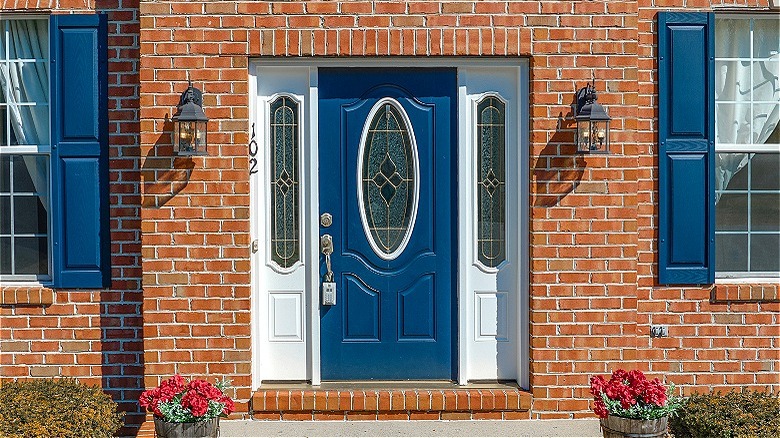 tokar/Shutterstock & Kryssia Campos/Getty Images
Some people may know exactly what color they want to paint their front door, while others may need to put more thought into that eye-catching shade. HGTV's Jasmine Roth suggests looking in your closet to get a hint on which color you should choose. Take a look at the colors that are most prevalent; you may not realize how drawn you are to blue or how much you like purple until you see all the evidence lined up. As Roth noted in her blog, "If you love a color and it makes you happy, then it's the right front door color for you."
Once you realize the color you're drawn to most, dive deeper to see if there's a certain shade of that color you seem to buy. Look through your closet for color themes. You might be drawn to earth tones over more vibrant ones. For example, sage green and neon green will have very different vibes despite both being green. You may also want to consider your overall color scheme, both indoors and outdoors, in order to create a cohesive design.
If you're still struggling to find the right shade, Roth has a few go-to paint colors she's used for multiple clients' front doors. Nifty Turquoise, Tricorn Black, Silken Peacock, and Pavestone by Sherwin-Williams; Hale Navy by Benjamine Moore; and Rubber Ducky by Dunn-Edwards are the colors the designer returns to time and time again.