Give Your Plain IKEA KULLEN Dresser A Fashionable Upgrade With This Brilliant Hack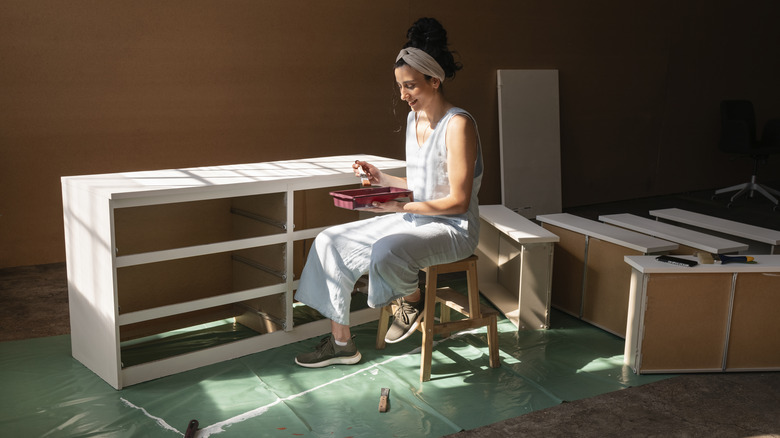 Freshsplash/Getty Images
Do you want to add style and a luxurious feel to your space? If you have an IKEA KULLEN dresser, you can do that, thanks to a nifty TikTok hack by @diyherway. Using only a few items, you can turn your plain old drawers into a luxurious dresser in no time. You could even add some handle upgrades if you want to add your own personal touch. By the end of it, you may not even recognize your old drawers anymore. In addition, this hack is also very easy for beginners who are perhaps not used to DIY, making it perfect if you have minimal experience.
Even better, the cost of creating the whole thing is relatively cheap, meaning you won't have to shell out on a new expensive piece of furniture. This is excellent news if you're giving your bedroom a makeover on a budget, and it may even be just what you were dreaming of! All that's left to do is build it. So, how exactly do you do it?
Gather everything you need
So, what items do you need on hand? For this hack, you'll need to purchase some grab adhesive, a sheet of pole wrap, white painting or another color of your choice, four decorative moldings, some marble vinyl, and your IKEA KULLEN dresser ($149.99). Of course, you can always add your own creative flair at the end. So, what are the next steps? First, you need to remove the drawers and measure the pole wrap to fit. You also need to measure your decorative moldings to fit. Just make sure that you account for the decorative moldings that will fit around the border of the draws when working with the pole wrap. Once you measure everything, you can mark it down and cut it to the appropriate size before gluing it down onto the front of your drawers. Now for the fun part — painting! Paint your drawers with the color of your choice and let them dry.
When it comes to the vinyl wrap, all you need to do is stick it to the surface of your drawers. Your transformation should be complete once everything is dry and adhered to your drawers. Now, you have a luxurious set of drawers for a fraction of the cost. You could even add some organizers to your drawers. It's these materials that make the hack work so well, especially the vinyl. The marble effect helps to give the illusion of real marble, thus adding a high-end feel to your space.