Clean Windows & Glass With This Unexpected But Popular Beverage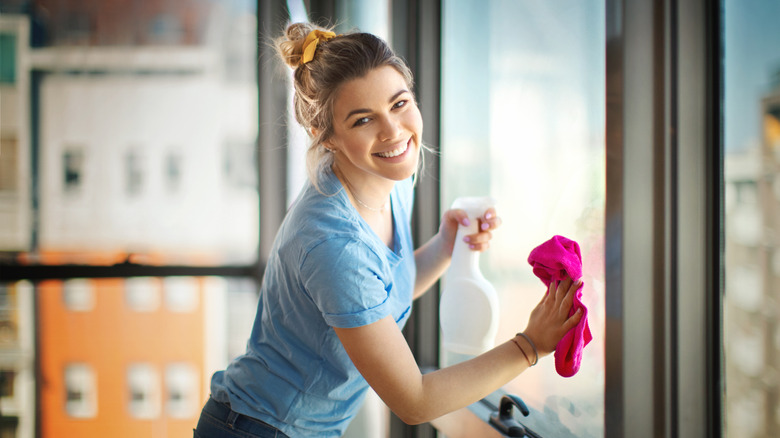 Gilaxia/Getty Images
What comes to mind when you think of window cleaners? Blue plastic bottles filled with pre-made glass cleaner might top the list, but there are several other homemade favorites you can try. One might come as a surprise, though. You can use club soda (yes, the clear sparkling beverage) to get all the glass surfaces in your home beautifully clean.
Believe it or not, there's much more to a simple bottle of club soda than mixing a tasty mojito or a classic Tom Collins beverage. You'll find cleaning glass doors, windows, and mirrors with it to be a breeze, but it's gentle enough to use on plumbing fixtures and spot-cleaning fabrics, too. To get started, pour some club soda into a clean spray bottle, spritz, and wipe with a soft cloth. Or, when you're using a liter bottle of club soda, you might get away with removing the cap and replacing it with a spray nozzle for easy peasy cleaning. 
What makes club soda a great glass cleaner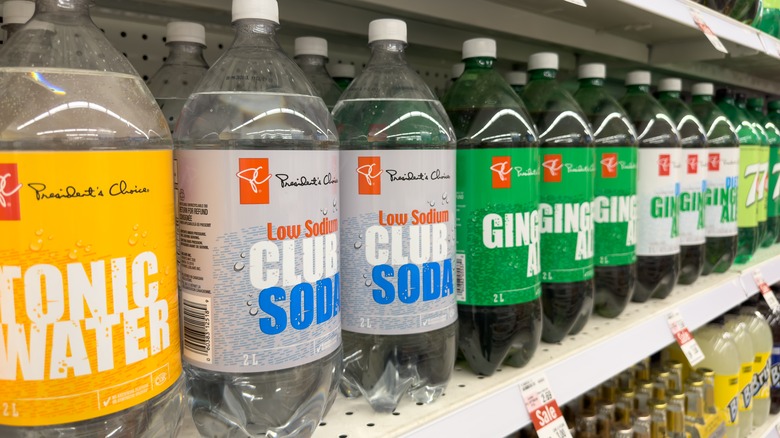 The Image Party/Shutterstock
Did you know that sodium citrate is an ingredient in many glass cleaners? Well, guess what? That's an ingredient in many brands of club soda, along with carbonated water and other minerals. The sodium citrate is reportedly the additive that makes club soda work as an effective cleaner even if the bubbles are gone. So, instead of pouring out flat club soda after your next cocktail party, you can use it to clean up instead. Just expect to wipe it a little longer than pre-made glass cleaners since it doesn't contain additives that make it evaporate as quickly.
In addition to being a cleaner many housekeepers in the know swear by, it also has the benefit of being completely safe to use in your home. After all, there are no harsh fumes or chemicals to worry about. Plus, club soda is often less expensive than traditional bottles of glass cleaner. So, the next time you're picking up a few things at your local supermarket, grab an extra bottle of club soda. All your gleaming glass surfaces will thank you for it.