You Will Not Recognize Your Roses After This Nifty TikTok Hack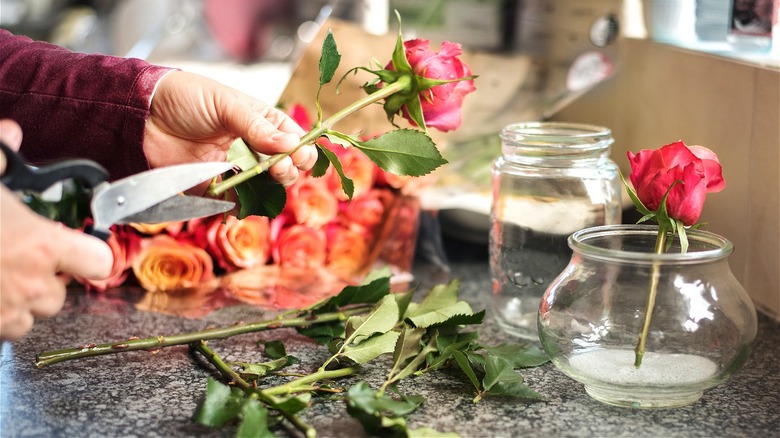 Nickylloyd/Getty Images
Roses are a classic floral option for just about any event, time of the year, and space in the home, but sometimes, they can appear a little lackluster. Buying your roses before they've fully blossomed is a great way to extend their life, but the tightly bunched rows of petals tend to minimize their wow factor and decrease their overall size. To solve this issue, however, clever TikToker Clare Sullivan proposed a solution: gently forcing your roses to open before putting them on display.
This might seem like a risky move given the flower's delicate construction and tendency to lose petals, but, if you use gravity and centrifugal force to your advantage, you can easily separate the petals without causing any damage. Try out this hack the next time you purchase a bouquet, and you'll be able to create a professional-looking flower display without having to shell out the big bucks on blooms from a high-end flower shop.
How to open up roses
To open up your roses at home, all you need to do is follow two simple steps outlined in Clare Sullivan's popular TikTok video. Before you begin, prepare your roses as you normally would, making sure to trim the ends of the stems at an angle to increase the amount of water they absorb and keep the flowers fresh for longer. Then, take your rose and turn it upside down. Gently roll the stem between your palms until you notice the petals separating, then turn it back over.
Next, gently flip the separated petals outward by "pushing on the lower outside portion of each petal." As Sullivan notes, this technique is called reflexing. This will open up the previously tightly bunched rose petals, and you can decide how big you want the rose to become. You can reflex just the first few outer rows and leave the bud, or open up the entire flower like Sullivan did into a truly voluminous bloom.
This hack is great if you're working with roses that still have some structure, but it can go downhill quickly if you apply too much force or are working with an older bloom. To avoid damaging the blossom, gently pinch the bottom of the bud before you start spinning. If it's still fairly dense, you should be good to go, but if there's slack or you notice petals starting to fall, you're probably better off just displaying the flower as-is.