The Simplest Way To Fill Those Unsightly Shelf Holes In Your IKEA BILLY Bookcase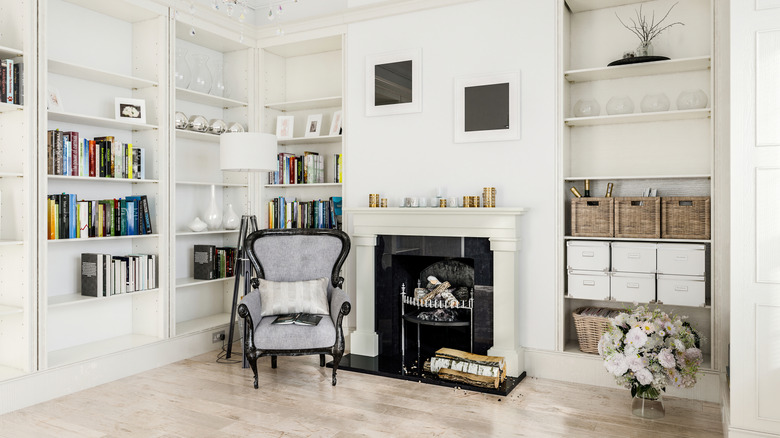 Sihuo0860371/Getty Images
Nothing makes a room feel complete like a bookshelf. The simple, stackable IKEA BILLY bookcase is a perennial favorite for turning any nook in your home into a reading nook. However, they come with one small decor issue — shelf pin holes that can lend an industrial look you may not want. These holes allow you to adjust the shelves for a fully customizable bookcase. Once you've adjusted the shelves to your liking, though, some spackle is all you need to fill the holes for a clean, streamlined look. It's so easy, you'll be back to reading in no time.
Spackle is cheap and easy to find at your local home improvement store. While you could use a putty knife to apply it, your fingers are more nimble and easy to work with. If you've ever spackled nail holes in a wall, the technique is much the same. Just take a little spackle and pat it into each hole, smoothing over the top so it's flush with the bookcase. 
Troubleshooting your spackle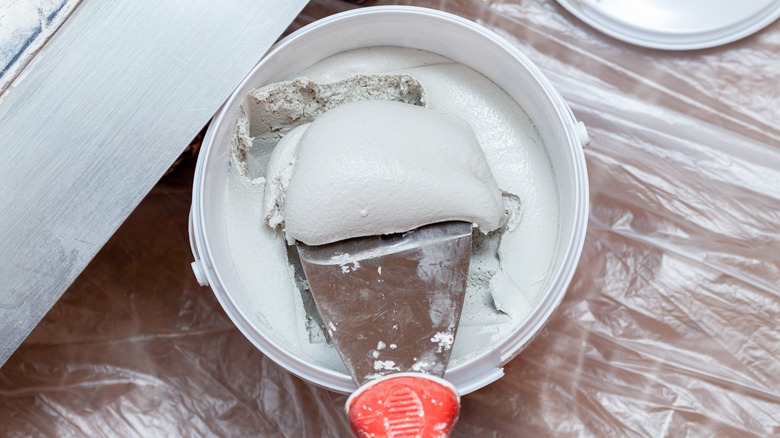 Vitalis83/Shutterstock
Some spackle will apply colorful at first, so you can easily see where you need to wipe off the excess with a damp cloth. Regardless of its beginning color, most spackle dries white, which will match a white bookcase just fine. However, if you have a colored bookcase, you'll need to paint over the spackle once it's dry to make it match. Visit a home improvement store to get color-matched paint if you don't have any. You can even DIY your own spackle with paint mixed in if you want to save money on a perfect match. Get a tiny paintbrush (an old makeup brush may work well) for precision.
If you accidentally spackle over a hole you want to use for a shelf, don't worry! You can take a chopstick, a pen, or anything similar and poke the spackle out anytime. Once the spackle dries, you might notice a rough finish. A cloth or paper towel should be abrasive enough to remove the excess for a more subtle look, without damaging the bookcase itself. With just your hands and some spackle, you'll have that BILLY bookcase looking like a custom-built shelf in no time.