Here's What You Can Substitute For Spackle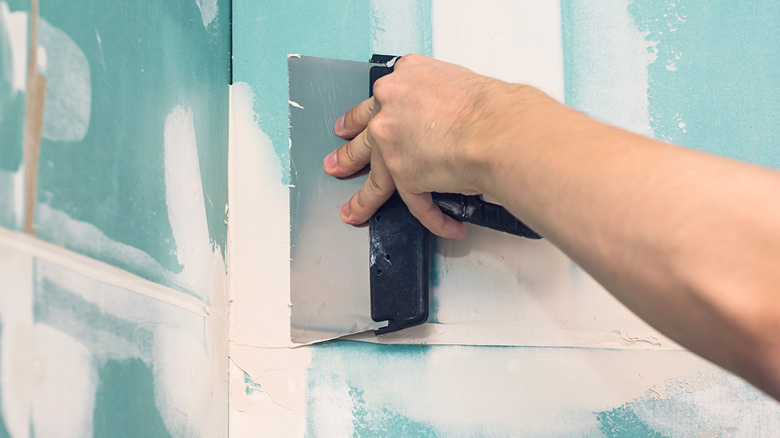 Alena TS/Shutterstock
So you're in the middle of your big DIY project when something terrible happens — you've run out of spackle, you're covered in paint, and you know you can't stomach another trip to the hardware store. Do not fear: With a few home essentials you should already have in your possession, you can easily mix up a batch of homemade spackle alternative that requires just a few ingredients, and some as a few as one!
You must spackle and prime walls before painting, hanging wallpaper, or upgrading your ceiling, as noted by SFGate. It helps to cover up cracks and holes, and gives you a smooth, even canvas to work with. When you can't get to the store, or let's be honest, just don't want to, we have DIY spackle recipes that you can whip up in the comfort of your own home ... even if you haven't been to the grocery store in a few weeks. 
How to make homemade spackle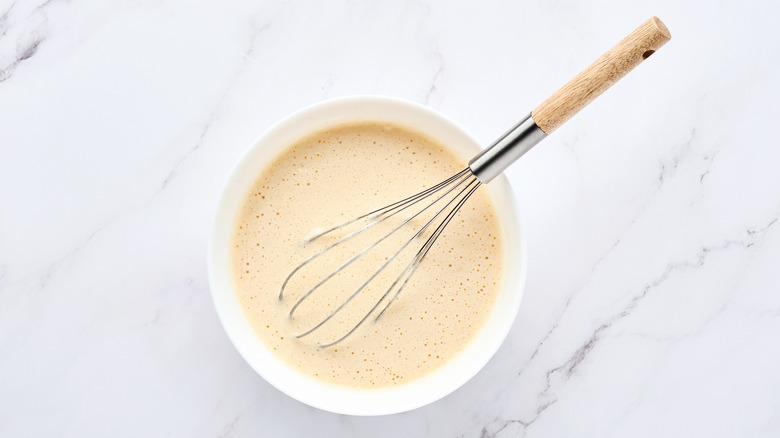 Katarzyna Hurova/Shutterstock
When you think of spackle, you probably think of thick white putty that gets spread like cake frosting over holes in the wall. Similar to creating salt dough for crafts, this spackle alternative requires just a few pantry staples and your preferred paint, vinyl, or varnish. Hunker's recipe calls for 4 tablespoons of flour and 1/3 tablespoon of salt mixed with your choice of paint or varnish. Paint can help the patch blend seamlessly into the wall, and won't require any touch up. Varnish will result in a fortified putty more akin to traditional joint compound putty. This mixture will take 24 to 48 hours to dry hard, so only use this recipe if you can afford to wait a few days. 
What if you need to make spackle without flour, or if you haven't picked out the paint color or varnish of your dreams? No problem, we've got a solution for that, too; PopSugar suggests combining an equal amount of water, salt, and corn starch. The result is a thick substance that you can use to fill tiny dings and holes in your wall. 
A single ingredient spackle alternative
Nataliia Karabin/Shutterstock
In the scrappy world of DIY, college dorm rules definitely apply. Our one-ingredient DIY spackle is a part of your twice-daily dental routine — toothpaste! Toothpaste makes for an excellent spackling alternative, and you probably already have some in your bathroom drawer. Southern Living recommends only using toothpaste for holes smaller than 1/4 inch, making it a budget-friendly choice for filling in small nail holes where art or wall hooks may have hung. 
To use toothpaste effectively, just smudge some over the small hole, then to smooth and fill, use a putty knife or other flat-edged tool (think butter knife, spatula, pastry cutter, etc.). You may find that you need to do an additional layer or two to compensate for toothpaste's shrinking. Finally, it can be tempting to just leave the toothpaste as is, especially if it's a close match to the wall color, but we always recommend painting and sealing the hole like the rest of the wall.