The False Myth About Painting A Small Kitchen You Might Have Heard Before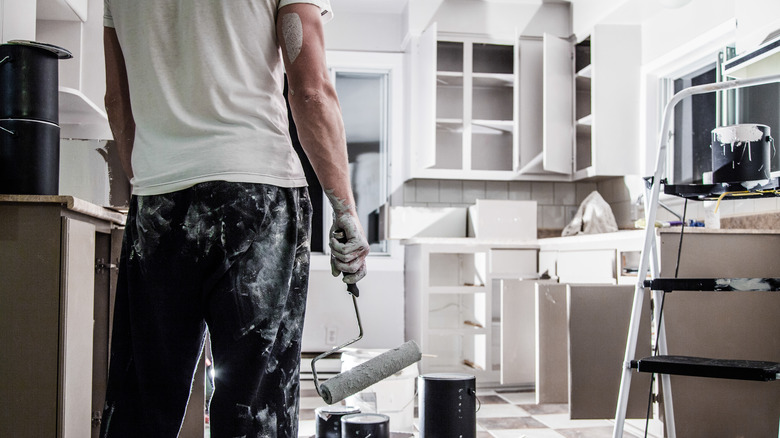 Aetb/Getty Images
While remodeling your kitchen will let you create a functional space that matches your needs and reflects your personality, it can also be an expensive project. If you don't want to shell out your hard-earned money but are set on completing a small kitchen renovation, why not paint it instead? After deciding to paint, the first thing you'll need to do is choose the right color. You might have heard that your only choice is white, since it'll make the small room look more spacious. However, this false paint myth will prevent you from building a welcoming space that invigorates the culinary genius in you.
Admittedly, too many contrasting, bright colors will make your cooking room look busy and cluttered, but painting it snow white can also give it a clinical look. The trick is to create balance and choose interesting colors such as yellow, blue, green, and pink to personalize your small kitchen. "Kitchens are dynamic, lively, creative hubs in your home, so they can carry color well," advises Annie Sloan, the creator of Chalk Paint (via Martha Stewart).
Debunking the small kitchen paint myth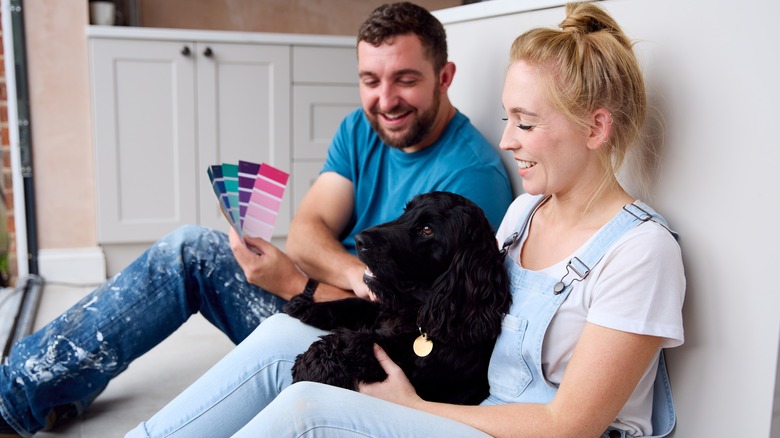 Monkey Business Images/Shutterstock
Though white is a fan-favorite color for small kitchens, this paint myth typically requires adding more décor items to create visual interest. However, choosing a paint shade based on your personality will help you steer clear of using too many decorations, which will free up valuable counter space. Before you settle on the best kitchen color for you, envision the space you'd like to curate and consider your personal preferences.
For instance, neutral and pastel colors would work best if you're a minimalist who loves bright and airy spaces. Colors such as powder blue, mellow yellow, rose quartz pink, and pastel green will work wonders. You can also go for neutral combinations like yellow and white to give your kitchen a fresh look. While painting your kitchen in neutral or pastel shades, consider painting your cabinets a light color or staining them a light wood tone to seamlessly tie up the design elements and create a radiant kitchen.
In contrast, if you like deep shades and want to add a touch of drama, rich hues would be more your style. Think dramatic green, temperamental grays, jewel reds, dark blues, and plum, with contrasting ceilings and cabinets. Further, if your kitchen flows into the living room, keep the wall colors cohesive to make the spaces look connected. This will also make your small cooking area appear more spacious.