Painting Your Stair Railing Has Never Been Easier With TikTok's Genius Sock Hack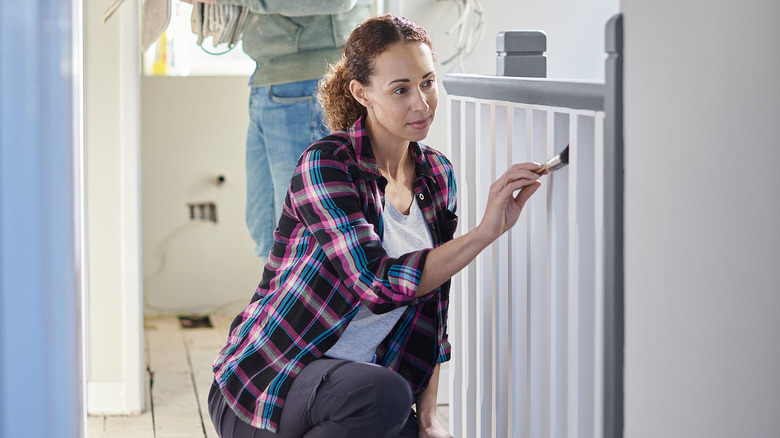 Sturti/Getty Images
You've painted your home from top to bottom and realize you forgot one important element: your stair railing. This overlooked feature needs some TLC from time to time, especially if the rest of your house just received a fresh coat of paint. You might consider replacing your balusters, but there's an incredible way you can paint them without breaking out the brush. Even better, you'll instantly transform one of your home's best focal points. If the thought of individually painting each and every spindle sends you into a tailspin, you're not alone. Thankfully, you can easily upgrade your staircase with an unexpected item: a sock. 
A sock leaves you with smooth spindles time and time again and makes painting your stair railing a breeze. This hack is such a game-changer that you might look for reasons to repaint your spindles every few months. And the best part is the cleanup is a breeze, and the days of crusty paintbrushes are a thing of the past. Simply throw your sock in the trash and enjoy your upgraded balusters with this genius hack that's taking TikTok by storm. 
Grab your sock and get creative
According to @marley.makes.things, this transformative hack will redefine the way you paint your stair railing. The best part is you only need a few items to carry out this creative project. For starters, you'll need a disposable plastic glove. You'll also need a sock (it's a good idea to have a spare on hand, no pun intended). Begin by priming your railing, although this depends on the type of paint you use. Chalk paint adheres to the vast majority of surfaces, so you can begin applying this hack without prepping your workspace. However, traditional paint requires a bit of work before you get painting, sanding your spindles with the grain until they're rough enough to hold a fresh layer of paint. As soon as you're surface is prepped and ready to go, the fun begins. 
Put on a plastic glove to protect your skin from the paint, and cover that with a sock. Dip the tip of your sock directly into your can of paint. Begin to apply even strokes, coating your entire spindle. The great thing about this paint hack is that you'll avoid messy brush strokes (or worse, the dreaded rogue bristle you'll often find stuck in your paint hours after it's dried). If that isn't reason enough to try this neat trick, evenly coating each spindle and getting in between the cracks and crevices, you can throw your sock in the trash afterward for a mess-free painting experience.