The Epic Sliding Door Upgrade Mina Starsiak Hawk Showcased On HGTV's Good Bones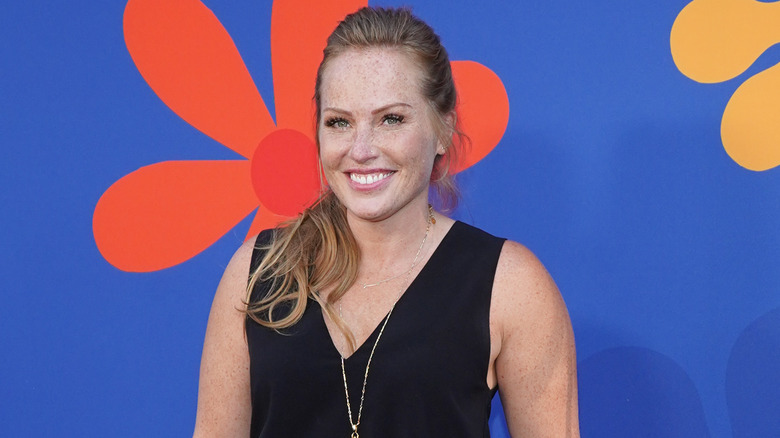 Rachel Luna/Getty Images
Home renovation projects can take a long time to accomplish. You have to design what you want to change, plan how you will do it, and who you will hire.  Home renovation shows have also changed homebuying trends, where folks are searching for a place they don't mind fixing. Of course, when you're on an HGTV renovation show, everything is pre-planned. Plus, when you have a mother/daughter duo like Karen E. Laine and Mina Starsiak Hawk from HGTV's "Good Bones" working together to transform your home, you know every upgrade will be good. In the episode "Income Property Issues," Starsiak Hawk bought a house for $75,000 to give it a complete makeover and sell it for $400,000, spending $275,000 on the renovation to make a $50,000 profit (via realtor.com).
Starsiak Hawk planned to transform the rundown property into a stunning two-unit residential property. She kept a few features that came with the house but incorporated many elements she thinks a home always needs, like installing butcher block countertops in the kitchen. However, she added a twist to the house that isn't often done. Instead of installing a standard sliding door in the living room, Starsiak Hawk opted for a unique garage door. While many garage doors are attached to the garage itself, installing it as part of the main house sets it apart from every other home on the block.
Use overhead glass garage doors as sliding doors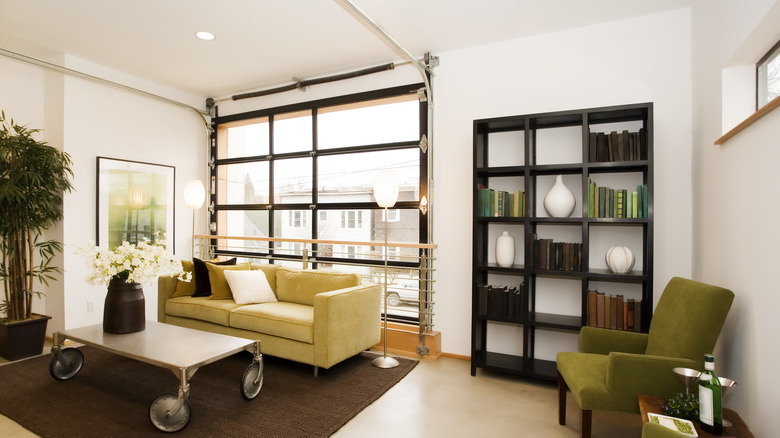 Jhorrocks/Getty Images
When working with a home renovation budget, finding the most affordable materials that still fit your vision for your space is essential. HGTV's Mina Starsiak Hawk knows what to look for to give her renovation the most bang for her buck. When the project manager, Corey, suggested installing a glass accordion door in the living room to open up to the backyard, Starsiak Hawk knew it would dent her budget. The accordion door would cost $16,000, but Starsiak Hawk decided to install an overhead glass garage door, similar to the one shown above. She states, "It'll save at least $5,000, which doesn't totally cancel out the extra foundation costs, but it will be worth it to the buyers," per realtor.com.
The newly installed garage door sits right next to a regular entry in the living room. It slides up toward the ceiling and opens up the living room. Starsiak Hawk claims, "It's also going to be the 'wow' factor" (via realtor.com), which she was right about. Garage doors typically enclose garage spaces, or they're used as main entrances for industrial shops, like coffee shops, but rarely to replace sliding doors. So, Starsiak Hawk using it as part of the main house gave it a significant change without making it feel like you were in a garage. The living room's interior is modern, with white and wood features; the glass garage door elevates the look and fills the space with light.