The First Room HGTV's Jenny Marrs Likes To Upgrade When Renovating On A Budget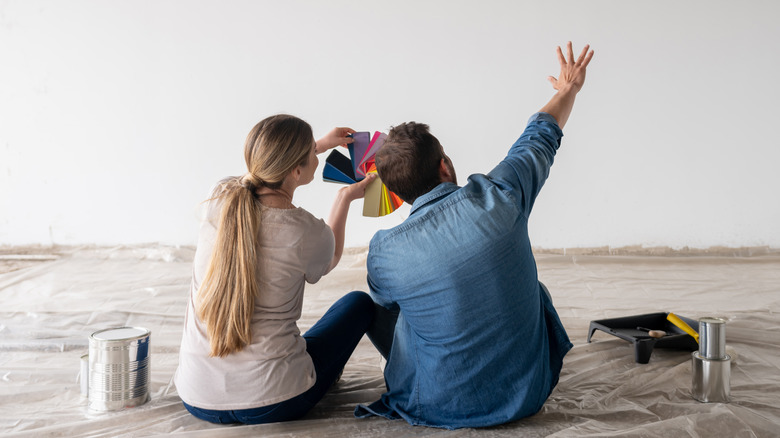 Hispanolistic/Getty Images
We may receive a commission on purchases made from links.
While some say that the kitchen is the most important room in the house, giving it a new makeover can get costly. If a kitchen renovation isn't in your budget, "Fixer to Fabulous" host Jenny Marrs says you should refresh your bedroom instead. The bedroom is the first room she makes over when renovating on a budget. "People forget about their bedroom because they're the only ones who enjoy it, so they leave it for last. However, I would recommend starting with this space because that's something you can enjoy. It's where you start and end your day," the HGTV star tells Homes & Gardens. 
Having a serene and inspiring bedroom helps to set the tone for the day and allows you to reflect on your day at night calmly. It's also the place where you are refreshed and go to recharge — so, you owe it to yourself to make it look nice. Simple changes in your bedroom can have a huge impact without running up your budget.
How to renovate your bedroom on a budget
Your available funds can stretch much further when designing your bedroom compared to other areas of the home. "If you're decorating on a budget, this room will be easier to update. You can paint and swap out bedding — and such simple changes can make it feel like a new, refreshed space,' Jenny Marrs says. "It's so simple and inexpensive," (per Homes & Gardens).
You can recreate a bedroom look from the Marrs' Instagram page for just over $1,000. This 9' x 12' Oriential medallion rug from Walmart is $220, while a similar linear light fixture will run you $150 from Lowe's. A king-sized silk bed runner and matching throw is $71 from Houzz, or a lightweight white down alternative comforter is $66 from The Home Depot. A gorgeous accent wall can be created with a $23 can of paint from Home Depot. Two ceramic nightstand lamps are $23 each from Target, and room-darkening white curtains, also from Target, cost $11 a panel. Linen throw pillows from Target are $20 each.
Two marble-topped nightstands, practically identical to the ones Marrs picked, are $140 each on Etsy. An armchair from Bed Bath & Beyond goes for $150, however, you can save a lot of money by buying these last items on Facebook Marketplace. If you don't have the budget for everything, no problem — just a few new additions, like an accent wall and new bedding, will make a world of difference.