60 Creative Bedroom Design Ideas To Liven Up The Space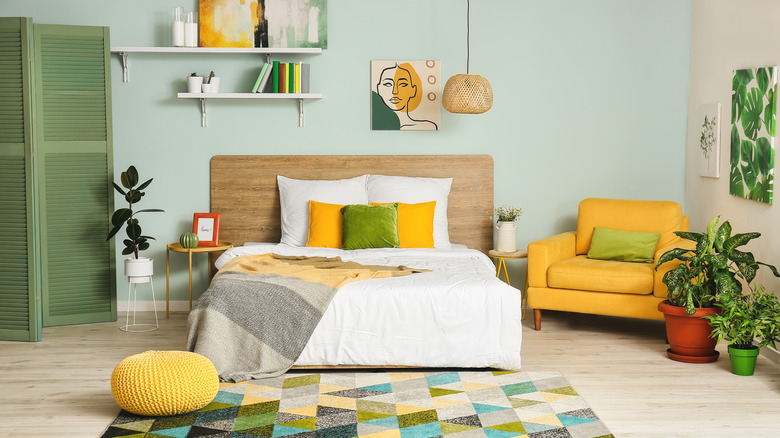 Pixel-shot/Shutterstock
When it comes to your bedroom,  people have different desires. You might have a smaller space and want to make it feel bigger. Or maybe you're more focused on making it a relaxing place to spend some downtime. Your personal style also plays a role, whether you want a minimalistic vibe or a boho chic look. While planning the design of your bedroom you should focus on what piques your interest and makes you happy, but there are a few other things to consider. 
Curated Interior notes that you need to think about color, lighting, storage, seating, and the closet (or closets if you have more than one), as well as both your bed and the décor. Each aspect can alter the overall design of the room, so it's best to figure out how they can work together in the way you want. With that in mind, you're surely interested in the many creative ways to liven up your bedroom and, fortunately, we have plenty of amazing ideas that you'll want to check out!
1. Pick unusual plants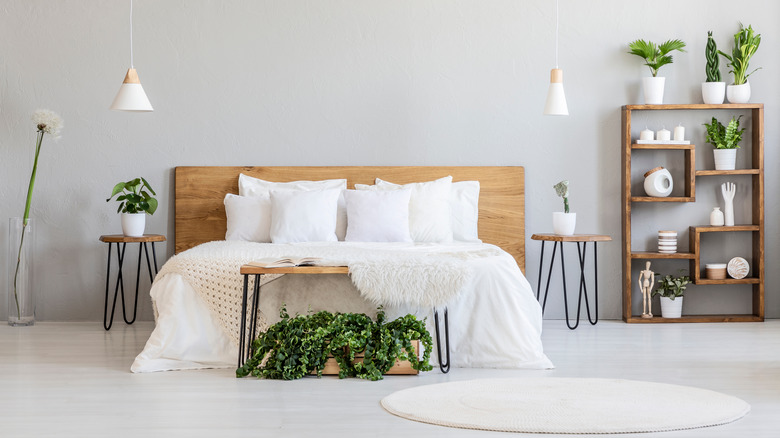 Photographee.eu/Shutterstock
Adding plants to a room is always a good idea. If you want to add a creative flair to your bedroom that also has a natural vibe, then consider choosing unusual, unique, and unexpected plants that you can place on your shelf, on your nightstand, and even at the foot of your bed.
2. Embrace a boho chic bedroom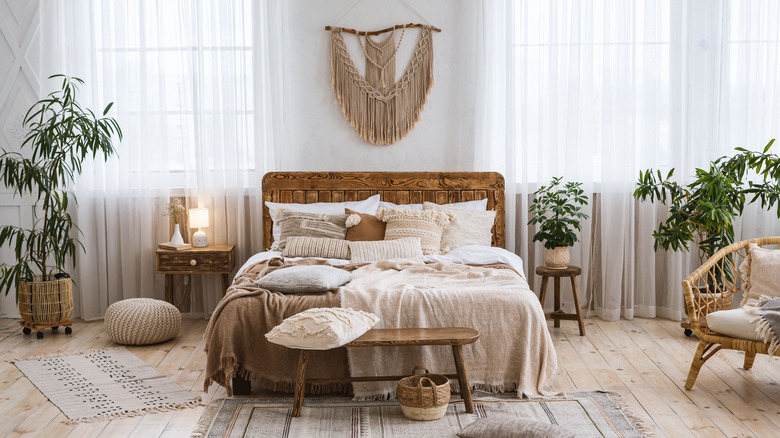 Prostock-studio/Shutterstock
There's no denying that boho chic bedrooms are absolutely dreamy and super-stylish! If it's an aesthetic that you would love to wake up to every morning, try adding macramé accents, wicker details, and artisanal décor to your space.
3. Go bold with industrial style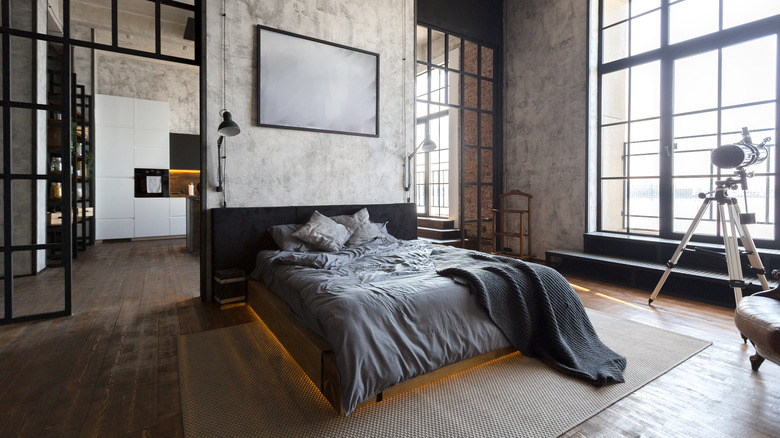 PinkyWinky/Shutterstock
If your home was once a factory or warehouse, then you may want to accentuate some of the unique industrial details in order to make your bedroom a special place. Even if your home wasn't a former working environment, you can still add industrial elements like faux cement walls, metal details, and steel-frame windows.
4. Play up your walls with moldings and texture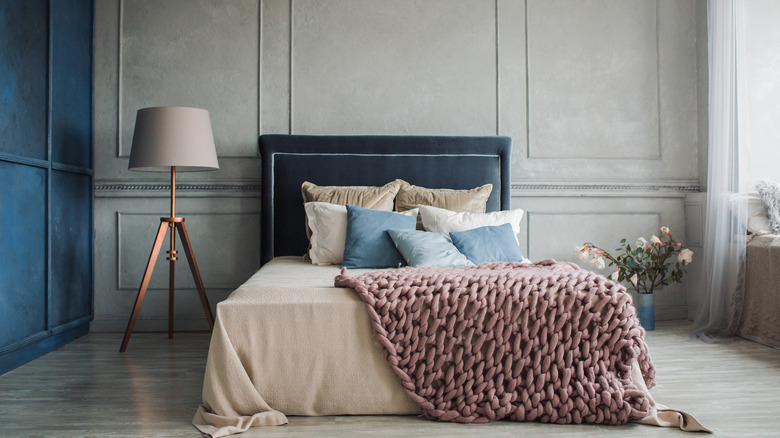 Latkn/Shutterstock
You can do a lot more with your bedroom walls than just paint them a solid color. Think about adding things like picture moldings and texture to create a look that is classically elegant.
5. Dare to use dreamy dark paint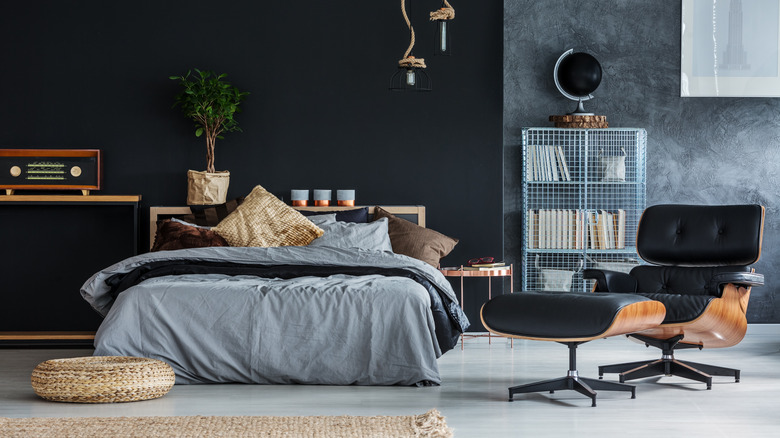 Photographee.eu/Shutterstock
A bedroom with deep, dramatic walls sets a cozy, lounge-like vibe! To keep things from feeling too intense, contrast the dark wall color with light floors and natural-textile accents.
6. Incorporate shutters into the décor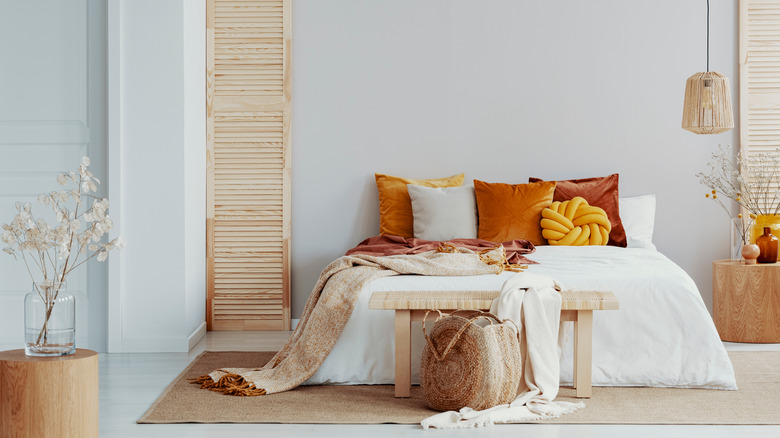 Photographee.eu/Shutterstock
You would never expect to see shutters anywhere besides a window. Yet, using them as bedroom décor is a fun way to add an unexpected accent. Leave the wood bare or paint the shutters to match the overall style of the room!
7. Put up panels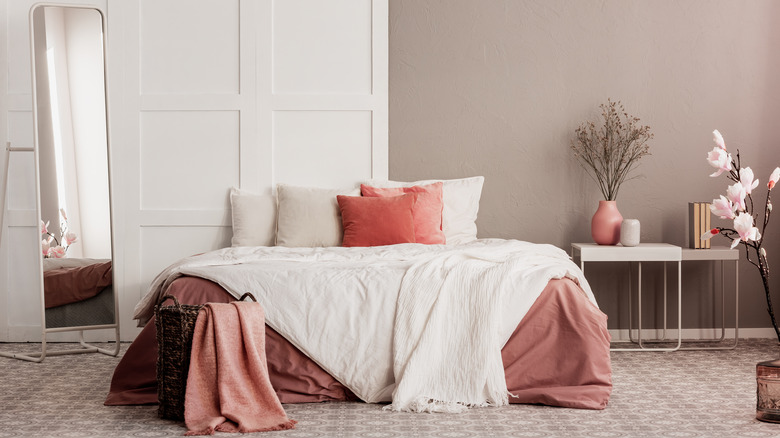 Photographee.eu/Shutterstock
In the same way that moldings add an extra element to your walls, panels pack a punch in the bedroom and have a huge impact on the space. Cover each wall, or merely one section, with panels to add a layer of interest to your bedroom.
8. Decorate with text art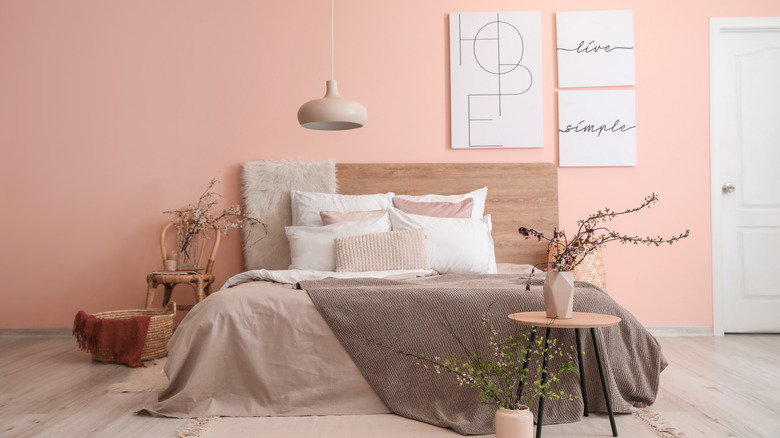 Pixel-Shot/Shutterstock
When it comes to picking art for your home, there are plenty of styles, subjects, and color palettes to choose from. For instance, text art uses fabulous fonts, intriguing placement, and often an inspirational message to create an interesting piece that would look amazing in your bedroom.
9. Have a mural painted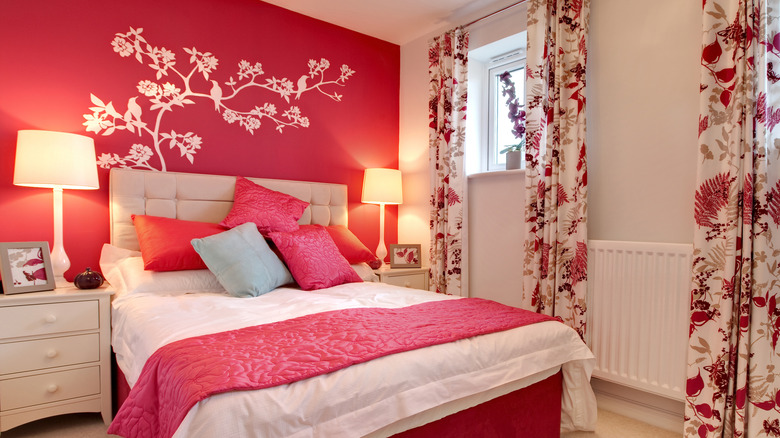 Mike Higginson/Shutterstock
You could hang pieces of art on your bedroom wall or you could make your wall into a work of art by creating a mural. Whether you choose to do it yourself or hire a professional, there are plenty of mural options, ranging from a simple design to something more detailed.
10. Reflect your style with a mirrored wall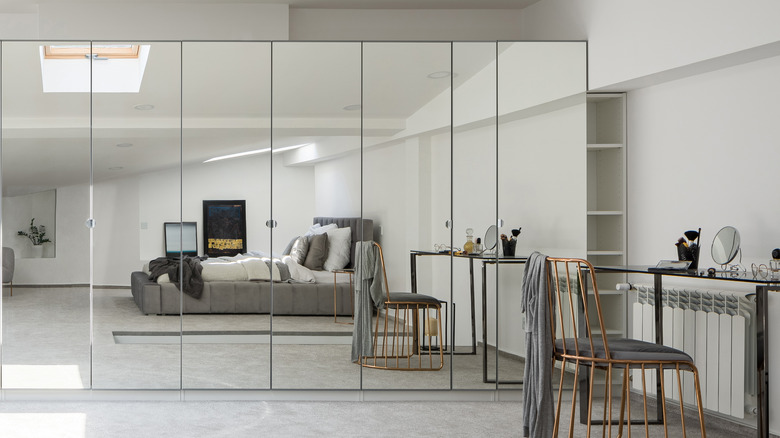 Dariusz Jarzabek/Shutterstock
Having a full-length mirror in your bedroom is a practical choice, giving you a chance to check out your outfit each day. Have you considered taking it one step further by putting up a mirrored wall in your bedroom? It's a great way to make your room feel big and bright.
11. Open your bedroom to the exterior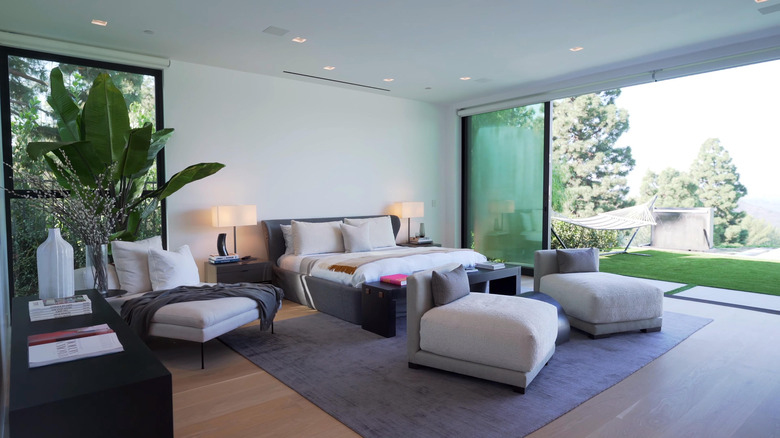 Gabo_Arts/Shutterstock
Large windows let light into your bedroom, not to mention fresh air. They also give you a glimpse of what's happening outside. Another option, if your bedroom is on the ground floor, is installing sliding-glass doors so you can fully welcome the outdoors in.
12. Hang up a hammock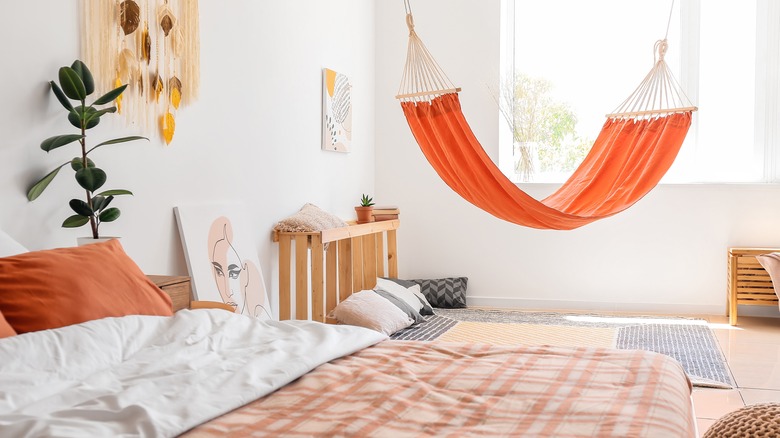 Pixel-Shot/Shutterstock
Hammocks don't have to be something that are only used outside. Hang one up in your bedroom — either a full-size hammock or a hammock chair — and you'll surely appreciate having another place to relax.
13. Change things up with a chalkboard wall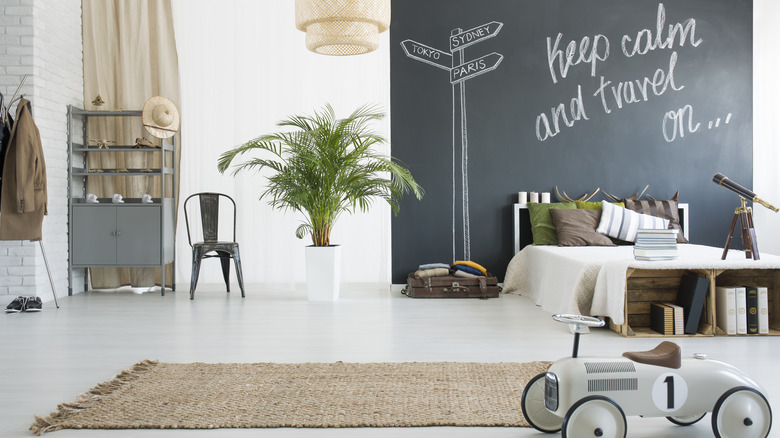 Photographee.eu/Shutterstock
Mix things up as often as you want in your bedroom by creating a chalkboard wall. Simply apply chalkboard paint to the wall and, when it's dry, you'll have an area where you can doodle, draw temporary murals, or add little notes to yourself or a loved one.
14. Find a fun bed frame
Pixel-shot/Shutterstock
Did you know there is a plethora of unique bed frames available to you, made from a wide variety of materials and in a range of styles? Tracking down a bed frame that's unlike the typical ones you'd find is a great way to add a creative touch to your bedroom.
15. Opt for a unique headboard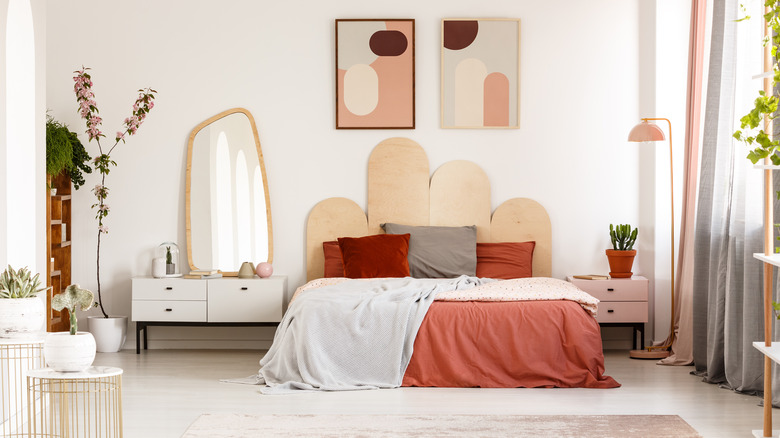 Photographee.eu/Shutterstock
Headboards don't always get a lot of attention when people are considering their bedroom design. However, if you were to opt for a truly striking headboard behind your bed, then there's no doubt that it will add a dramatic, eye-catching moment to the bedroom.
16. Create a luminous vibe with lighting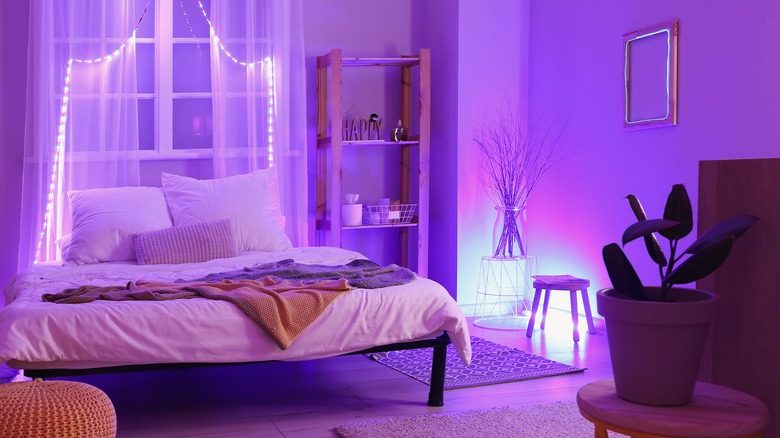 Pixel-Shot/Shutterstock
In most of your rooms, you'll likely want to choose lighting that keeps the area bright. However, your bedroom is a place to experiment with lighting that can help you create a soothing, whimsical, or dreamy vibe.
17. Color wash your wall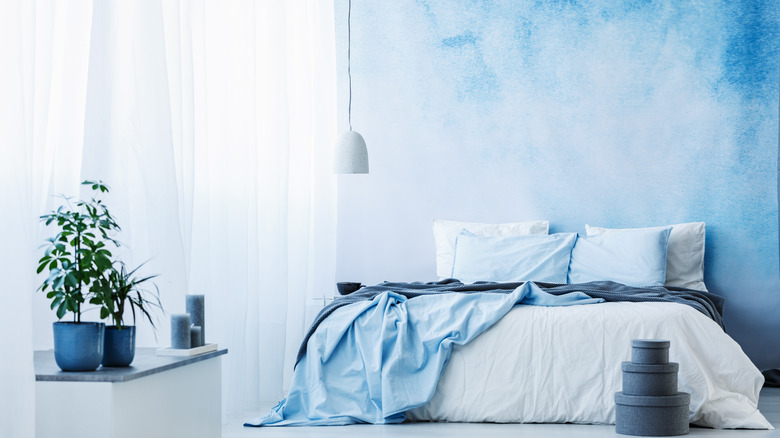 Photographee.eu/Shutterstock
When it's time to paint your bedroom walls, consider color washing. Using a careful technique and the right materials, you'll end up with a wall that looks like a stunning watercolor painting.
18. Add interest with wood slats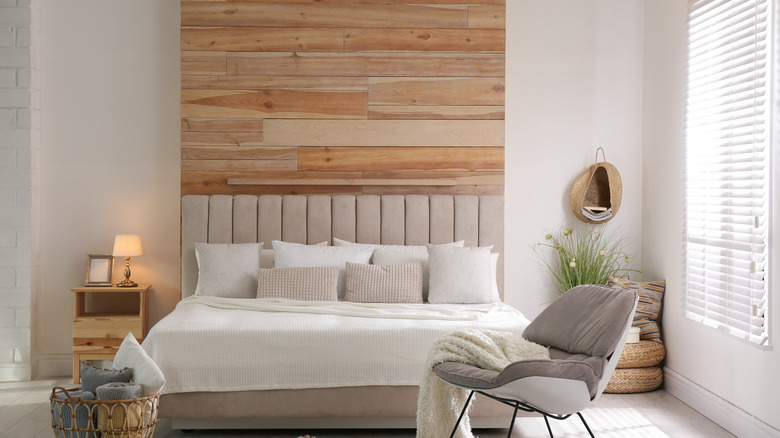 New Africa/Shutterstock
Simply (and securely, of course) putting up wood slats on your bedroom wall adds visual interest with a natural touch. Both lighter woods, like oak and maple, or darker ones, such as walnut and mahogany, make an impact. You could also repurpose barn board and stain it to your desired shade.
19. Install a barn door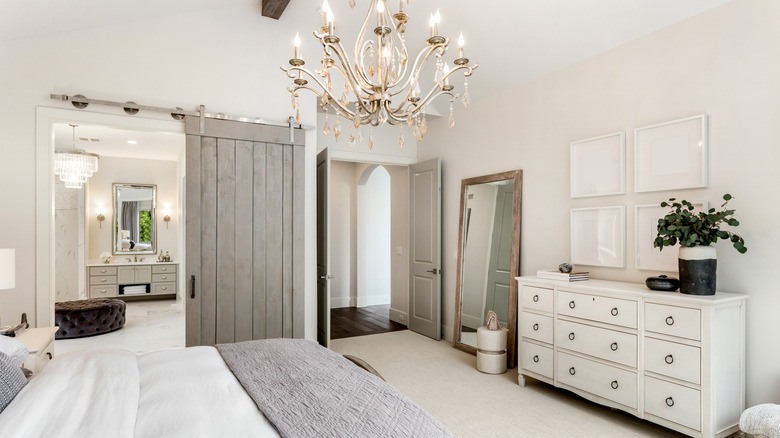 Breadmaker/Shutterstock
Barn board is a great way to add a wood to your bedroom. If you want to take it a step further, then consider a barn door. It can be purchased as a kit and simply installed on tracks. If privacy is an issue, however, then you should know that sliding barn doors don't close tightly.
20. Put up a faux-brick wall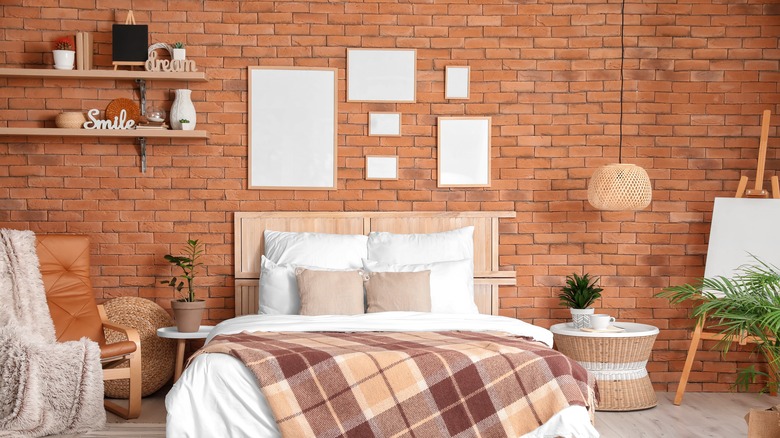 Pixel-Shot/Shutterstock
Exposed-brick walls add a stylish touch to any space. Even if your home doesn't already have brick walls, you can get the same look with a faux option. Use a realistic wallpaper or opt for brick-like panels, boards, or planks.
21. Don't stick with simple shelves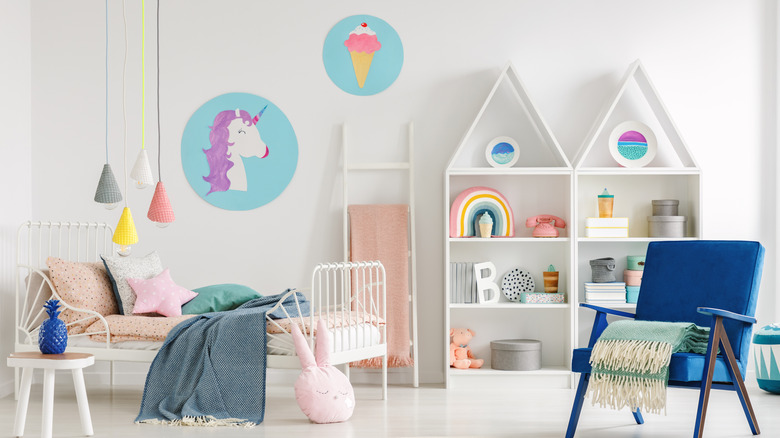 Photographee.eu/Shutterstock
Depending on your needs, you may want shelves in your bedroom that are able to hold photos, books, clothes, or other items. But while making sure that your shelves are practical, you don't necessarily have to stick with shelves that are ordinary. Opt for ones with an interesting style or funky shape.
22. Shoot for the stars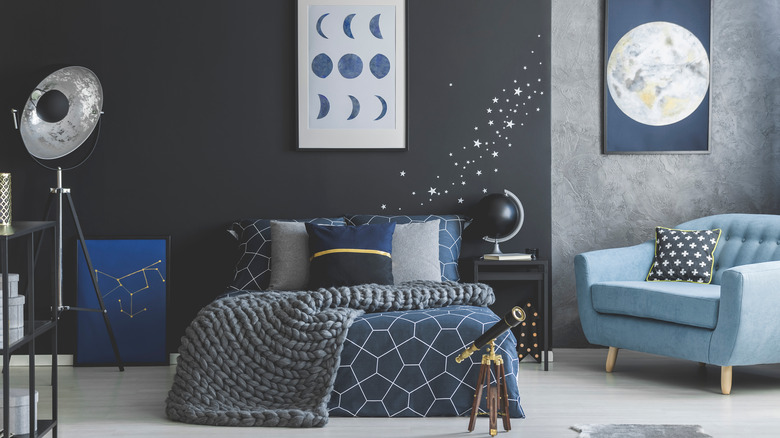 Photographee.eu/Shutterstock
You might think that a space-themed bedroom is only for kids, but you'd be wrong! Adults can also enjoy an out-of-this-world vibe by adding attractive elements to a room, such as an antique telescope or a star map.
23. Add beams to the ceiling
Breadmaker/Shutterstock
Exposed beams are another feature that not all homes have, but are a great way to add some interest to your ceiling. Consider installing beams across the entire ceiling for a cottage-inspired look.
24. Or select one space for beams
Breadmaker/Shutterstock
Maybe you like the idea of beams, but want to do a unique take on them. If that's the case, then simply adding a few beams above your bed is a contemporary interpretation of a classic look.
25. Display your décor in crates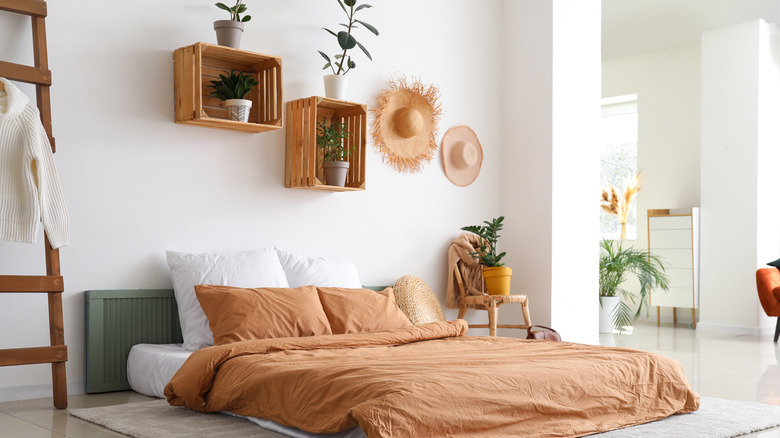 Pixel-shot/Shutterstock
Crates are an affordable way to add extra storage space to your bedroom in a few different ways. While they can simply be stacked vertically or horizontally as shelves, you can also secure them to a wall in order to display your décor.
26. Replace lamps with unique lighting options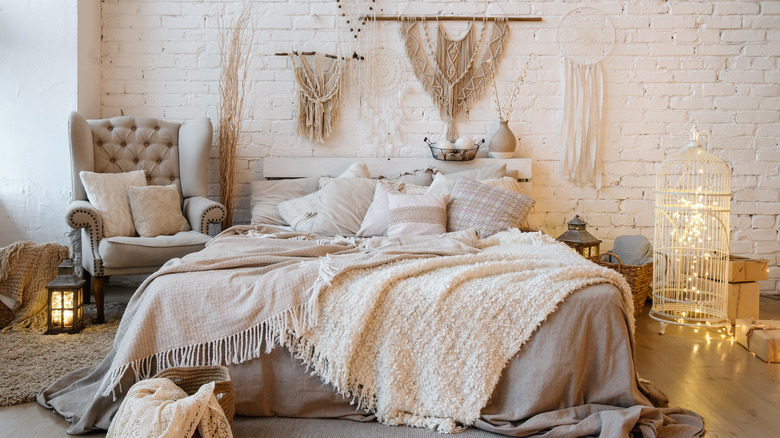 Brizmaker/Shutterstock
Let your creative style shine when choosing lights for your bedroom. Instead of picking out a traditional lamp, why not go for unique lights — such as strings of LEDs or lanterns?
27. Hang an ornate wall covering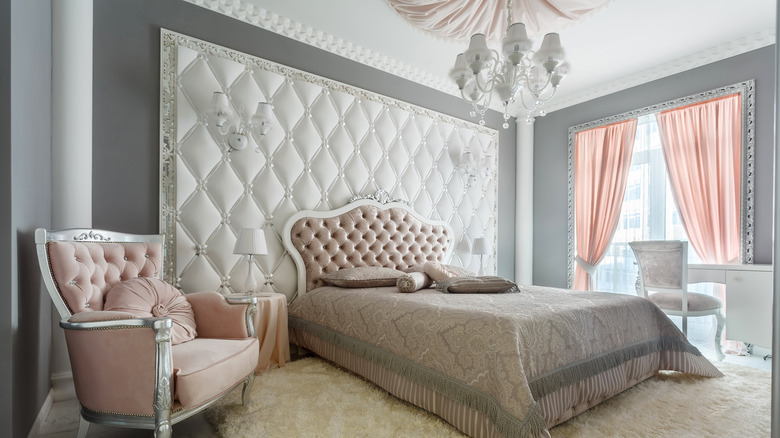 miroha141/Shutterstock
If you want your bedroom to feel like a space fit for royalty, then we have a suggestion for you. Indulge in an ornate wall covering that will turn your restful haven into a place meant for kings and queens.
28. Set up a screen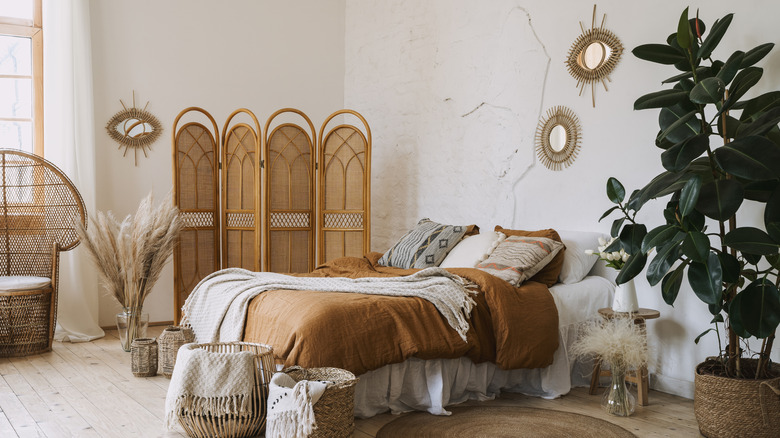 brizmaker/Shutterstock
Screens are a fabulous way to create a little more privacy in your bedroom, as well as add some visual interest. They can be as simple or as intricate as you would like thanks to a range of materials, styles, sizes, and shapes.
29. Use a bright color palette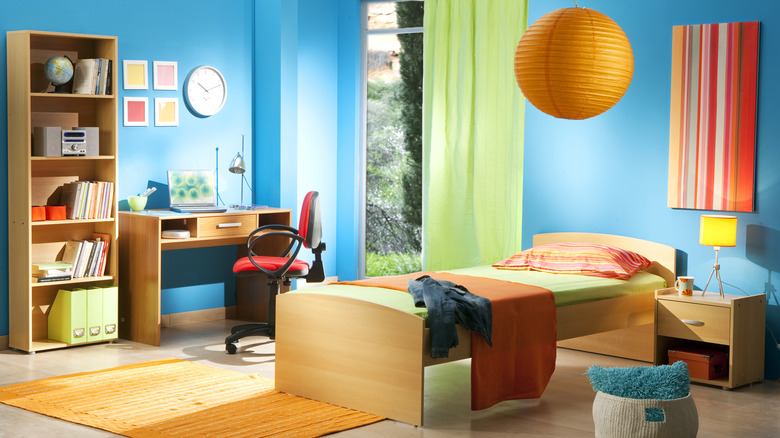 Room27/Shutterstock
Why settle for just one relatively safe color?! Pick as many bright colors as you desire and spend a little time coming up with a fun design for your room that will be both playful and pleasing.
30. Choose striking seating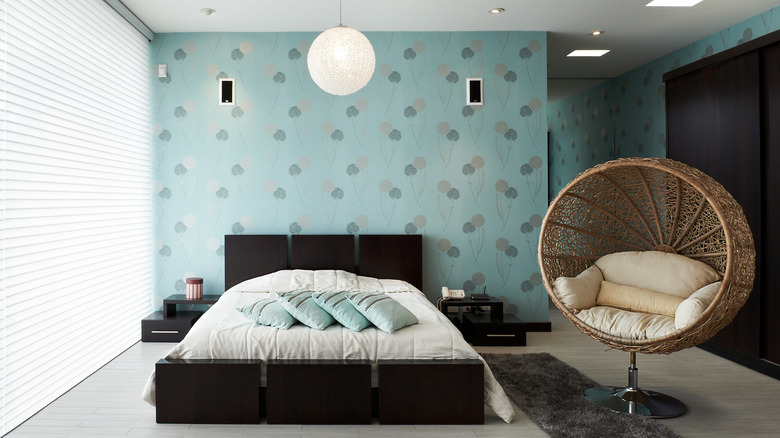 Santiago Cornejo/Shutterstock
You may not want to completely sacrifice comfort for style when choosing a chair for your room, which is totally understandable — it is supposed to be a comfortable place after all. But, no need to worry. With so many selections, it's easy to find something that's as pleasant for your eyes as it is for your tush.
31. Choose a funky nightstand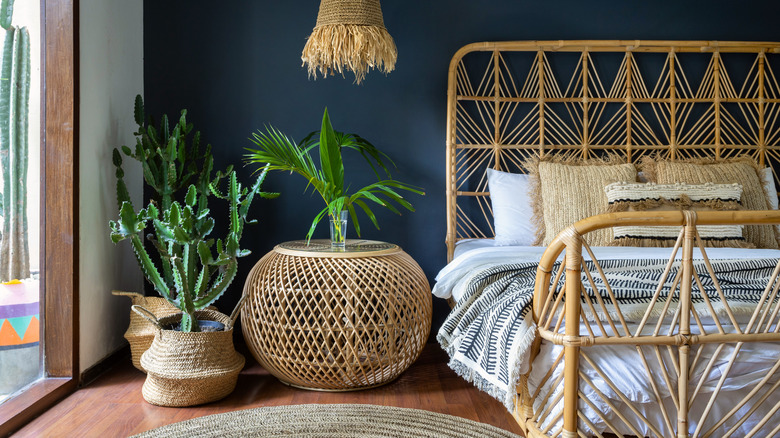 brizmaker/Shutterstock
Nightstands are another piece of furniture that are meant to be highly functional. At the same time, you can use your nightstand to play off your other design choices. A funky woven-wood night table would look great in a boho-chic bedroom.
32. Choose pretty linen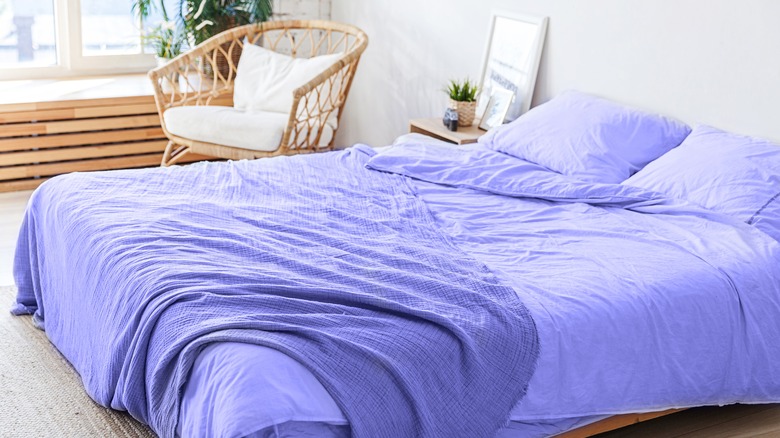 Julia Zavalishina/Shutterstock
You surely want your linen to be comfortable so that you can get a good night's rest. However, you can also add another pop of style to the space by choosing linen in a gorgeous color or pretty pattern. It's a true luxury when your bed feels and looks good, 
33. Bring in beautiful baskets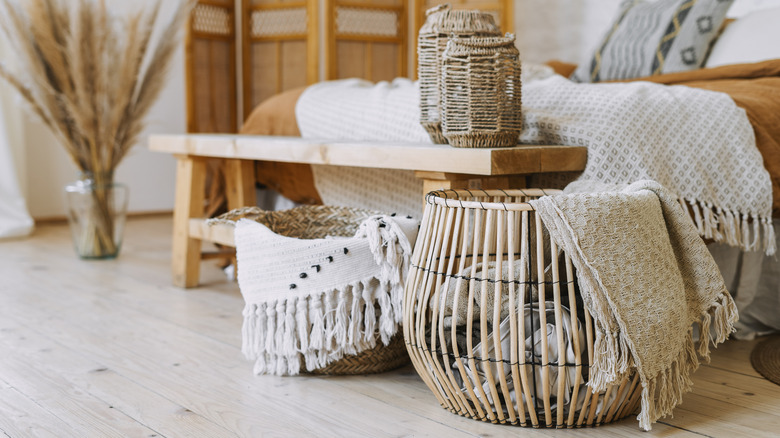 brizmaker/Shutterstock
Baskets are yet another item that can serve a dual purpose in your bedroom. Along with coming in a wide variety of styles and sizes, baskets are also a great way to add some extra storage to your space.
34. Install techy touches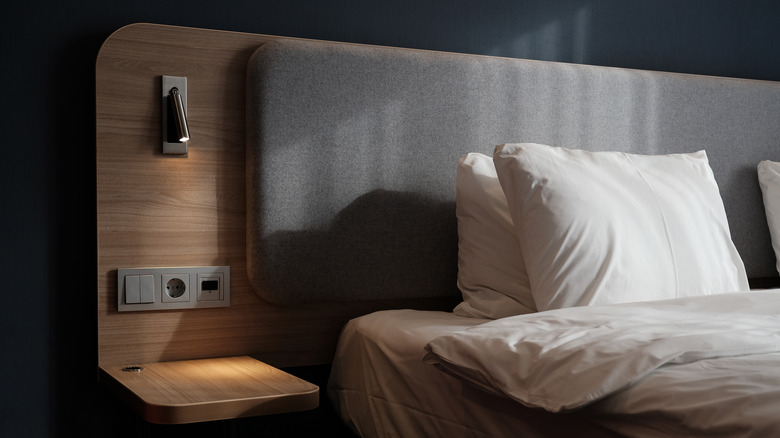 JuliaStar/Shutterstock
Make your bedroom as convenient as it is comfortable by installing tech-related touches. Opt for a headboard or nightstand that has a place for you to plug in your phone and allows for easily light control. There are plenty of smart devices that you can choose and install to make your room a modern haven.
35. Focus on sunny shades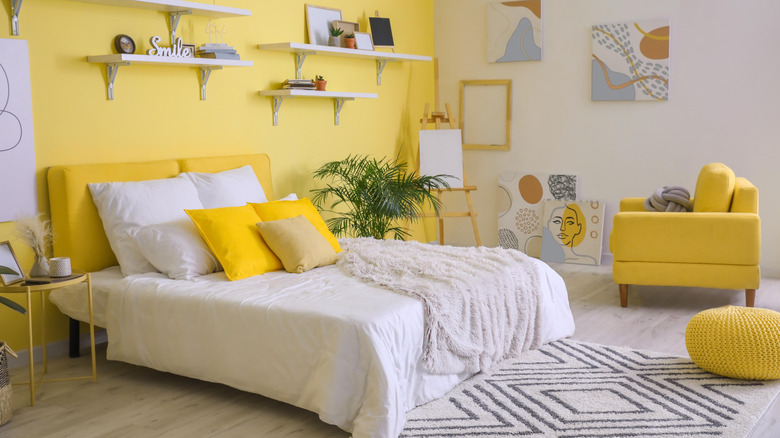 Pixel-Shot/Shutterstock
Yellow is a fabulous color choice if you want to liven up any room. With a range of shades in the sunny color, you can surely decide on a yellow design for your bedroom that will always cheer you up and make you smile.
36. Lay down a fun rug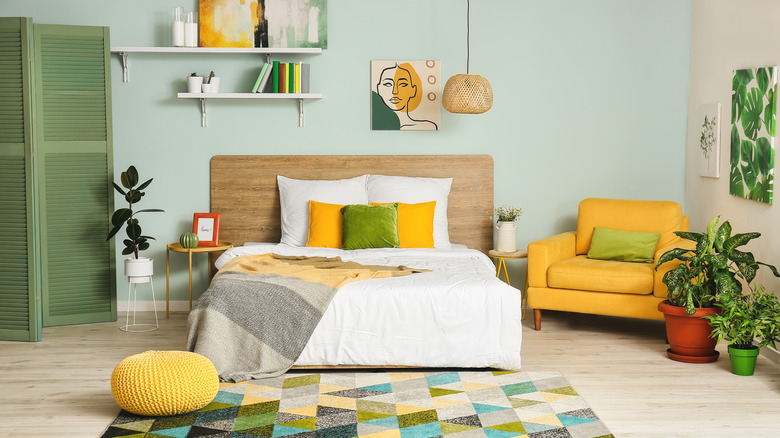 Pixel-Shot/Shutterstock
Your feet aren't the only things that will enjoy the rug if you choose one that looks as good as it feels. With a range of color, style, and textures, there's no doubt you'll find a rug that's perfect for your bedroom.
37. Make a clock a key focus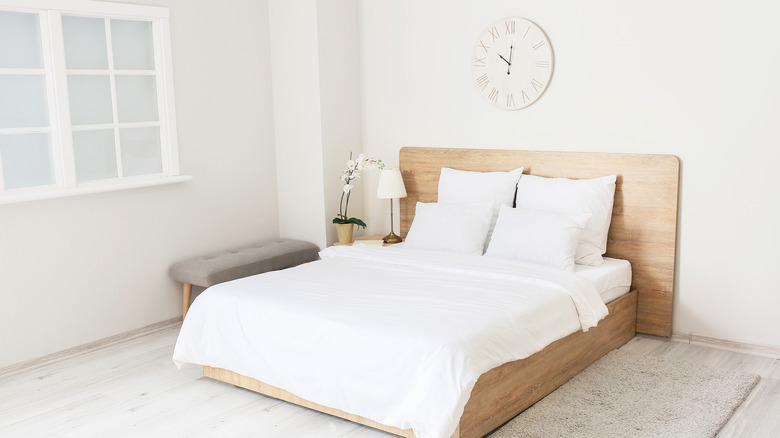 Pixel-Shot/Shutterstock
A clock doesn't just have to be used as an alarm in your bedroom. Choose one that's both attractive and a little larger in order to make it a key part of your room's overall style.
38. Use a design-friendly diffuser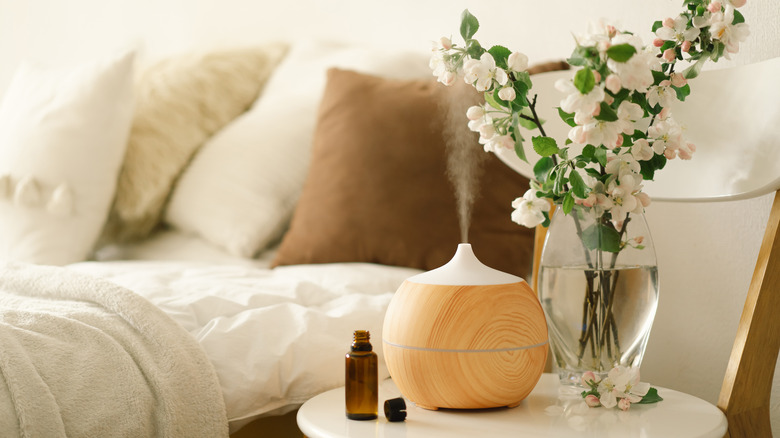 Nastyaofly/Shutterstock
If you love aromatherapy, then you likely have a diffuser of some kind. Fortunately, they happen to be so popular that you can find ones that are design-friendly and will enhance the look of your room (all the while making it smell amazing). 
39. Don't settle for a boring dresser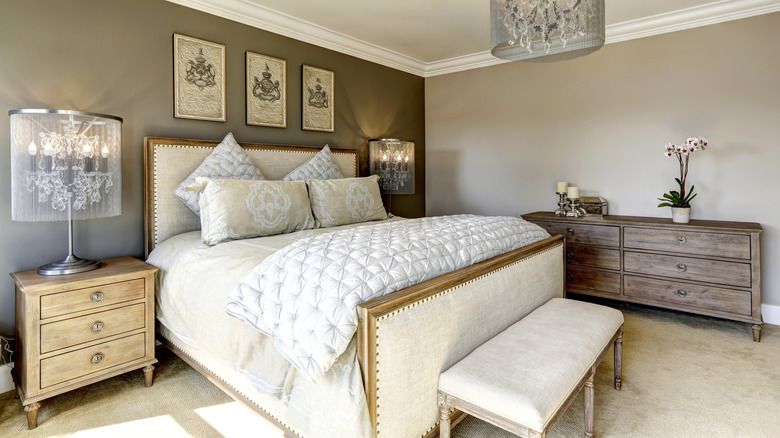 Artazum/Shutterstock
A dresser plays an important role in the bedroom, so consider what you want carefully! Maybe you were lucky enough to have inherited a vintage bureau. If not, there's plenty of places to seek out the perfect dresser — either one that blends in perfectly with your décor or stands out.
40. Add unexpected fiber art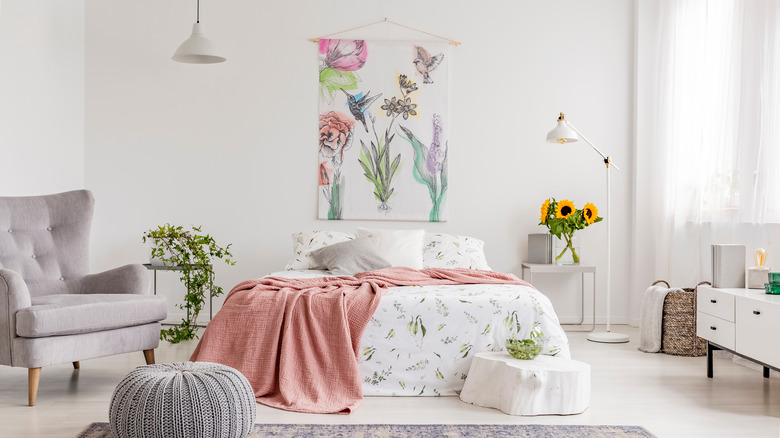 Photographee.eu/Shutterstock
Paintings and photographs aren't the only kind of art that you should bring into your bedroom. Textile art, such as tapestries, add unexpected texture and character to a bedroom.
41. Take full advantage of your windows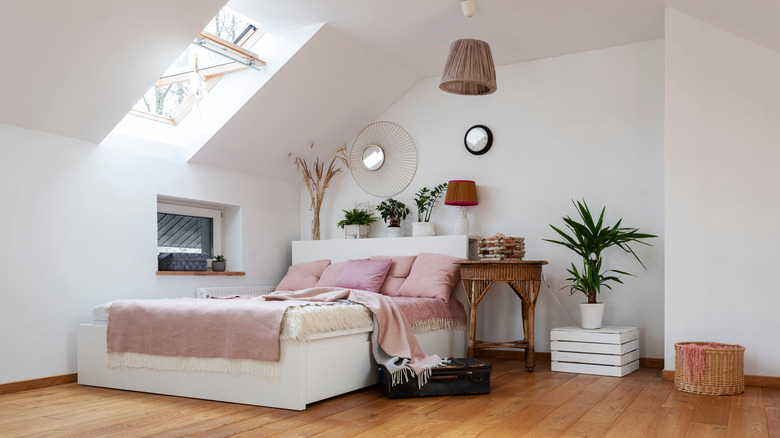 liloon/Shutterstock
Some windows offer you amazing views while others let in a gorgeous amount of light. Whatever your windows offer, be sure to position your furniture and décor in just the right spots to get the most out of them.
42. Choose a round bed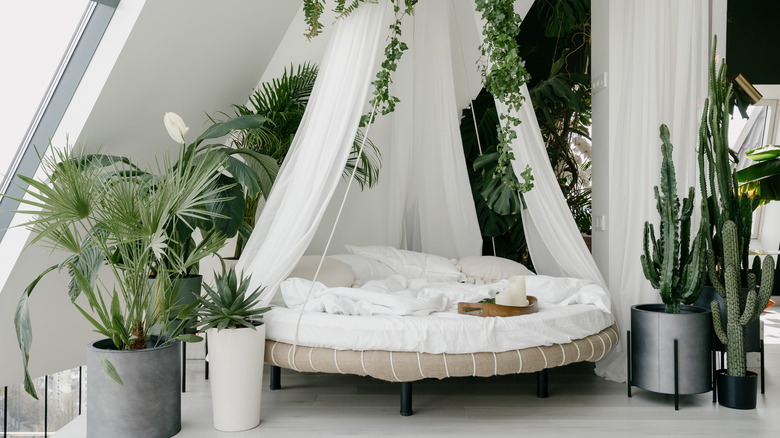 brizmaker/Shutterstock
Want to mix things up? Then look past the normal rectangular bed and consider a circular one. Not only is a round bed fun and unexpected, it also adds whimsy and sets a vacation vibe in your bedroom.
43. Set up a window seat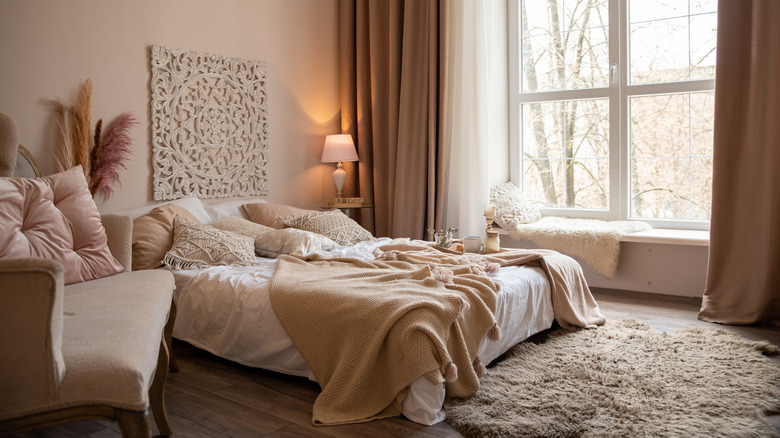 Marianna_ Zh/Shutterstock
If there's a sturdy ledge by your window, then set up a window seat by adding a blanket and comfy pillow. It creates a cozy nook meant for long days reading and day-dreaming.
44. Choose a desk that matches your decor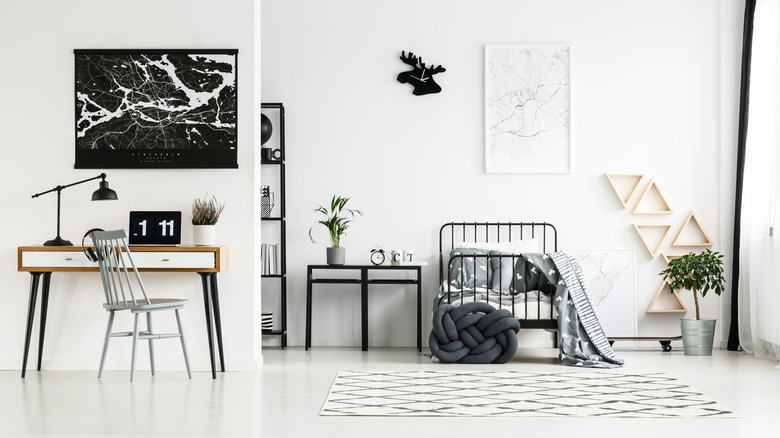 Photographee.eu/Shutterstock
Desks often are looked at as more functional than fashionable. However, your bedroom workspace doesn't need to feel as if it doesn't belong within the rest of room. When purchasing a desk and desk chair, find one that matches the existing décor and design.
45. Pile on the pillows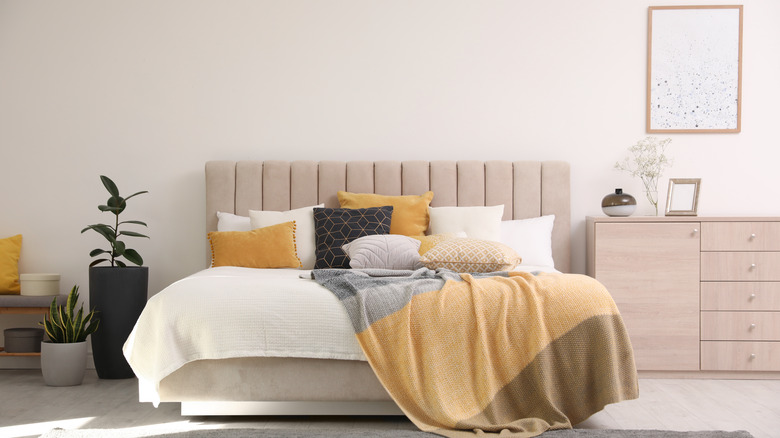 New Africa/Shutterstock
You likely have a particular pillow that you use each night while you're sleeping. That doesn't mean that is the only one that needs to be on the bed. A multitude of pillows in different shapes and sizes make the bedroom feel cozy.
46. Integrate furnishings that feel vintage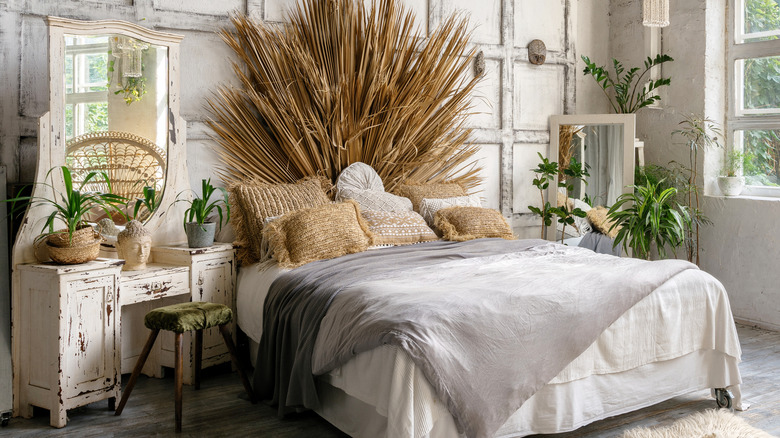 brizmaker/Shutterstock
If you have the time and energy to track down antique furniture at a market or in a store, it will certainly be worth the effort. However, if that doesn't fit into your schedule, you can always give your existing bedroom furniture an attractive vintage look by using various sanding and distressing techniques.
47. Add recessed lighting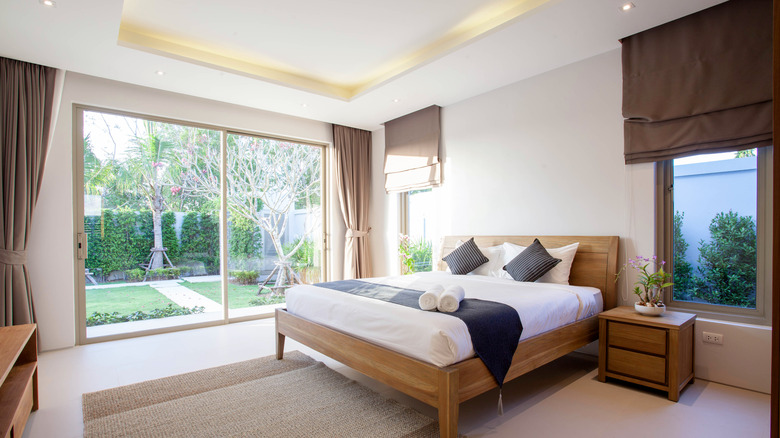 stock_SK/Shutterstock
Give your bedroom an extra glow by installing recessed lighting. Tucked away in the ceiling where the fixtures can't necessarily be seen directly, recessed lighting brightens a space in a subtle, romantic way.
48. Embrace a chic cottage vibe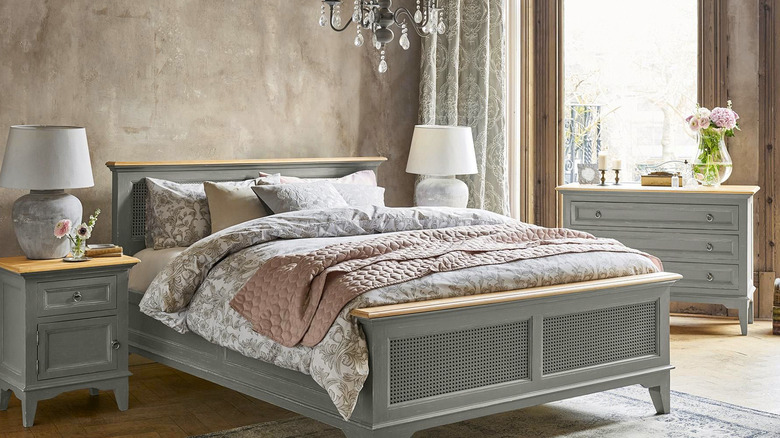 Gaf_Lila/Shutterstock
Pair charming furniture with soft, sweetly colored fabrics to begin to create a chic cottage vibe that will liven up your bedroom. Add a crystal chandelier and give your wall a rough coat of paint in order to complete the look.
49. Go wild with shapes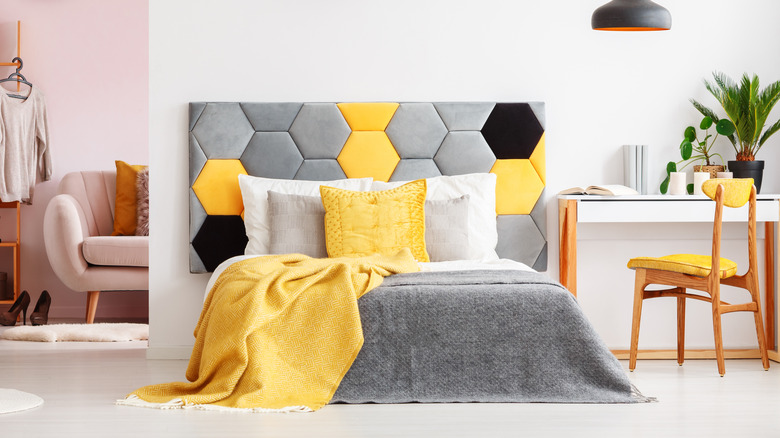 Photographee.eu/Shutterstock
Various shapes may not be the first thing you think of when designing your bedroom. However, they are a fun way to add flair. Play around with triangles and circles or go wild with pentagons and hexagons.
50. Add a bed canopy
If you had a canopy above your bed as a child, then you'll know that it makes you feel like you're falling asleep in a wonderland. And it's not just kids who feel that way. Put a canopy over your bed and discover the magical vibe it creates.
51. Put a canopy in an unexpected place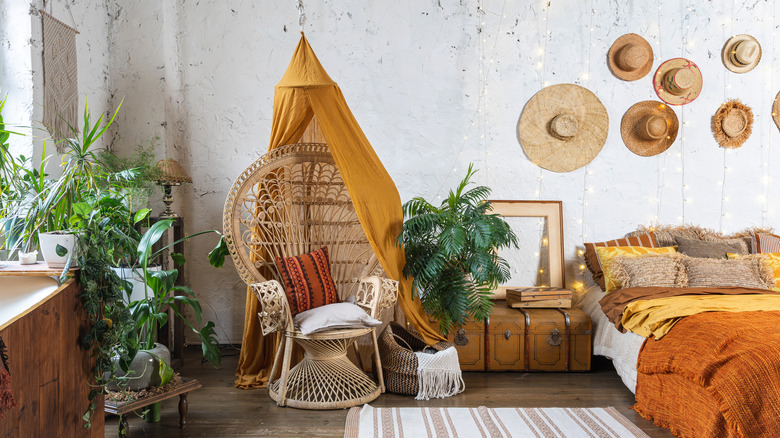 brizmaker/Shutterstock
A bed isn't the only place you can add a canopy to introduce whimsy to the bedroom. You can also put one up in other unexpected places, like above your dresser, shelf, or favorite chair.
52. Add a fireplace
Adding a fireplace to your bedroom doesn't have to be daunting. While you could have a traditional fireplace installed, you can also purchase an electric fireplace that can be attached to your wall. Whatever type you choose, a fireplace always adds a relaxing ambiance to a bedroom.
53. Play with polka dots
Playful polka dots look adorable in bedrooms. Why don't you take it one step further and, beyond simply opting for fabrics that feature a polka dot pattern, consider other ways to incorporate them? The headboard, wallpaper, and art are all great options.
54. Curtains can be for more than windows
Putting curtains up around your windows is a great way to keep out the light at night as well as to protect your privacy. Of course, you could also pop curtains up around your entire room to create a luxuriously cozy feel.
55. Have built-ins put in
Built-ins don't just have to be bookshelves. Have a wardrobe built into your bedroom wall to give you plenty of space to store away your clothes. Add some mirrors to the doors for more functionality and to make the room look both bigger and brighter.
56. Opt for one standout piece
Not every piece of décor in your bedroom needs to be bright and bold in order to create a lively space. In fact, it's a great idea to let one piece be the star of the show. Try sticking with a neutral palette and then opting for a single accent piece that stands out.
57. Take advantages of corners
Corners can be awkward to deal with at times — especially if your room isn't a simple square and features a few extra nooks. Instead of being annoyed by corners, try embracing them by using wrap-around shelves that not only look really unique, but also add extra storage.
58. Pop in frosted-glass tiles
Mix a modern aesthetic with a retro vibe with frosted-glass tiles placed in one, two, or all of your bedroom windows. Another way to achieve a level of privacy, these tiles still allow the daylight to filter through.
59. Put up partitions
If you'd like to separate your bedroom into different sections but don't want to put up walls, there's a flexible option that might suit you and your space better. Stylish sliding partitions are a great way to close off an area of your room when needed while you can open them back up whenever you want.
60. Change up your decor with the seasons
Keep your bedroom design fresh by changing it up with the seasons. Add tiny pumpkins during the fall and fresh flowers in springtime. Perhaps incorporate some tropical touches in the summer and a few thick blankets in the winter that both look good and are ideal for cuddling up in your fabulous space.