How To Replicate Kate Hudson's Retro Chic Living Room Aesthetic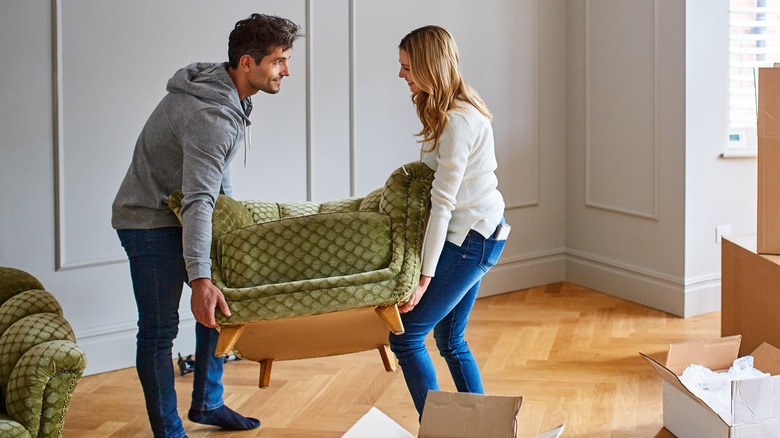 Kupicoo/Getty Images
Actress Kate Hudson is known for her red-carpet glam style and a Hollywood career that spans over two decades. The star recently gave a glimpse into her California home's retro-inspired living room on Instagram, revealing a stunning combination of both mid-century modern colors and lines with warmer, cozy rustic touches throughout. The combination is a stylish and homey room fit for spending time hanging out and making music.
The living room has caused a flurry of praise among designers including Artem Kropovinsky, who tells Homes & Gardens, "It's all about context and juxtaposition. The room might incorporate a nostalgic color palette, but the arrangement, the use of light, and the complementary textures breathe new life into those shades. The balance of retro and contemporary pieces in the space makes it dynamic and layered, preventing the colors from feeling stale or too rooted in the past." The key to capturing Hudson's unique '70s-meets-modern style? It lies in the details, as you need to use the right colors, wood finishes, and upholstery. By keeping a few things in mind, you can harness the actress's living room aesthetic for your own space.
Color, pattern, and texture
The color palette of Kate Hudson's space is driven by warm neutrals and colors that are known for their endurance over time. Her sofa's upholstery is a decidedly mod vintage chevron print rendered out in brown, beige, taupe, and black, a nod to 1970s mid-century style. The wood paneling that lines the walls is both a natural finish and warmer in tone which, when combined with a richly-woven rug on the floor, makes the room feel cozy and inviting. The room is further decked out in earthy elements like plants, crystals, pottery, and taxidermy.
When adopting Hudson's style for your space, focusing on warm neutrals like browns and beiges will always help you create a room that avoids being too trendy. These neutrals can be accompanied by accent colors that offer more dimension. For a '70s look that's similar to Hudson's, consider adding other, bright retro colors in small doses. Designer Artem Kropovinsky says, "Integrate contemporary design elements or use retro colors in more modern patterns and textures. Think mid-century tones like mustard yellow or avocado green paired with sleek modern furniture or minimalist wall art," (per Homes & Gardens).  While the best retro designs may be found in vintage shops, modern retailers offer mid-century modern-inspired designs in both neutral and retro shades, including this striking green sofa with a wooden bottom from Article or this uniquely-patterned brown and black couch from Modern Hill that has chrome accents.
New meets old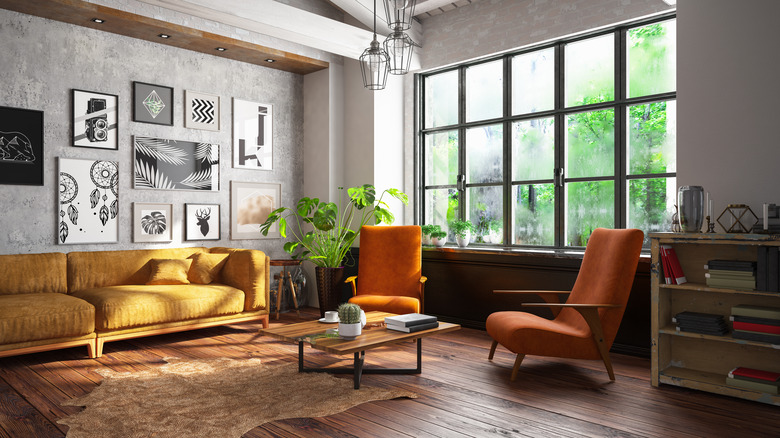 Asbe/Getty Images
Kate Hudson's showstopper retro sofa is combined with simple and modern black leather accent tables and a black slatted wood coffee table, all of which feel as timeless and as modern as they are retro. According to designer Lenore Callahan, it's "important to balance out the vintage flair with simple modern accents such as the coffee table and accessories in the image," (per Homes & Gardens).
By mixing in chairs that have a sleeker contemporary feel as well as details like contemporary recessed lighting, you can create juxtaposition that adds depth to the room and prevents it from looking like a museum. Mid-century design, which shares a love of clean lines and geometric accents, is a great fit with more contemporary pieces and decor, so mixing them to create a mid-century modern design puts a stylish spin on a retro feel. Look for black accents, crisp leather pieces, and clean space-age shapes and lines to balance out more retro colors and patterns. Chairs inspired by Mies van der Rohe's Barcelona designs are always a great vintage but modern look, like this black leather piece from Bespoek. Or, try a rounded egg-style chair in black or brown leather like this one from Modern In Designs, which would add soft lines to your space.