TikTok's Plant Gallery Wall Is Just What You Need To Add Charm To Any Space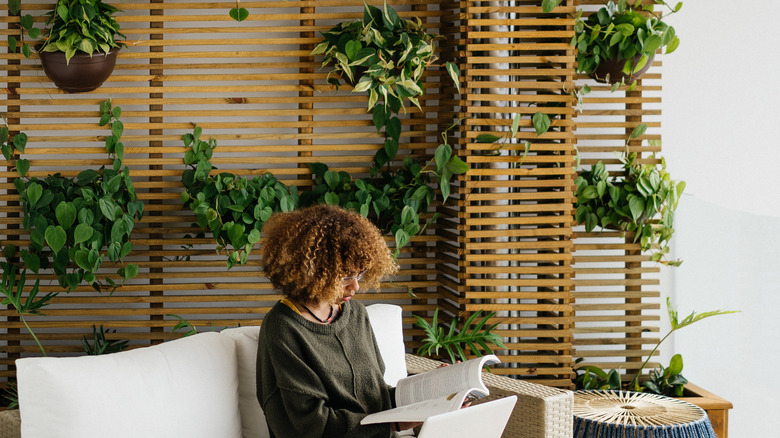 Igor Alecsander/Getty Images
Creating a gallery wall in a room is a great way to add a focal point and showcase your style. The best gallery walls provide some insight into your life, experiences, and interests by including personal elements, which is why art pieces and framed photos are commonly included. One type of gallery wall that recently went viral on TikTok is one that included plants. In the video, the creator showed how she made a very creative yet simple gallery wall with antique frames, potted plants, and one climber vine.
For plant lovers and green thumbs, a plant gallery wall might be just what you need to display some of your favorite greenery in a unique way that most people wouldn't expect. It expands on the idea of an art wall by going beyond the two-dimensional format to add life and texture to a room. It also gives you more creative opportunities because you have more items and styles to experiment with.
How to make your own plant gallery wall
First, choose the right wall space for your gallery wall and gather your materials, including brown kraft paper, a pencil, scissors, tape, antique frames, hanging planters, and nails and a hammer or command strips. Pick a suitable wall in your home, perhaps in the living room or bedroom, that receives adequate light and is big enough to hold the gallery without making the room feel cramped. You'll also need a variety of indoor plants that can create an interesting visual picture when arranged together.
Per the TikTok, start by tracing the frames you want to hang on kraft paper and cut out the outlines. Then, arrange the pieces on the wall with tape to create your desired layout. Hammer some small nails through the paper or use command strips so you know where to hang everything. Now, you're ready to remove the paper and hang up your frames and planters. Add in your chosen plants and feel free to try different arrangements with this gallery wall. You can leave some plant pots empty, place some within frames, and add some framed art pieces into the mix. One tip the TikToker recommends is using small wall clips to arrange your climbing vine in whatever direction you want.