Use TikTok's Genius Hack If You Don't Want To Paper Your Full Wall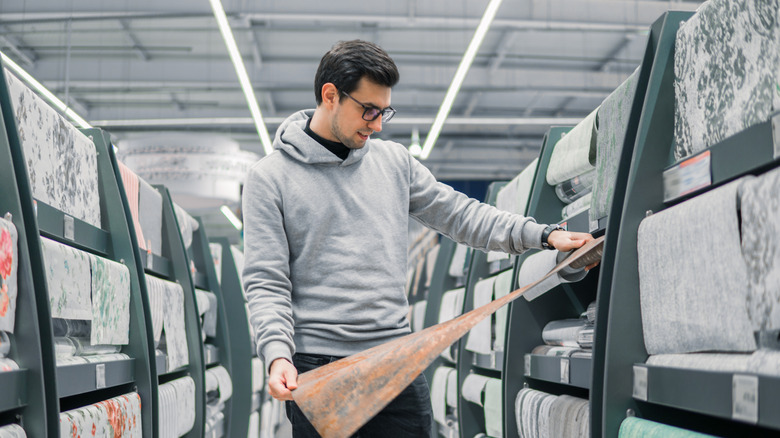 Igor-kardasov/Getty Images
Wallpaper is one of the hottest new trends for designers and homeowners looking to add a bit more color, pattern, and layering to rooms. The vast array of gorgeous designs available means you can find the perfect paper to achieve your specific design goals and decorating style. While many are embracing the trend and covering everything from walls to ceilings to other parts of their homes, others like TikToker @honeybeeandhhollie are taking a more measured and restrained approach, which can work perfectly if you feel like too much wallpaper may overwhelm your room. Installing wallpaper inside picture frame molding instead of covering an entire wall could save you money and make the element easier to install.
You can create a more structured look in any room by using the framing as a border for wallpapered areas. While using molding with wallpaper is not exactly a new idea, many people often use patterned paper above or below wainscotting or chair rail moldings. This approach offers a new spin on using both these elements that produces stunning results.
Using wallpaper inside molding
Decorative picture frame wall moldings are available in a variety of widths and sizes, some coming in pre-cut sets that can be easily attached together and nailed to the wall. For renters, you can also get peel-and-stick varieties that can be removed from the wall when you move. Alone, these moldings add definition to blank walls and a feel of architectural grandeur even to the most basic white box rooms. Paint them the same color as the wall or leave them white for a classic look. You could also paint them an accent color that draws the room together.
Wallpapering small sections within the boxes is a great solution for those who still want to see part of the wall or those who think the idea of an all-over pattern seems overwhelming. The frame molding provides a bit more structure and definition to the wallpapered areas, making them almost seem like expansive works of art. It's a perfect chance to go for a bolder pattern you might not want everywhere, like large-scale florals or funky geometrics. Like molding, many paper designs come in peel-and-stick varieties that are rental-friendly.
An inexpensive solution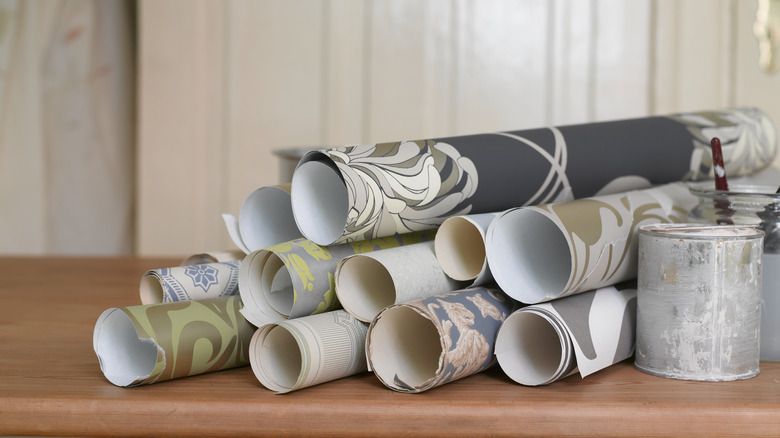 Liquorice/Getty Images
This frame molding hack is an inexpensive solution that will instantly elevate any space. This approach will also save you money since you will use less paper overall. It will also require a bit less labor to install or swap out when you decide to redecorate, which may benefit those who hate the tedious task of wallpapering an entire wall. It's a perfect approach if you are looking for an additional pattern but don't want it to fully dominate the room or if you still want to use a paint color on the wall and have the best of both worlds.
While this is an innovative way to use wallpaper in any room, the best areas to include this hack may be small spaces like a stair landing, hallway, or the area between two doors. It's also a great tactic for defining larger and multi-use spaces into zones. You can even use multiple complementary wallpaper designs in a single space, such as a mix of florals, stripes, and textures to define each zone. For an extra pop of color, paint your picture rail one of the shades that's featured in one of the wallpaper patterns.