Whatever Happened To Squirrel Boss Bird Feeder After Shark Tank Season 4?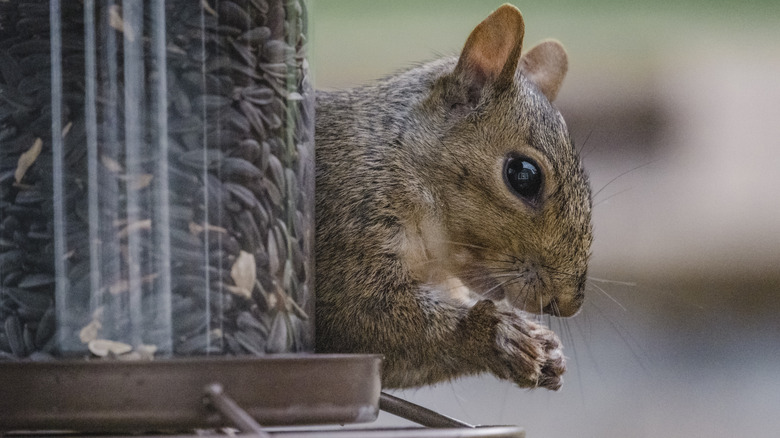 Cavan Images/Getty Images
Sipping a morning coffee and watching birds flutter around the bird feeder in your yard is one of the most relaxing feelings in the world. That is, until a massive squirrel barrels up and scares away all your songbirds. Squirrels need to eat too, but they often take more than their fair share, stuffing all the seeds into their cheeks or even knocking the bird feeder onto the ground. That's why Michael J. DeSanti, an aerospace professional from Hawley, Pennsylvania, invented the Squirrel Boss Bird Feeder. DeSanti enjoys watching birds and even appreciates squirrels, but he doesn't like when they hog all the food to themselves. His invention, the Squirrel Boss, is a remote-controlled squirrel deterrent bird feeder that allows you to determine when enough is enough. 
At the push of a button, the Squirrel Boss delivers a slight static shock, surprising the squirrel and sending him running for the hills. Over time, these shocks supposedly condition squirrels to stay away from bird feeders in general, helping them avoid lethal consequences from crueler squirrel-haters in the neighborhood. The Squirrel Boss may be no match for pesky squirrels, but what about sharks? DeSanti pitched his product on "Shark Tank" and shocked the Sharks in more ways than one. Here's what went down on "Shark Tank" and what happened after the awkward ordeal. 
What happened to Squirrel Boss on Shark Tank?
Michael DeSanti walked into the shark tank seeking $130,000 in exchange for 40% of the company. He told the Sharks that he'd received support from an angel investor and already sold over 4,130 units at the time of filming. "It tingles, but it doesn't hurt you," DeSanti said during his pitch, comparing it to a static shock after walking on carpet. He invited the Sharks to test it for themselves, and Lori Greiner was the first brave volunteer. One by one, all the Sharks except Kevin O'Leary took their turn being zapped by the Squirrel Boss and giggling with surprise. 
When it was time to talk business, the Sharks worried that animal activists might object to the product and users had to be watching the feeder to press the remote. But DeSanti insisted that it was entertaining and more humane than killing them. "I see it as a quirky product," said Robert Herjavec, "I don't want to get zapped again. I'm out." Greiner had to be honest, "To zap a squirrel, that's a little sadistic." DeSanti seemed surprised — shocked even — when Mark Cuban, O'Leary, and Daymond John quickly admitted they were out, too. "I can't leave. I won't leave," he said, holding his ground on the set, to which O'Leary joked, "Put your hand on that, give me that button, you'll be gone soon." This comment made the Sharks erupt with laughter. DeSanti eventually accepted defeat and left the tank.
Squirrel Boss after Shark Tank
"I really, really, really wanted one of the Sharks as my partner, " Michael DeSanti stated on Season 4, Episode 23 of "Shark Tank." "I like all of the Sharks in their own way — even Kevin [O'Leary]." Perhaps the Sharks thought the Squirrel Boss was more of a gag gift than a solution to a real problem, or maybe it was just wasn't worth it to invest in a "sadistic" squirrel-shocking device — not to mention the legal issues that could emerge if anyone was somehow injured. Either way, DeSanti didn't gain any support from the Sharks, and it's not clear whether he was able to find funding from another source. 
For a few years following the episode, Squirrel Boss ran an active Facebook page and YouTube channel, but the company faced a lot of ridicule after the "Shark Tank" episode aired. Both the product and DeSanti's pitch have even been torn apart by various YouTube channels, including Good Mythical Morning and WatchMojo. The Squirrel Boss is still considered one of the worst "Shark Tank" pitches to date, which isn't a great omen for any entrepreneurial product trying to spread its wings.
Is Squirrel Boss still around?
It is unclear whether Squirrel Boss is still in business, but sources indicate that it hasn't been as successful as Michael DeSanti had initially hoped. After all, any device designed to zap cute animals is bound to have a hard time gaining traction, and any success from the "Shark Tank" effect was short lived for this quirky product. The product was sold temporarily on Amazon but was pulled after it received mixed reviews from buyers. Purchasers said that it was humorous to watch squirrels drop from the feeder at the push of a button, but they didn't like how often they had to recharge the feeder. Others claimed that the squirrels would often find ways to outsmart the feeder, like holding onto non-electrified bits.
Many people may have purchased the Squirrel Boss as a funny gag gift or to see if it actually worked, but that amusement likely wore off over time. The "Shark Tank" episode aired in May of 2013, and by 2016, some sources said that Squirrel Boss had gone out of business. However, it appears that the product is still for sale on the Squirrel Boss website (though for the steep cost of about $90, when it used to be available for around $50), so it's possible that DeSanti decided to re-launch his product.
What's next for the Squirrel Boss founder?
So the Squirrel Boss didn't work out, but what became of the company's founder? Michael DeSanti isn't easy to find on social media platforms like LinkedIn or Facebook. It's possible that he doesn't have any accounts on these websites or that he prefers to keep his pages private, considering the embarrassing experience on "Shark Tank." The Squirrel Boss Facebook page seems to have been deleted, but the website and YouTube channel still exist. No new videos have been posted since 2015, and the most recent YouTube videos show DeSanti filming random shenanigans of other woodland creatures. DeSanti's name isn't mentioned on the about page of the company website, nor is anything about his appearance on "Shark Tank" mentioned either. 
The fate of Squirrel Boss and its founder DeSanti is somewhat of a mystery. Watching DeSanti be laughed off of the "Shark Tank" set was a disheartening experience, but surely the Sharks harbored no ill will toward DeSanti or his creative product; they just couldn't risk investing in such a device. Today, there are many more humane options and DIY tricks to keep squirrels away from your bird feeder, such as the viral spinning feeders.