Never Lose The End Of Your Duct Tape Roll With This Paper Clip Hack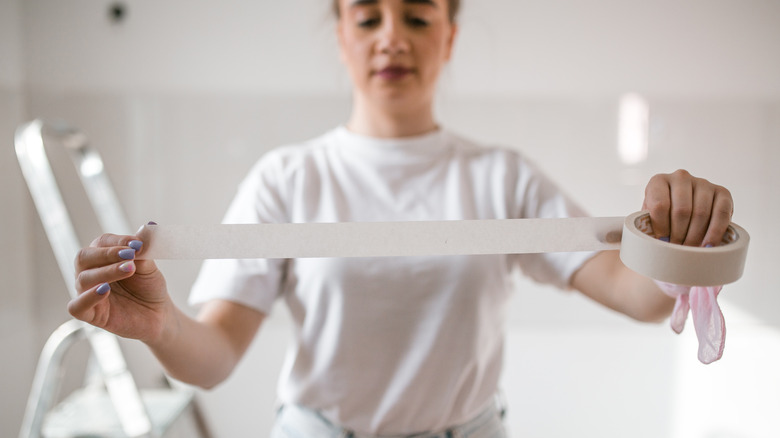 Dekiart/Getty Images
Does this sound familiar? You grab your roll of duct tape, spend what seems like an eternity finding the end, only to then find it is stuck firmly in place. You loosen it enough to give it a tug, and your duck tape unravels in little tendrils. Since duct tape has threads in it, providing it with superior strength, it also rips into tiny shreds when pulled at a certain angle. But you can easily avoid this chore with nothing more than a paper clip. If you attach it to the end of your roll of duct tape, you'll never lose the end again and can easily access it when you're ready to tape your next project or package. 
You might be wondering why you can't just fold over the edge of your duct tape. It's not that you can't; it's just that it's incredibly wasteful every time you use your duct tape. Instead, defer to this helpful paper clip hack for easily accessible tape time and time again. 
All you need is a paper clip
If you're ready to access your duct tape without struggling to find where it's stuck in place, grab a paper clip. If your duct tape is part of a craft collection, you might consider using an assortment of colorful paper clips to spice up your craft room. However, any paper clip will work. Keep in mind that you don't have to put your paper clip over your duct tape. This will make it harder to remove. All you need to do is peel your duct tape back and stick your paper clip to the underside of it. Then, stick your duct tape back in place with the paper clip readily available. Whenever you need to use your duct tape, all you have to do is lift up the edge of your paper clip and replace it after use. 
Without a paper clip, you'll find yourself ripping off shreds of duct tape, wasting product. If you opt to fold over the end of your duct tape, you'll have to cut off the folded-over piece, adding another (unnecessary) step to the entire process and throwing out almost an inch of tape. But this hack serves two purposes; it saves product, and you can use it for any type of tape. You can also use this handy hack on plumber's tape or other adhesive rolls, saving you time (and tape) while offering straight lines when cutting duct tape.