The Simple Hack That'll Cut Your Clean Up Time In Half After Drilling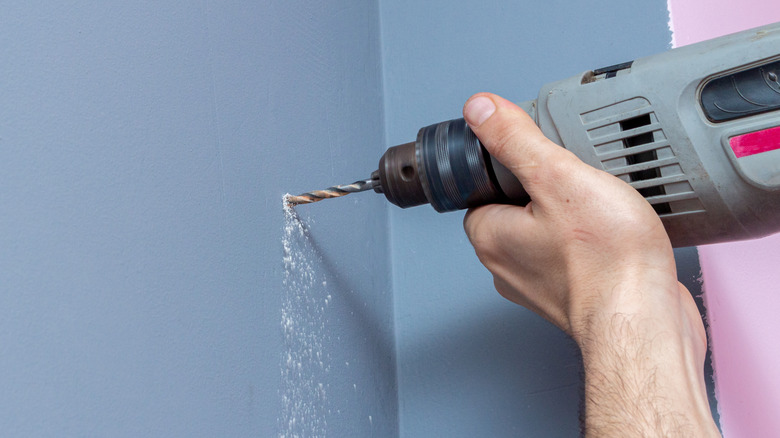 Vitalis83/Shutterstock
Making updates around the home by hanging a picture frame or installing a shelf is exciting because it adds something new to the space, but cleaning up the drill dust can be tedious. While using a vacuum cleaner when you're drilling sucks the dust quickly, if it gets too close to the drill, it can damage the hose attachments. However, sticking a Post-It note on the wall below where you're going to drill will help prevent the dust from falling to the floor and then having to sweep it up.
Post-Its will stick to any flat surface as long as it's dry. Always give the wall a quick wipe with a damp towel and let it dry before attaching a sticky note. It's the perfect, minimal cleaning hack that takes less than a minute to set up and clean up. Of course, you can't prevent drill dust from flying in opposite directions, but the Post-It will help catch the debris directly from the wall. Here's how to set up your Post-It note the next time you need to drill a hole.
Keep your Post-It note folded
Stick a Post-It note on the wall before drilling, instead of letting the dust fall directly onto the floor or countertops. Simply fold your Post-It in half one time to create a small shelf and attach it to the wall. The shelf should stick out from the wall so that it can catch the falling debris. Once you drill into the wall, all the wall particles should fall straight into the crevice. You can reuse the Post-It note a couple of times until it doesn't adhere to the wall anymore.
If you're drilling multiple holes in a wall, you can attach a line of notes across the wall to ensure they catch the dust. If you don't have a Post-It note, using painter's tape and a piece of paper will work the same way. Any extra dust on the floor that wasn't caught can be cleaned with a damp paper towel. Drill dust easily gets caught in the cracks of baseboards, so remember to give that a quick swipe as you clean up.