Emily Henderson's Advice On How To Decorate For Halloween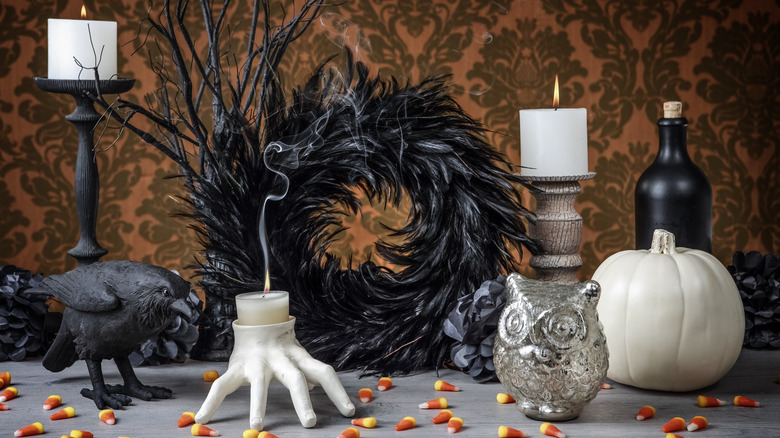 Suzanne Tucker/Shutterstock
Emily Henderson is known for her aesthetic, which can be described as livable. Nothing in her Halloween-themed living room is too gaudy or brightly colored, and each piece was carefully chosen to ease her family into a spine-chilling mood for the season. The interior designer, blogger, and TV host has countless tips on her blog for redecorating a room for the upcoming spooky holiday. Her overall vibe is simple and cohesive. But, best of all, it's extremely affordable and customizable. You can spend as little or as much time and money as you feel comfortable with, while still showing off your Halloween spirit. Copy what you like and leave what you don't. Decorating for the holiday shouldn't be stressful, especially when you are familiar with all of Henderson's best advice.
Henderson's accessible style can be manipulated for any budget or DIY experience level. Many of her projects consist of turning mundane items into something spectacular with just a bit of love and effort. She mentions that this is only "stage one" of her Halloween decorating process, which is what makes her advice so great. As you come across more inspiration and exciting DIY projects throughout the coming months, you can add to your rooms to bring them to their full potential by the end of October.
Make your decor livable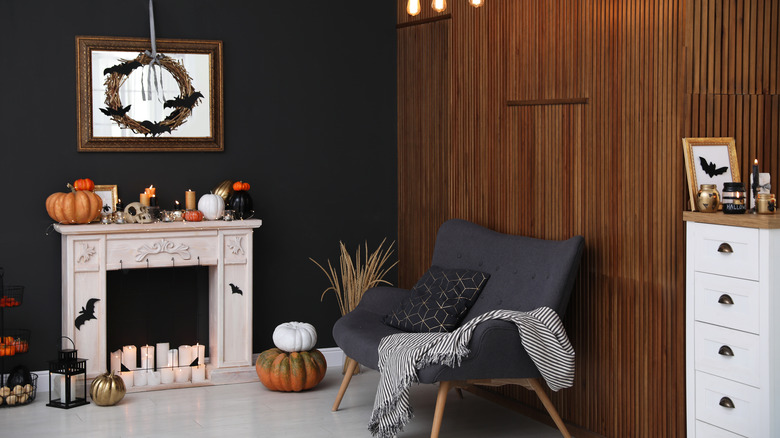 New Africa/Shutterstock
As we've already mentioned, one of the best aspects of Henderson's chilling living room is how homey and comfortable it still feels after setting up spiders, webs, and other creepy items. Though she doesn't mention it, to us, it feels as though she's taken a page from the Addams family. In adding a variety of black accent pieces (i.e. pillows, throw blankets, candles, and lampshades) she darkens her aesthetic for a dim and shadowy vibe that lets guests know that Halloween is on the horizon.
Henderson mentions that the neutral color scheme is intentional to avoid holiday fatigue. Though her daughter noticed something was missing, the stylist stood by her decision to omit the bright orange, purple, and green that are commonly used in Halloween decor to keep her living room feeling familiar and home-like. Among her best advice is to avoid overwhelming your space, up until the actual holiday, and consider making strategic adjustments to your living room's aesthetic to ease your family into autumn.
Keep it simple and save money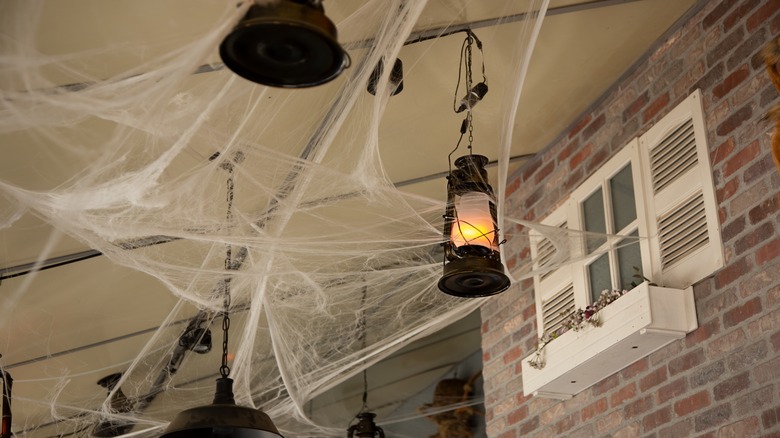 The Image Party/Shutterstock
In the same vein, keeping your decor choices simple won't just keep your living room livable, it can also save you money and the hassle of setting up and maintaining complicated decorations. Just a few cohesive pieces can be used together to make a huge statement. In repeating one simple pattern, spiders, Henderson made the most of her style choices. The largest is the giant spider hanging over her window, which she purchased from Target for $30. However, this is likely the most expensive ornament she brought out. Nearly all of her Halloween decorations were DIYs that she created with her children or simple-to-set-up options like fabric webs and common household items she covered with black spray paint.
Stealing Henderson's incredible Halloween decorating style is as simple as finding one motif (i.e. spiders, vampires, bats, or witches) and applying it with a careful hand all over your room or home. Once you have an idea and an easy-to-follow color scheme, the rest falls into place. Keep in mind that you don't need a lot of money to make your home feel ready for the season. Spooky fabric and webbing are available for less than $5 at most stores, and black spray paint can be even cheaper depending on where you get it from. Everything else can be sourced from your yard or basement as you paint small sticks and forgotten items like old bowls, brooms, furniture pieces, and fixtures.