How HGTV's Christina Hall Gives Bathroom Walls A Natural Stone Look For Less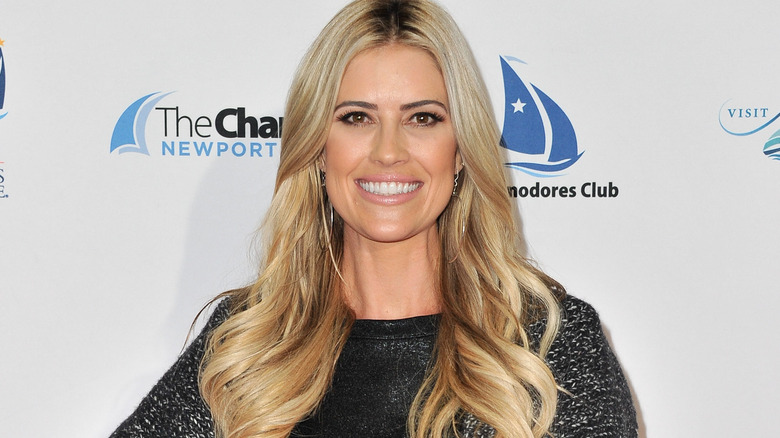 Allen Berezovsky/Getty Images
HGTV's Christina Hall is always coming up with innovative design solutions, and in Season 4, Episode 2 of her hit show "Christina on the Coast," Hall and her team were tasked with updating a main bathroom setup for a coastal couple. Rather than traditional tiling, design-obsessed mom Whitney suggested stucco for the walls. 
Though the first thing you think of when it comes to stucco is its characteristically bumpy texture, Hall explained how the versatile material can work really well in a bathroom. "Stucco comes in different textures, and smooth stucco is a great option for the shower," she pointed out. "It's totally waterproof, and it'll give the walls a natural stone look." 
Rather than being used indoors, stucco exteriors are much more common, but there's nothing wrong with getting creative and using it inside to create a stone-like effect. Not only is stucco waterproof, but another major bonus is that it's cheaper than actual stone. This makes it a great alternative if you're on a budget, especially if you are redesigning your whole house. For further inspiration, check out how well the bathroom renovation turned out.
The stone alternative is budget-friendly, trendy, and chic
Both Whitney and her husband decided that white stucco was the best option to brighten up the bathroom space, with HGTV's Christina Hall agreeing that white walls and a matching floor would create a harmonious finished look. Once they decided on the overall design, resident "Christina on the Coast" contractor Mike Rose warned the homeowners that the finished stucco wall would be matte instead of polished. 
In fact, this is something to keep in mind if you prefer a polished tile look. However, a matte finish is a good alternative if you want something less glossy and more casual for your bathroom. During the renovation process, Hall incorporated gold plates with crystals into the bathroom for some extra touches of coastal glamour. The finished bathroom is bright, relaxing, and luxurious thanks to the pops of gold throughout. 
Simply put, natural stone tile in your bathroom will always look chic and refined, but if you're on a budget, stucco is the way to go for a near-identical look that will cost you a lot less.