Easily Turn Your IKEA BILLY Bookcase Into A Trendy Woven Cane Storage Cabinet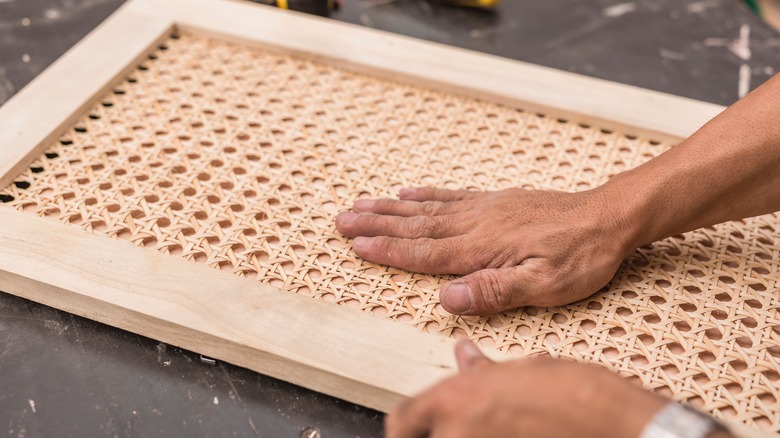 MDV Edwards/Shutterstock
We may receive a commission on purchases made from links.
The IKEA BILLY bookcase has earned a high status in the design world for its multitude of potential DIY hacks, from quick paint jobs to clever furniture arrangements. But if you really want to level up your BILLY bookcase game, you can start getting creative with texture. With some fairly simple handiwork, take the classic, streamlined profile of the BILLY bookcase and transform it into a signature décor piece. And for the best trendy material to incorporate into your bookcase project, look no further than woven cane.
Woven cane, as well as rattan and wicker, is having a big moment in the design world right now, and for good reason: the style feels lively while still having a neutral palette, and the texture strikes the ideal balance between intricate and cozy. Depending on how you decorate, woven furniture can evoke your dream "Golden Girls"-esque tropical oasis, or it can make a space seem calm and minimalist. Utilizing woven cane on a BILLY bookcase is straightforward — with a set of DIY doors, your bookcase can become the perfect woven cane storage cabinet.
DIY woven cabinet
For an easy-to-follow version of this DIY hack, we recommend the tutorial by DIY YouTuber Lone Fox. The project calls for an IKEA BILLY bookcase with glass doors, woven cane, reed spline, and glue. You can buy a roll of woven cane from either a local store or online, like this cane webbing material on Amazon. In addition to getting a roll of woven cane, you also need reed spline, the flexible stick used to secure the woven panel. As for the glue, there are lots of heavy-duty craft glues on the market, and as long as the glue you're using is meant for glass, wood, and other similar materials, it should work. 
Start by placing pieces of woven cane material on the front of the glass panels. The woven cane panels should fit exactly on top of the glass. Next, line up your reed spline along the edges of the panel, creating a frame for the woven cane. Glue down the reed spline frame, which should secure both the woven cane and the reed spline. The reed spline edges add a more polished finish, but you can also skip it and glue the woven cane directly to the glass. Either way, you will need to use heavy objects to keep the woven cane flat while it dries. 
After the glue cures, you'll have a gorgeous set of woven cane doors. Attach them to your bookcase, and presto: You now have a fabulous woven cane cabinet.