This Simple Pet Hair Hack Is A Game Changer For Owners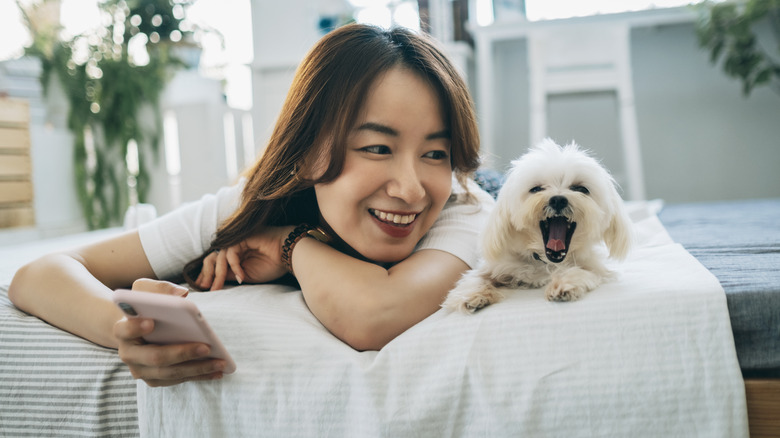 Shih-wei/Getty Images
Cleaning up hair can seem like a never-ending chore for pet owners. Even if you vacuum regularly, chances are your furniture and bed are still covered in fur. Luckily, a TikTok hack has an easy solution for keeping your sheets and upholstery free of pet hair. By using a shop vacuum with a round horse hair brush attachment from a regular vacuum, you'll be able to wrangle all the loose fur easily.
This hack, posted by TikTok user @lakeviewliving, works because of how much suction shop vacs have. Shop vacs are designed to clean up industrial sized messes and are built with more powerful motors than typical household vacuums. While normal vacuums have suction capabilities of 83 cubic feet per minute (CFM), shop vacs have almost 200 CFM. Combined with the bristles on the round attachment, shop vacs will do wonders for cleaning up the pet hair in your home.
How to clean pet hair with a shop vac
This hack is extremely simple and will make cleaning up pet hair a breeze. Start by placing your round horse hair brush attachment onto the end of the shop vac's hose. From there, you can run the brush over your sheets, upholstered furniture, or anywhere that pet hair seems to stick. Unlike a typical household vacuum, the extra power of a shop vac will prevent fur from flying through the air and spreading to other parts of your house. The round attachment will also help to catch stubborn hair and pull it out of fabric. This can also work on your pets' beds and hard-to-reach corners on your carpet. 
If hair seems to fly everywhere when you're brushing your pet, try keeping your shop vac close at hand while grooming. For pets that aren't scared of the vacuum, you can leave the vacuum running while you brush them, sucking up the fur as you go. Using a shop vac as opposed to a regular vacuum will make eliminating pet hair much easier for pet owners.