The Fixer Upper Bathroom Feature Joanna Gaines Loves For Extra Storage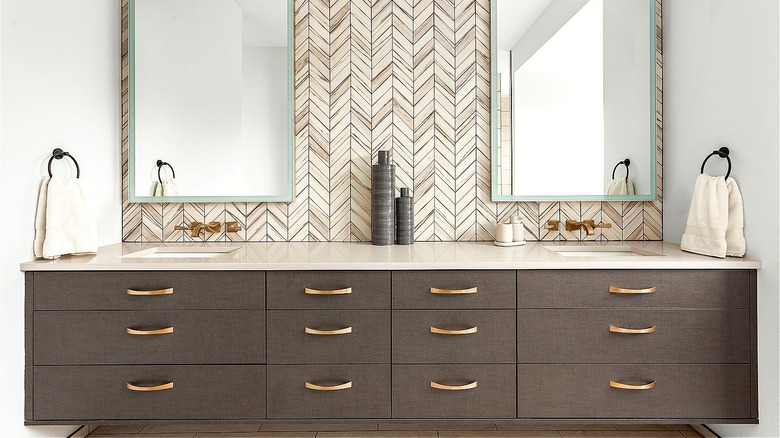 BM_27/Shutterstock
However a home's bathroom is used by its household members, it's essential the space is as efficient as it is beautiful. To accomplish this, you need the right kind of storage to make the room work for you. Joanna Gaines from HGTV's "Fixer Upper" and Magnolia Network's "Fixer Upper: Forever Home" understands this concept well, and in her designs, she aims to blend aesthetics with functionality. For one of her past clients, the master bathroom needed a major update, in both look and in style. During a home tour on HGTV (via YouTube), Gaines shared that for the master bathroom vanity, she "wanted to do something a little unique." To create extra storage for her client, she added a vanity with an elevated center. Said Gaines of the new bathroom feature, "It's practical countertop space, but there's also more storage."
The center cabinet of the furniture piece is taller than the side vanities, and both feature open shelving and drawers. The ample storage options create a space for towels, bath products, and cleaning supplies, keeping the bathroom well-stocked but neat and organized. Having a raised center section of the vanity also creates separation and two distinct spaces. This allows people – whether it be a couple or siblings – to have their own designated area in the bathroom.
Center vanity takes center stage
As Joanna Gaines noted while pointing to the unique bathroom feature in her client's renovated home, "I think the coolest part about this [vanity] is how this is elevated in the middle." The design is not only interesting but also adds extra storage space both above and below. As for the countertop, it's perfect for everyday items, such as toiletries, which Gaines suggests dressing up with stylish containers.
"The fun thing about being creative with the way you contain things is that things that typically wouldn't be cute, like cotton balls and Q-Tips – you can make it cute by getting cute little glass jars and putting them in a basket," the interior designer explained in an interview with Home & Gardens. Consider glass jars, jewelry dishes, and trays to keep the items you'll reach for daily in the bathroom.
Underneath, the vanity features open shelving. And because the center section is taller than the two side cabinets, there are more shelves, creating more storage. On the open shelves, you can store bath towels and washcloths. The easy access will allow you to grab one with just one hand. In the drawers, you can store excess bath products, such as bars of soap and razors.
Focus on storage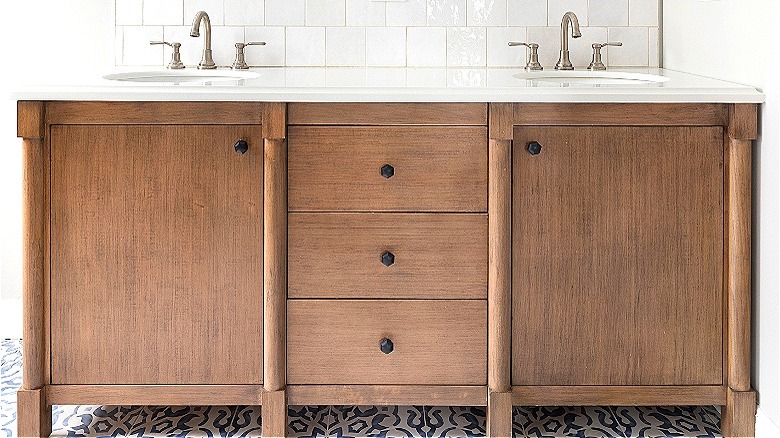 Joseph Hendrickson/Shutterstock
This unique storage option that Joanna Gaines created wouldn't be hard to recreate in your own bathroom. For the two side vanities, choose cabinets with a standard vanity height. The standard height falls at 32 inches, but can also come in 34 and 36 inches for people who may be taller. For the center cabinet, opt for one that's at least 6 inches taller to create the difference in height. You may need custom cabinetry to reach this height. Or you can use a standard counter set on top of drawers to reach the desired height.
Outside of the vanity, combining the right storage methods will ensure a bathroom that's functional no matter who's using the space. In the HGTV video, you can see that Gaines takes advantage of the vertical space in the bathroom. A towel ladder leaning up against the wall, for example, provides storage for both bath towels and hand towels. Floating shelves, meanwhile, provide another surface to hold items but keep the floor clear. Look for unused areas, such as above the toilet and nooks between the shower stall, for places to maximize extra storage in the bathroom.