Joanna Gaines' Best Tips For Decorating Your Open Shelving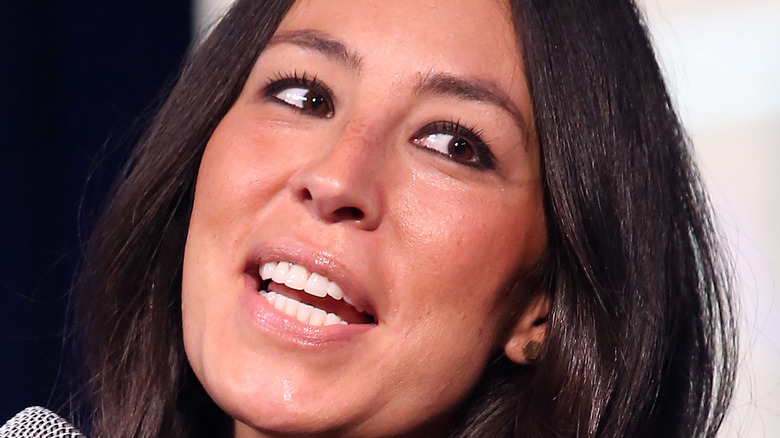 Donna Ward/Getty Images
Interior designer, entrepreneur, and HGTV television personality Joanna Gaines — best known for "Fixer Upper," her show alongside husband Chip Gaines — has countless little tips and tricks for sprucing up space in your home. While one recent trend, open shelving, can be a bit challenging to style and decorate for design beginners, Joanna Gaines has some tips to organize and brighten up this area that are pretty easy (and fun)!
There's no question that open shelving can be intimidating at first. After all, there is a lot of space that is on display. And anyone who enters your home will be sure to see exactly what you've done in terms of decorating the shelving (and maybe even get some ideas of their own). And as Gaines points out, there are several ways to design, organize, and arrange your open shelving. Here's how to elevate your shelf and make it a true showstopper.
Joanna Gaines' tips for magazine-worthy open shelving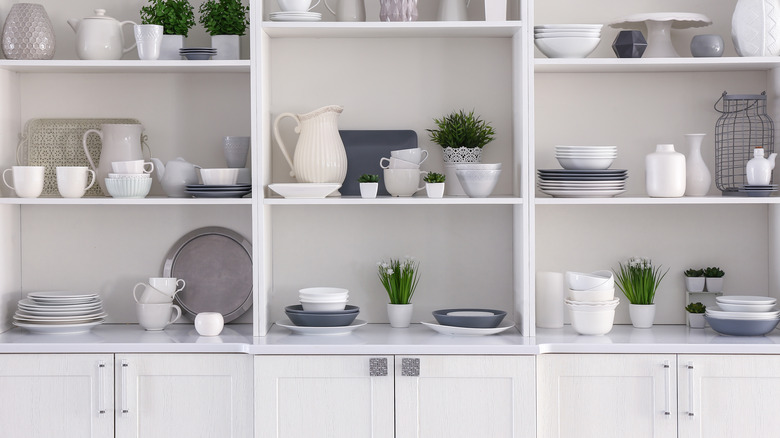 Shutterstock
When it comes to creating a purposeful, beautiful open shelving area, Joanna Gaines suggests that you conceive of the shelving system as a grid and think of how to design diagonally (via Best Life Online). Imagine you're playing a game of tic-tac-toe — if you start with a piece of blue pottery in the upper left corner of your shelving system, you want another item in a similar hue on the shelf located diagonally below, and so on. Having the items arranged purposefully in that diagonal fashion will give the shelf some cohesion without making it look too forced. This flexible, important tip can also help you incorporate things in different shapes and sizes and from different materials due to the cohesion of the colors.
Speaking of color, consider using books as a way to introduce a few pops of color, Gaines notes on her Magnolia website (per Best Life Online). Simply having a stack of books in roughly the same hue makes a major style statement, especially if the rest of your decorative accent items are more neutral-colored. Even a trio makes an impact, allowing you to have color without breaking the bank.
In addition to Gaines' recommendations, House by Hoff suggests looking at your shelves and trying to repeat other elements, like the type of material or texture. Another tip to switch things up is incorporating different design styles, Studio McGee recommends, such as adding a vintage accessory to your more modern design.