Should You Tip For Furniture Deliveries?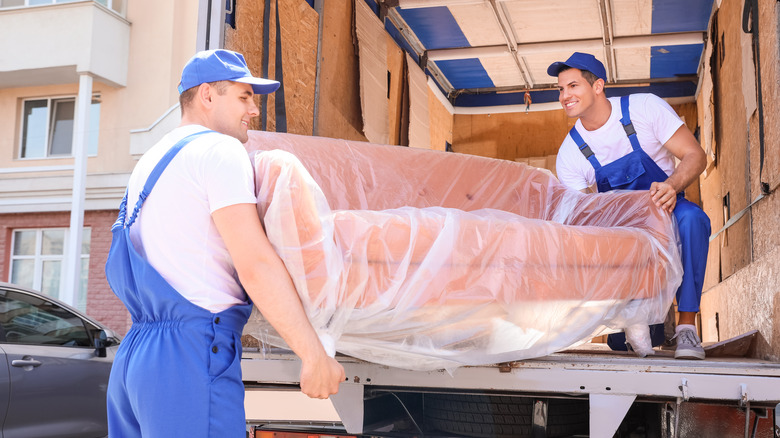 Pixel-Shot/Shutterstock
When you purchase new furniture, you need to consider how well it will suit your home, if it fits into your budget, and how you're going to get it from the store to your abode. It's not an easy job to lug around heavy items, not to mention the fact that not everyone has a vehicle that can accommodate items that are big and heavy. If you're able to hire professional movers, then you may be super thankful. You may also be wondering if you should tip the furniture delivery people. While it's not the kind of rule that's set in stone — or will be included in a contract — it is the type of gesture that is appreciated.
"Just like tipping when eating out, a [20%] tip off of the final bill is the standard rate for the moving industry," Lior Rachmany, the CEO of Dumbo Moving + Storage, told Oprah Daily. It's also important to recognize that you're likely tipping more than one person. If that gets a little confusing or burdensome, then Rachmany has a simple solution, saying "You should always give the tip to the foreman, and they will divide the tip out to all the helpers."
Of course, there are a couple of other aspects to consider when thinking about giving a tip to people delivering your furniture. Along with exactly how much you should be tipping, there are various factors that can affect how much you end up giving.
Furniture delivery tips depend on a range of factors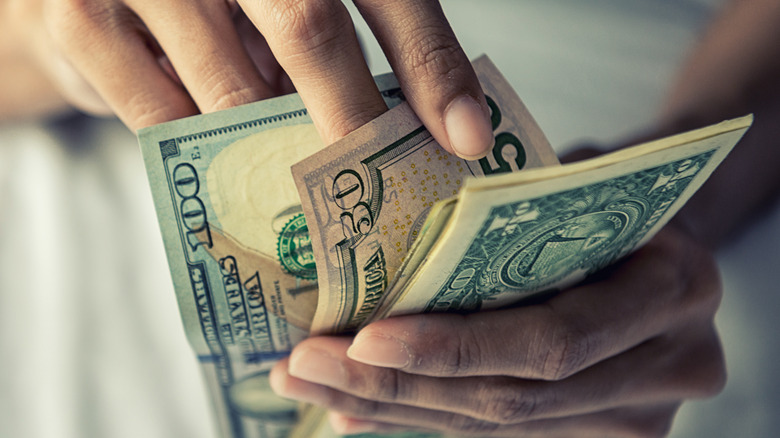 NATNN/Shutterstock
Offering workers a tip when they deliver your furniture may not be necessary, however, if you do, then you may want to stick within a certain range. Generally, you can tip $10 to $20 for each person on the job. Of course, that's just the starting point. You will also want to consider how specific aspects of the task and your situation alter what the exact amount will end up being.
"The amount you tip should be directly proportional to the size and difficulty," James Burati, moving expert and chief sales officer at 1-800-PACK-RAT, told GOBankingRates. For instance, you'll want to consider how heavy or awkward the furniture is or if there are multiple items to deliver. You also want to think about if there are stairs, narrow hallways, or small doors that the delivery people will have to deal with, along with nasty weather conditions. You may want to tip more if the workers remove packaging, assemble your furniture, and take extra measures to keep your items undamaged. Beyond that, it's always nice to reward efficiency and friendliness. On the other hand, if they're rude or cause issues, then you might not want to tip as much.
Finally, the amount also depends on your particular financial situation. Joey Sasson, vice president of sales & logistics at Moving APT, pointed out to GOBankingRates, "A smaller tip is perfectly acceptable if you're on a tight budget."