Sherwin Williams Announces Its Wood Stain Color Of 2024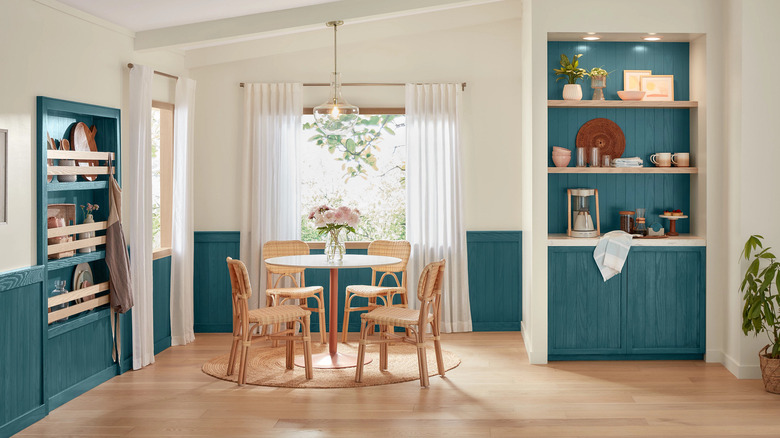 Minwax
Sherwin Williams' subsidiary, Minwax, a leading brand of interior stains and clear coatings, recently named its 2024 color of the year, and that color is an intriguing shade called Bay Blue. A medium shade of blue with green undertones, the neutral color will blend well with both traditional and modern decorating schemes. While the tone is cool, it compliments tan, wicker, copper, and warm whites. As an accent color, it draws the eye from basic neutrals, adding a layer of texture to rooms from the kitchen and bath to the living room or den.
"Bay Blue is the perfect balance of blue and green, a rich teal with a warm undertone that contrasts beautifully with the wood," says Sue Kim, director of color marketing for Minwax. "It's an inspirational color that encourages personal, more authentic interpretations. ... Bay Blue helps us take a breath, slow down and relax," she adds. Minwax marketing materials indicate the shade is meant to bring colors from nature into the heart of the home.
Stain offers options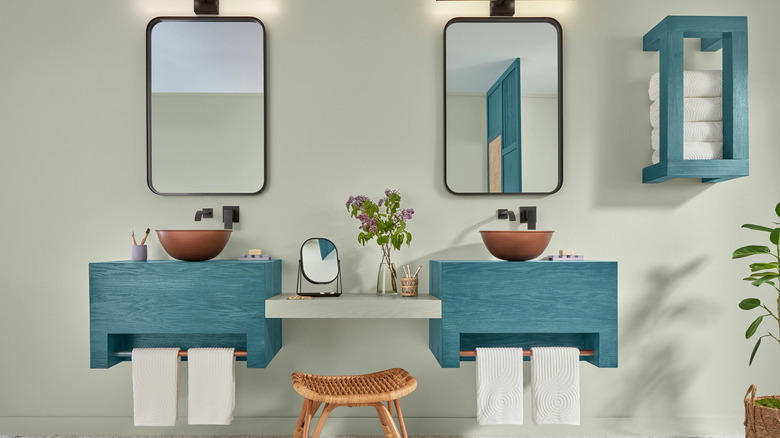 Minwax
Stain is a great way to enhance wood trim, shelves, furniture, and other surfaces around the house and yard. The sheer number of available colors and finishes is nothing short of astonishing. When it comes to finishing wood projects, there are several reasons to work with stain instead of paint. Stain allows the natural beauty of the wood's grain to stand out, though the strength of coverage can vary: Some stains are nearly transparent, highlighting the unique wood grain, while others mask the grain for a more cohesive look. Staining wood protects it from moisture, mold, and mildew, which helps prevent the wood from rotting, as well as shielding the wood from wood-fading UV rays.
Minwax and other leading companies offer hundreds of colors in various finishes, not to mention water or oil-based options, and it comes as a liquid or a gel. For DIYers, staining is an easy method to add color in one step since it doesn't require a primer coat, and adding a topcoat for a glossy finish is optional. Also, stain is generally less expensive than paint, so for high-traffic areas with a lot of wear and tear, such as a deck, stain will cost less to maintain than a painted surface. Whether your project is an entire wood deck, architectural details in and around your house, or a favorite accessory, we have some great ideas for working with stain.