Use This Low-Maintenance Perennial To Make Your Garden Look Fuller On A Budget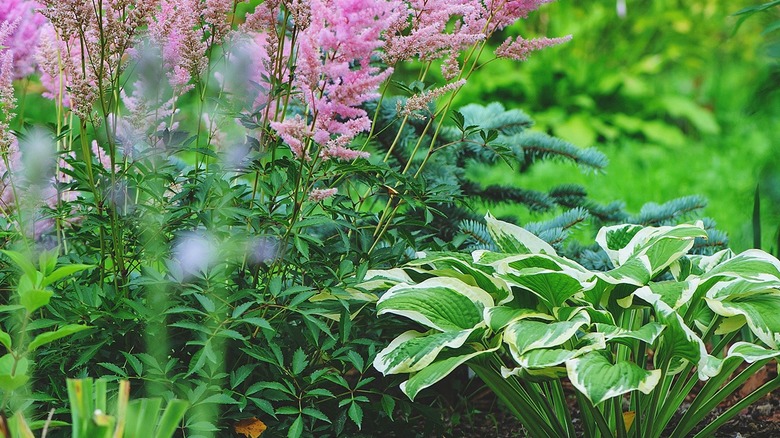 Maria Evseyeva/Shutterstock
Gardening is a rewarding hobby, but it isn't always the most cost-effective one. While you'll typically buy flashy statement flowers for your garden first, you'll still need to purchase filler foliage. Planting hosta is one way to go; the low-maintenance perennial is an easy way to fill out a garden on a budget. You can get a pack of four hosta plants, for example, at The Home Depot for under $40. What's more, hosta varieties range in size, from miniature to huge, so you have options when it comes to filling in the spaces of your garden bed.
Though widely known as a filler plant, that label doesn't quite cover all that the hosta plant offers. There are over 70 varieties of hosta (and thousands of cultivars), in many shapes, sizes, and colors, so you can find a variant that perfectly blends in with your garden. Also, because it doesn't pull focus, a sea of hosta foliage can carry the eye from one statement flower in your garden to the next. It also makes for an attractive walkway border.
Get a fuller garden bed with hostas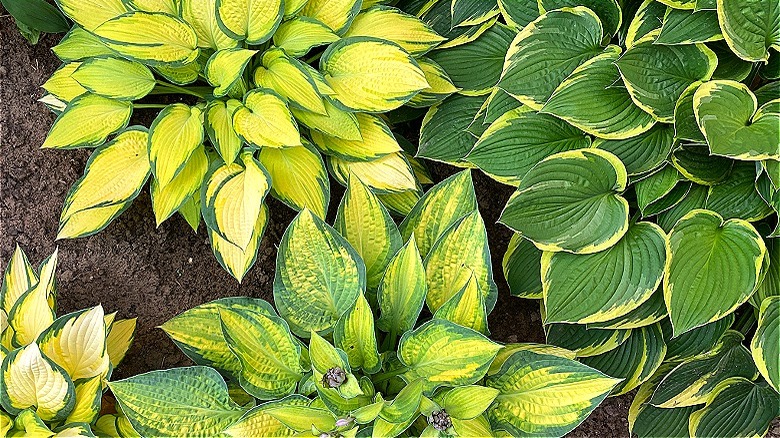 bakoslaszlo77/Shutterstock
To fill out your garden with hostas, you'll first need to determine where these perennial plants will add the most volume. Hostas grow best with part sun, so they're suitable for garden beds that receive some shade. While some gardeners may line their garden beds with hostas, others may choose to plant the perennial in between flowers that tend to pull focus. The foliage plant eliminates negative space and effortlessly adds more vivid green tones to the area in which it's planted.
Once you've chosen the best spot for your hostas, dig a hole twice the size of the root ball. Then, place the plant and fill in the hole. After you've secured the plant, water it thoroughly. Note new hostas require daily watering until they're established, while mature hostas typically need only a deep weekly soak of about 1 inch of water. Beyond regular watering, hosta plants require little maintenance, so you'll have plenty of time to tend to your pickier statement flowers.