Martha Stewart's Brilliant Closet System Is An Organization Game Changer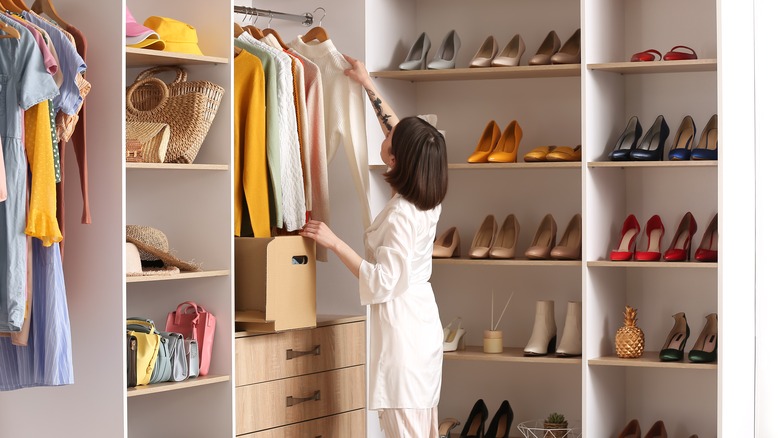 Pixel-Shot/Shutterstock
Do you want to organize your closet? Look no further, as Martha Stewart has shared some of her favorite tips and tricks for keeping her wardrobe in order. Firstly, layout. Having a good closet layout is vital so you can make sure everything you own is visible. If you don't have a walk-in closet, Stewart shared on YouTube that putting two closet units together will create an L-shape and emulate the look and feel of a walk-in. To demonstrate, Stewart used two of the modular California Closets from her own home collection, but any two open closet systems will work.
Finding out what works for you and your space is an important part of organization — you may love the look of a closet with heaps of hanging space, but if you have nowhere for shoes or items that are folded, it's essentially just for display. As well as her L-shaped closet, which allows everything to be seen clearly, one of the main organization tips Stewart uses is to store out-of-season clothing in boxes that can then be put out of the way — for example, sweaters in summer or shorts in winter.
The queen of organization shared some tips
If you have a small closet or live in a studio, Stewart told MyDomaine that she recommends clear boxes for storage, stating, "They will make your life so much easier. I would also say the mindset that the conventional in-line closet arrangement isn't necessary — you can create dedicated sections for clothing rods, shelves, drawers, and more to really make your space work for you." Don't forget to label your storage boxes, even if they're clear. You can then stack categories of clothing together, so swapping items out seasonally is a quick and easy process.
If you struggle with finding space for your t-shirts, Stewart folds them into thirds and places them upwards so each color and design can be clearly seen. This is also a great way to arrange clothing if you're often running late, as you can then pick an item out quickly rather than sifting through hangers. Finally, for heeled shoes, Stewart uses specially designed shoe racks with a bar at the back so they stay in place when the rack is moved. If a shoe rack isn't feasible for your space, Stewart once again reaches for clear boxes to store her footwear.