The Gorgeous Flower That'll Keep Snakes From Lurking In Your Yard
When it comes to hacks to keep snakes out of your garden, there are various options. Although you could opt for certain kinds of mulch or food, you could also rely on one particular — and relatively common not to mention adored — flower to do the work for you. In fact, you might already have a few of these plants and may easily be able to grow more. We're referring to marigolds, which offer plenty of benefits, including keeping snakes from lurking in your yard.
Along with growing gorgeous blooms, marigolds produce a phototoxin called α-terthienyl (alpha-terthienyl). This results in a strong odor that snakes simply can't stand. The experts at Mo Plants explained to Homes & Gardens, "These bright, lovely flowers look innocent, but marigolds' roots grow deeply and aggressively. These sturdy roots are the snake repellents. They emit a strong odor that repels snakes, gophers, and moles. They can also reach wherever a snake might be burrowing and hiding in, so the smell will reach deep into the soil."
This may make you excited to add marigolds to your garden or encourage the ones you already have to grow as well as they can. In that case, you'll need to know a few things, including what your marigolds need to survive and thrive to keep snakes away from your property.
Give your marigolds what they need to ward off snakes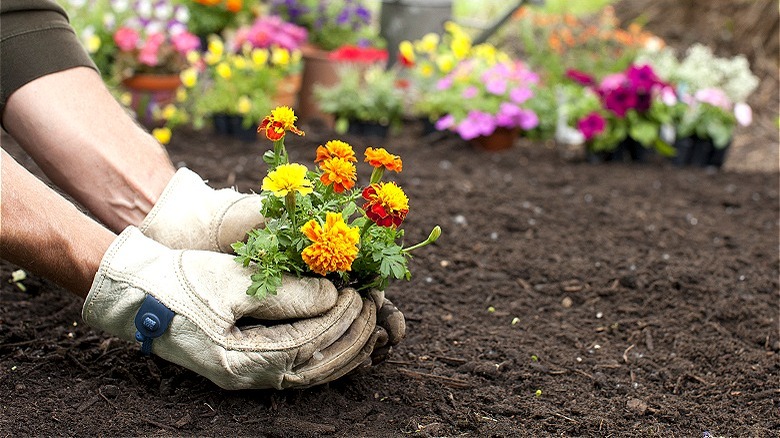 Liliboas/Getty Images
When planting marigolds in your garden so that they can act as rather lovely and wonderfully effective snake repellent, you'll want to make sure you're opting for the right variety. There are around 56 kinds of marigolds; however, you'll want to grow either French or American marigolds to keep unwanted pests away from your yard. The French group includes Disco Queen Marigolds, Durango Red Marigolds, Little Devil Fire Marigolds, Striped Marvel Marigolds, and Yellow Gate Marigolds, among others. As for snake-repelling American marigolds, which are also known as African marigolds, they include options like Crackerjack African Marigolds, Discovery Orange Marigolds, Discovery Yellow Marigolds, and Taishan Gold African Marigolds.
Although each variety may have its own individual perks, as well as its own particular needs, marigolds tend to appreciate a spot in your yard that gets a lot of sun, plus soil that doesn't become too wet or soggy. On top of that, it's good to know that they are suitable for a wide range of different areas, specifically UDSA Zones 2 all the way to Zone 11. Wherever you happen to live, wait until the warmer weather arrives before putting marigolds in your garden as seeds or small pre-grown plants — both will do well. To keep them strong and healthy, which helps them continuously produce flowers and the smell that repels snakes, deadhead them whenever necessary throughout the season.